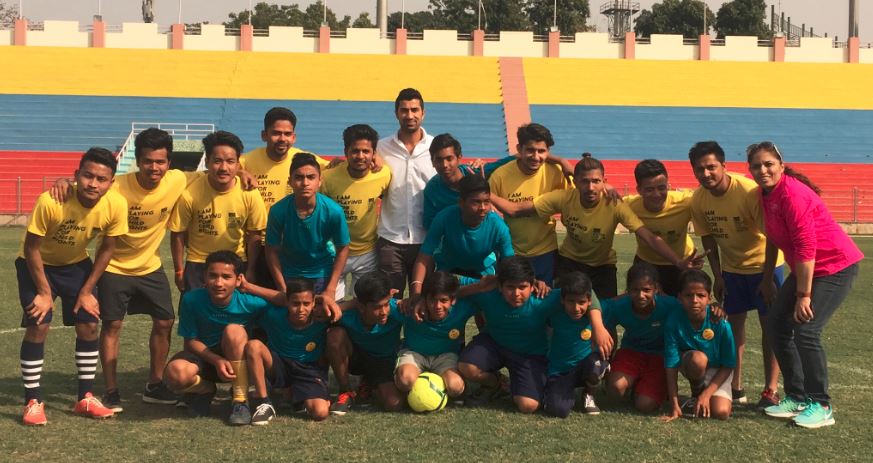 New Delhi, February 17, 2018: The Delhi edition of Soccer for Child Rights, organised by CRY – Child Rights and You, saw Maruti Suzuki India Limited emerging as champions at Ambedkar Stadium.
In an all-Maruti final, the winners beat the runners-up 4-2 in the tournament that had corporate biggies standing united for the cause of stopping girl children from dropping out of school by playing a game of soccer.
The tournament had four teams from Maruti Suzuki India Limited, one each from Net Profits and Guardian, and two teams from CRY.
Delhi's Ranji cricketer Vikas Tokas, who graced the event in support of the cause, said, "Sports should be an integral part of every child's life. They help you clear your mind and help make better decisions in life." Calling attention to the need for balanced learning, he said, "Both sports and academics should be given equal importance; one enables better performance in the other."
The highlight of the day was the winning team indulging in an exhibition match with CRY children's team who stole the show with an 8-1 victory over the champions. The children's team had 12-year-old girl Nipu Kumari juggling the ball in an otherwise all boys' team, reinstating the significance of creating more space for girl children in every walk of life.
Speaking at the event, CRY Regional Director Soha Moitra said, "Soccer for Child Rights is a flagship initiative of CRY that not only gives the Corporate employees to take time off from their busy schedule for the game they love, but also offers them a platform to make a difference in the lives of underprivileged children while doing what they love."
"The very idea behind Soccer for Child Rights is to bring focus to the fact that people from every walk of life must come together to uphold the rights of our children, in their own capacity, at every possible level. Investing in children today means that a country such as India has a chance to break the intergenerational cycle of poverty, inadequacy, malnutrition, abuse and violence. And investing in quality education is one of the very first steps," Moitra added.
Appreciating the CRY initiative, N K Bhatia, Secretary, Delhi Soccer Association spoke about the need for sports in the lives of children. "We are glad to be associated with CRY in this initiative. Soccer doesn't see the involvement of children from underprivileged backgrounds. We have to make games accessible to all children irrespective of their economical backgrounds," he said.