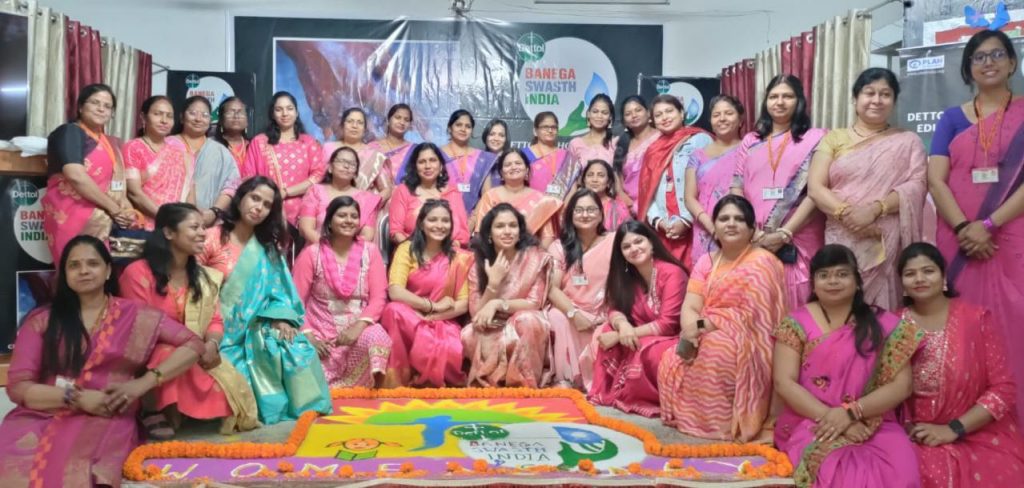 New Delhi: Dettol Banega Swasth India (BSI) #BreakstheBias by paying a tribute to women in education on International Women's Day. Women teachers from Uttarakhand, UP and Bihar will be honoured at an on-ground function for the impact and change behaviour they have helped create in the lives of millions of children at the foundation years of early childhood.
The celebrations will see Mayor Mridula Jaiswal flag off an All-Women's Pink Scooty rally in Varanasi with over 100 women teachers aiming towards creating awareness on best hygiene practices. In addition, Mayor Usha Chowdhuri will felicitate women teachers in Kashipur who have worked with school children helping them become change agents. Women teachers have played a big role in making sure that Dettol BSI's school hygiene education programme aims to strengthen the foundation for better health and hygiene outcomes of the country's future. Dettol BSI also salutes these women who aim to break biases, stereotypes, and discrimination and help in building an equal society for all.
Commenting on the partnership Ravi Bhatnagar, Director, External Affairs & Partnerships SOA, Reckitt said, "Women are the flagbearers of change. On International Women's Day, we are paying a tribute to women teachers who have selflessly educated and empowered children towards breaking biases while making sure that children are healthy and maintain superior hygiene practices. These women teachers have helped us change the mindsets of not just the children but of the entire families and the communities they live in. We are deeply grateful to all these women teachers who selflessly go beyond the call of duty to create a bigger and better future."
At the event, Saira Bano, Hon'ble member, State Women Commission, Uttarakhand said, "Dettol Banega Swasth India's school hygiene programme is the need of the hour. On International Women's Day, we should all come together to do what we can to make our nation's 'Swachh Bharat Mission' stronger."
Umesh Shukla, Additional Education Director, Varanasi said, "Dettol Banega Swasth India aims to provide equal education to all on Hygiene. The programme motivates women teachers to be the torchbearers of the curriculum and the success of the programme is attributed to these teachers. Today, on International Women's Day, I would also like to thank Dettol Banega Swasth India is playing an important part in women's hygiene and development."
Acknowledging this association Mohammed Asif, Executive Director, Plan India, said, "Our long-standing relationship between Reckitt and Plan India has helped us bring about a definite change in millions of lives with Dettol Banega Swasth India. Children are the future of our country, and the Dettol School Hygiene Education Program's outreach has helped create awareness and usher behaviour change for best hygiene practices among children and adolescents. We are thrilled to be connected with Reckitt on this important development and public health agenda, and we look forward to working together for bringing about lasting change in the society and make our modest contribution for nation-building."  
The Women's Day celebration in Varanasi and Uttarakhand was attended by Saira Bano, Hon'ble Member, State Women Commission – Uttarakhand, Seema Vishwakarma, Hon'ble SDM Jaspur, Dr Suneeta Chufal Ratudi, Hon'ble CMO Uddham Singh Nagar, Geetika Joshi Hon'ble Dy Education Officer, Kashipur, Dr Poonam Tyagi, Director of Sports and Dean Student Welfare, Gobind Ballabh Pant University of Agriculture & Technology, Pant Nagar, and Ruby Maurya – Inspector, Pratappur Check Post.