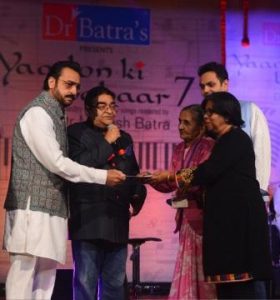 Mumbai, 12 January, 2017: Dr. Batra's™ Foundation hosted the 7th Edition of Yaadon Ki Bahaar, an annual singing concert, at Y B Chavan Auditorium, Nariman Point, in Mumbai. The event was graced by actor Gulshan Grover. The singing concert, a medley of yesteryear songs rendered by Dr.. Mukesh Batra, renowned homeopath and recipient of the prestigious Padma Shri award, was conducted in support of Shepherd Widows Home.
The Home accommodates and cares for over 30 aged widows, providing them with free housing, meals, medical care and other necessities. Dr. Batra's™ has been associated with Shepherd Widows Home for over 30 years and has been instrumental in providing a means for alternative and free lifetime healthcare treatment to the residents of Shepherd Widows Home.
Dr. Mukesh Batra instituted the musical concert with the view to move beyond cheque book philanthropy. In this fast paced world, children do not think twice before abandoning their parents and forget all they have done for them. These women have gone through a lot in life and Dr. Batra thinks that it is his duty to see that they do not spend their twilight years in isolation, pain and misery. He believes that they do not need pity but love, care and company.  The concert is therefore a tribute to their spirit. 
Speaking about the initiative, Dr. Mukesh Batra said "We have always been committed to providing holistic healthcare treatments to all our patients. Through Dr. Batra's™ Foundation, it has been our constant endeavor to extend this vision to the underprivileged and ensure that no one who is in need of medical intervention is left unattended. Yaadon Ki Bahaar is one such initiative to involve the community to support a worthy cause. It fills my heart with pride and a sense of fulfillment to see the lovely ladies at Shepherd Widows Home participate whole-heartedly in Yaadon Ki Bahaar. We remain steadfast in our efforts to ensure that the residents of Shepherd Widows Home not only receive a meaningful donation, but also continue to receive appropriate healthcare, and most importantly, have the time of their lives at this concert."