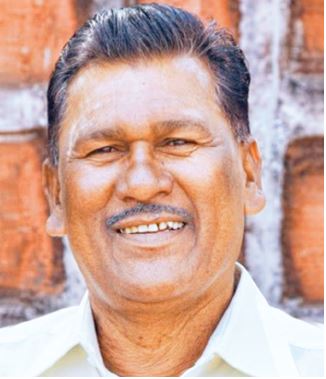 "One rainy day, as I was seeking shelter under the shade of a tree, I saw a few children from a nearby slum playing football with a broken plastic bucket. They were very happy and involved in that game. It touched the core of my being seeing how happy they were, despite being devoid of an actual football. This motivated me to start something productive for the children. I started coaching and engaging with them regularly. They liked having a purpose, and were only too happy to find someone who could guide them. It was then that I realised that football could be the means to transform these children living in the slums," says Vijay Barse, a retired sports teacher from Nagpur, Maharashtra. Vijay observed that these children would gather every weekend just for the love of football. The incident influenced him in starting Slum Soccer, or Zopadpatti Football, as it was initially known, in 2001.
Homeless and slum communities host a variety of complex issues on a daily basis. Prominence of sexual and domestic abuse, unemployment, alcoholism, drug usage, malnutrition and mental health issues, and a cycle of disengagement from the education sector almost condemn these communities to a continuing struggle; preventing them from being successfully involved in an already disparate society.
Having been credited as a FIFA charitable organisation, we at Slum Soccer use football as the tool to bring about a change in the lives of underprivileged children and youth from difficult backgrounds such as drug abuse, anti-social activities, poverty, social alienation, and personal struggles. Through specially-designed curriculum and activities, we engage with and mobilise our participants towards learning and fitness. Our specific game topics include, but are not limited to, saving, nutrition, HIV/AIDS, hygiene and child rights. Our existence is to help marginalised populations of India. The game of football is our means to that end – connecting individuals, teaching life skills, and working towards improving overall quality of life as a tool for social improvement and empowerment.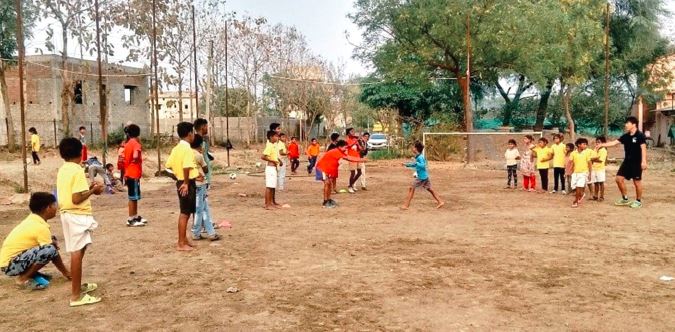 Providing them with a chance to play football not only enhance their fitness, but also skills like team building, self esteem, friendship, togetherness with the society, self-confidence and creativity."
Dr. Vijay Barse, Founder – Slum Soccer
We believe that sport and football inherently offer a transferrable set of skills for social development through team building, acceptance and discipline. All we ask them to do is kick a ball. That simple act is therapeutic in itself. The first step we do is to give our participating players hope and purpose. Our centres act as safe places – free of discrimination, providing positive role models, and a place to develop and enjoy oneself.
We believe in the concept of promotion from within, and past members of the Indian Team are hired as coaches. A few of them have been trained and certified by Adidas and Coerver Coaching, passing on their expertise to other coaches in the camps organised by us. However, we also actively identify, train and encourage youth leaders in every community we work with to start, manage and run coaching camps. All the expertise our coaches and staff have managed to accrue over the years is passed onto them.
Today, Slum Soccer has several programmes impacting more than 80,000 children across six States in the country through various programmes such as:
Edu-kick: This is a programme for young participants (Std III & IV) using football-based games to improve academic skills (specifically Math and English), apart from inculcating sports as a way of healthy life and imparting other life skills
Shakti Girls: Football is used as a means to bring girls together and help them develop their identity and self-confidence. The platform is utilised to impart knowledge on various topics viz. women's rights, nutrition, women's health and so on.
An exclusively designed curriculum – Voice for Choice – specifically targets girls and provides them with life skills and education on gender equality, women's rights and menstruation hygiene management. The project enables the creation of safe spaces and a friendly environment for girls to play within their own communities/school, empowering them in a way that's engaging and effective enough to help them overcome difficult circumstances.
Game Changers: This model comprises of three modules designed by our team. During the three-month training, participants are exposed to various aspects of a professional career.
Community Sports Programme: It works to integrate youth from slums through football.
Tournaments: This is a platform for participants from the intervention communities take part in local, district, state and national level tournaments to showcase their talents.
Our children also participate in Homeless World Cup which is organised by the Homeless World Cup Foundation.
Stories to Warm Your Heart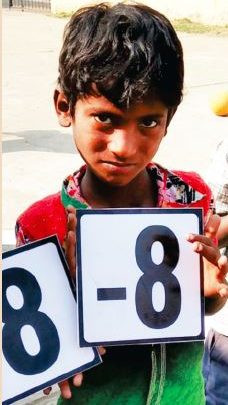 Kindness Wins – Sachin Chandurkar
Coach Anikesh conducts training sessions at Ramabai Madhyamik School in Nagpur. This Municipal School has quite a number of physically-challenged children. Anikesh shares his experience about one such boy – nine year old Sachin Chandurkar, who studies in Std IV, and who is unable to walk properly. "He usually limps, but is always eager and very helpful during the training sessions," shares Anikesh. However, the teachers would not allow him to participate in any of the physical activities that were held due to his condition. One day, a teacher asked Anikesh if he can involve Sachin during one of his sessions. Anikesh was happy to hear that, and ever since, he makes it a point to include the boy. Some children unfortunately raised objections as they say Sachin slows down the pace of the game. Coach Anikesh sat them down and made them understand the importance of including their schoolmate though he is not as capable and sure-footed as they are. The children understood the importance of showing kindness and consideration to their friend, thanks to the guidance from Coach Anikesh. Meanwhile, the special boy thrived on having been included in a game he loves though he knows he cannot take part in any competition alongside his schoolmates.
Transformed by Edu-kick – Sahili and Kunal Mankar
Ten year old Sahili, who is studying in Std V at Suradevi Uchcha Prathamik School, Suradevi, Koradi, is speech and hearing impaired, as a result of which, she is very quiet. She would sit in one specific corner every day and observe what the others are doing. As shared by her Class Teacher, Ms. Asha Zilpe, "Earlier, Sahili would sit quietly and never participate in any activity." However, since Edu-kick was initiated in the school, everyone has noticed the change it has brought to Sahili's life. "One can see the happiness in her eyes," shares Ms. Zilpe. Reportedly, not only has Sahili started participating in the games, but she also smiles a lot more, and loves running around with other children.
Another student, ten year old Kunal Mankar, studying in Std IV at Pension Nagar Uchcha Prathamik School, Borgaon, is mentally-challenged and cannot recognise numbers or alphabets. It poses a serious challenge for the teachers to make him understand, but with Edu-kick and the dedication of Coach Bhupesh Dahake, who interacts and gives him his undivided attention by engaging him on and off the field along with other students, Kunal is showing remarkable improvement. "Kunal can now recognise numbers. He still cannot understand mathematical concepts, but is always present in the field when the sessions are on. He now likes to participate in every activity along with his classmates," shares his Class Teacher.
Dream Come True – Mayvish
Every since the football training session started, 13 year old Mayvish would sit at her doorstep and watch Coach Pankaj Mahajan train the girls at Adarsh High School in Patansawangi, Savner District, Nagpur, Maharashtra. By the third session, she felt a very strong connection with the group, just by watching them play. She wanted to join them, but her conservative upbringing was a hindrance. But a big surprise awaited her. Her parents noticed her desire to be a part of the football training. It did not take much convincing from her part when she approached them for permission. It might be a breeze for other girls her age, but growing up as a Muslim girl in a very strict household meant for lot for Mayvish when they agreed to her request. An ecstatic Mayvish gives her best every time she trains. It has been three months since she joined, and as Coach Pankaj points out, she is one of the most promising players; a leader who not only gives her best on the field, but is also the most supportive and helpful person off the field. She would help him pick and tidy up the equipment after each training session and neatly stack them at the locker room.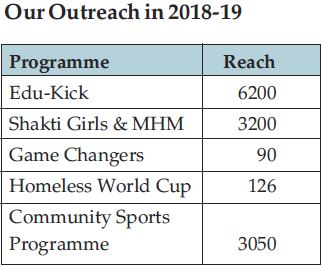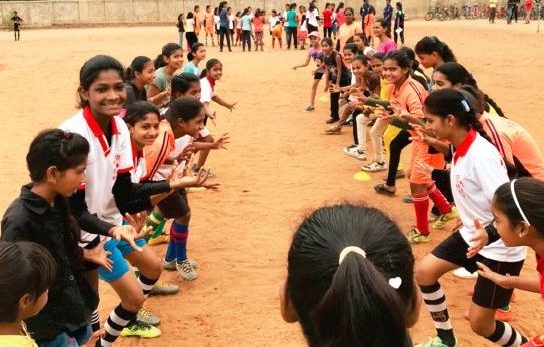 Slum Soccer had always included girls in its activities, but female participation was never equal to that of the boys. Slum Soccer Co-Founder and CEO – Abhijeet Barse, realised in 2009 that there is an urgent need to have a separate programme for girls; one they can call their own. Thus, after careful planning, Shakti Girls was created in 2014 to increase female participation and open pathways to leadership for girls within Slum Soccer.
The programme encountered a lot of resistance from local families and communities when it was launched; leading to low participation. We had to overhaul the programme and officially re-launch it in 2015. We introduced it through schools, rather than directly organising on community pitches.
The flexibility to change the programme based on identified challenges is common across the Slum Soccer organisation which prioritises community buy-in and creating the most comfortable and safe environments possible for female participants.
"We are immensely proud to cooperate with Slum Soccer who shares the passion and vision of empowering the youth of India. This partnership has been an incredible opportunity which not only recognises talent, but also contributes towards nurturing India's true potential. Our constant endeavour is to create equal opportunities for every individual in the country."
Rajkumar Bidawatka, CSR Head, SPN India
Shakti Girls teaches life skills and football to girls between the ages of 8 and 14 years, and is currently in four schools in the Nagpur area, with 3200 girls having registered. The programme's impact has grown to impressive proportions in two years.
Shakti Girls' female focus is not exclusive to the participants, but extends to the staff as well, as a lack of female coaches is a potential barrier to participation of girls. Currently, we have two female coaches, who were former participants in the Slum Soccer's Young Leaders programme. We plan to increase the number of female staff and coaches at Slum Soccer over the coming years. We will not deny that there is a challenge in finding and recruiting experienced women coaches. For this reason, we have decided to prioritise developing the capacities and opportunities for young women within Slum Soccer to become new leaders and managers, especially of this programme.
Slum Soccer not only focus on building up the girls' footballing skills as well as create space for them to grow and develop as individuals, but we prioritise quality training for coaches so that they can help the girls build their skills even better.
We also believe that girls playing football can be role models for their peers. The Shakti Girls Programme Manager explained that simply seeing girls on the local football grounds can have a big impact because it encourages other girls to play and show their families the benefits of participating. These benefits are two-fold: life skills/personal development, and skills and confidence as football players. The Programme Manager, who is also the Shakti Girls' Head Coach, explained that girls from other schools have come forward with their parents requesting if they can join the Shakti Girls programme. The Coach sees this as a significant change in the community's attitude towards girls.

Stories to Warm Your Heart

Passion and Confidence Pays Off – Rakshanda

Nineteen year old Rakshanda is from Panjra, a small village in Koradi Tehsil, Nagpur. Some of her family members were very upset with her when she started playing football. They forced her to stop as they said it was not something a girl should be doing. They discouraged her parents from allowing her to continue the sport. However, Rakshanda boldly and confidently overcame the challenge posed by them, and convinced her parents to support her passion for the sport. She knew that, like her, they will not regret their decision to allow her to continue playing. Her parents' support made her more determined to give her best. Her hard work paid off when she was selected for her school's Divisional Team.

The first part of her mission was realised with the selection. She then focused on getting into the State Team. She was eventually selected to represent Kolhapur. Her exceptional defense prowess and the team's incredible performance help powered them to victory, thus emerging as State Champions. During the State Tournament, Rakshanda was selected to participate in the National Football Tournament which was held in Orissa. She represented Maharashtra in the National Championship. Her home team is very proud of her as she is the first girl from her team and community to reach this position.

Rakshanda aspires to play football professionally and make a career out of it. She wants to prove to her family members and community that girls can shine and also have a future in the field of sports.

Diamond in the Rough – Rajesh Kharwade

Rajesh Kharwade and his family shifted to Bhokara Village, Nagpur, when he was very young. Being very poor, it was extremely difficult for his parents to provide him and his siblings a proper meal. They were perpetually hungry. In order to numb his hunger, Rajesh, who was about eight years old then, would chew on tobacco. This addiction took him to try other types of addictives, and by the time he was 12, he was sniffing glue.

One day, as he was idly wandering into the football field, he saw a football match going on. Knowing that some of his friends are part of the team, he lazed around to watch them play. As fate would have it, the goalkeeper was unavailable that day. Seeing Rajesh, the football coach, Shubham Patil, asked him to stand in as goalkeeper. Little did Rajesh know that it was the turning point in his life. Coach Shubham and the Slum Soccer Ambassadors took notice of his innate talent for football and started encouraging him to join the team. Coach Shubham realised that more than anything, Rajesh craved for personal contact; for people to communicate with, for someone to understand him. He joined the team, and would train regularly. Rajesh blossomed as an adept goalkeeper. He took part in the National Inclusion Cup in February 2018. It was there that he was selected to represent India at the Homeless World Cup 2019 in Cardiff, Wales this July 2019.
Over the years, we at Slum Soccer have functioned focusing on our original objective of reaching out to and developing football in the grassroots. Simple sessions which started in the community have accelerated the growth of the organisation which has then brought in full-fledged football coaching camps, life skills sessions coupled with social themes, endless opportunities on football for the underprivileged, educational and healthcare workshops and societal development programmes that brought in a positive influence to the lives of nearly 80,000 men, women and children in over 63 districts all around the country. While there is a sense of satisfaction at what we have achieved so far, we feel that our work has just begun, and that we have a long way togo. In addition to the large community of stakeholders that Slum Soccer has been associated – like participants, teachers, parents, school authorities, local leaders, etc., we believe that it will achieve greater heights with the support of all its partner organisations, civic bodies, individuals, and the community at large.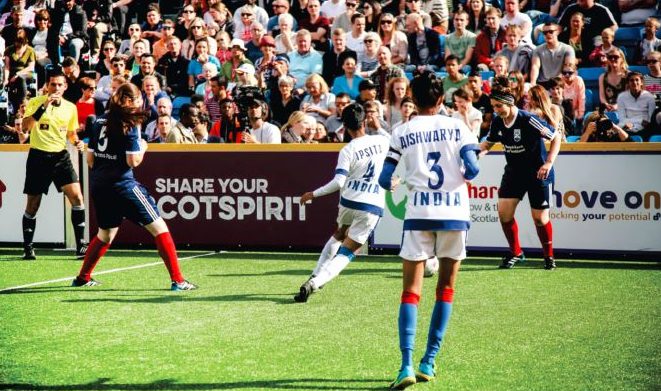 All said and done, the biggest factor that enables us to use football as a tool to connect and bring about social development is quite stunningly simple. Football is fun! We believe we are able to bring about increased learning and engagement through this sport.
We are marching confidently towards the field for a 'New Kick Off' with a mission to change lives through football.
Dr. Vijay Barse is the Founder of Slum Soccer, a Nagpur-based organisation dedicated towards the upliftment of underprivileged children through football. Today, over 15 States are connected to his Slum Soccer, which sends a team representing India every year for the Homeless Soccer World Cup.