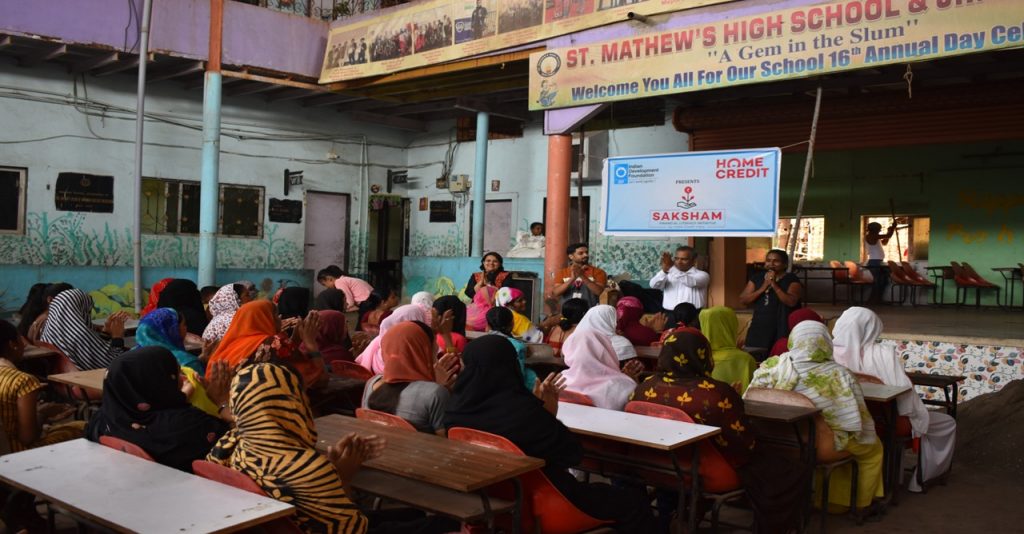 New Delhi: Home Credit India (HCIN), the local arm of the leading global consumer finance provider, in collaboration with its implementation partner, Indian Development Foundation (IDF), a private non-profit organisation. recently concluded its Financial Literacy CSR initiative 'Saksham', educating nearly 30,000 marginalised women and girls. Project Saksham was a nine-month financial literacy initiative carried out from July 2022 till March 2023.
The core objective behind this initiative is to impart basic financial education among marginalised women and girls to empower and enable them to make informed financial decisions. Saksham project covered nearly 30,000 women (including girl students, homemakers, maids, and daily wage earners) through 605 financial literacy workshops conducted primarily in Uttar Pradesh, Rajasthan, Delhi NCR, Maharashtra, Bihar, and West Bengal. As Project Saksham included 30 per cent girl students over the age of 15 years, it got the leverage of falling under the Financial Literacy programme under NEP implemented in 2020.
Speaking on the success of the Saksham project, Ashish Tiwari, Chief Marketing Officer, Home Credit India, said, "In India and globally, financial literacy is far behind general literacy and amongst women it is at dismal levels. For Home Credit India, financial literacy is one of the key ESG pillars and we are working on it by promoting financial and digital literacy to drive a responsible borrowing culture in the society. We are happy to have successfully completed the first phase of the Saksham project in collaboration with the Indian Development Foundation. This is just beginning to empower and enable marginalised females in our society to attain financial skills that will instil confidence and help them take their personal and household financial decisions."
As a responsible consumer lender, Home Credit India believes basic financial knowledge and skills are essential for individuals to manage personal finance and make informed decisions. Saksham's curriculum for the financial literacy workshop covered topics such as budgeting, savings, creditworthiness, and investment planning.
Speaking on the project implementation, Dr. Narayan Iyer, CEO, IDF, said, "Financial literacy has become the need of the hour, especially with the government's focus on the penetration of financial inclusion in the country. By targeting marginalised women, we have begun financial education from the bottom of society, which will create a sound foundation for spreading its relevance to the wider society. Beneficiaries attending our literacy workshops have given a resounding response, with requests for more such regular training and to include male members of the family for a bigger impact. IDF has been working on education and skill development for decades, and with Home Credit's persuasion of promoting financial literacy in the country, our synergies are in line to take this initiative much more ahead."             
According to the National Centre for Financial Education (NCFE), promoted by RBI and other financial regulators, India has a literacy rate of nearly 80 per cent of its population, however, only 27 per cent of its adult population is financially literate, and women, this number is around 21 per cent.
As part of the financial literacy initiatives, Home Credit India has also engaged with over three million people through its in-house 'Paise Ki Paathshala' microsite, blogs and social media campaigns. Home Credit has always believed in the power of technology and digital innovation to foster financial inclusion and accessibility to all.