Chakan/Pune: The multipurpose state-of-the-art medical facility set up by Huntsman, a global manufacturer of differentiated chemicals, at the Primary Health Centre (PHC) in Karanj Vihire, Chakan, has achieved the milestone of being the highest COVID-19 vaccination provider in Pune by administering nearly 1.5 lakh doses, according to the district health department.
This medical facility spread across 3,500 square feet, caters to people from 34 villages in and around the region. It is being utilised for people who visit the centre for COVID-19 vaccination and routine PHC activities such as antenatal check-ups for pregnant women, routine outpatient department services, all kinds of diagnostic camps, vaccination of small children, staff meetings and training, amongst others.
"We are very proud to achieve this milestone and dedicate its success to the hardworking team at the PHC. We look forward to servicing the entire Chakan community more and more with the sole aim to improve their health and overall life. Our contribution towards the communities, coupled with the efforts of healthcare workers, NGOs, and governments, will greatly accelerate India's fight against COVID-19," said Rahul Tikoo, Managing Director – Indian Sub-Continent, Huntsman International India Private Ltd.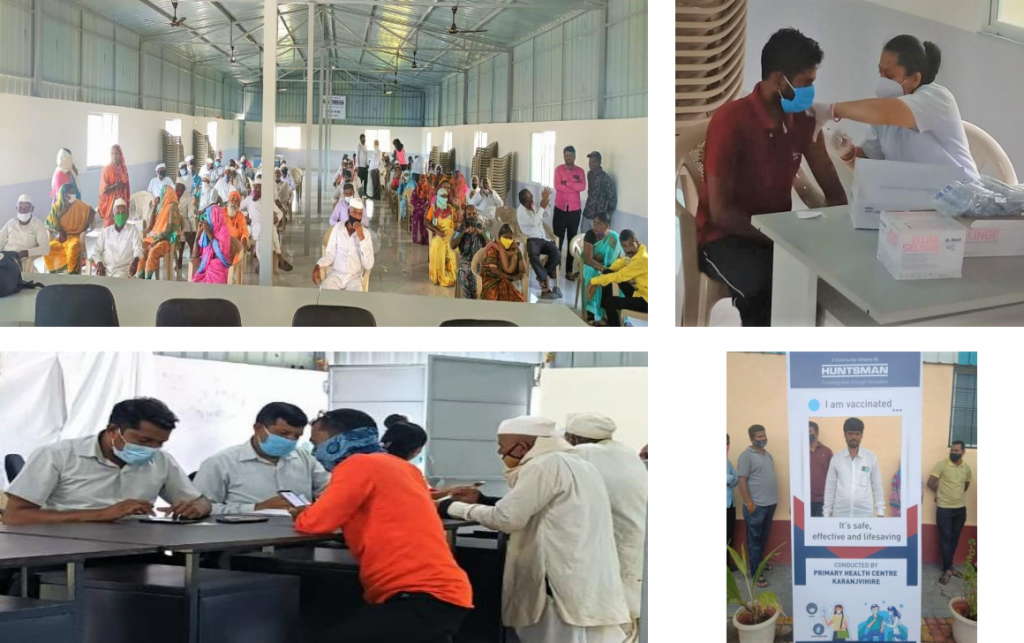 Huntsman India has been able to support more than 2,00,000 people by contributing 20,000+ units of essential medical equipment to frontline workers across Mumbai, Pune, Chakan and villages near Baroda. Having gained recognition as the largest COVID-19 vaccine distribution centre, Huntsman continues to strengthen its commitment to supporting communities and assisting people with ways to emerge stronger from the current situation.
"Huntsman has provided a multipurpose healthcare facility at the primary health centre in Karanj Vihire. This primary health centre has benefited the citizens of Chakan by providing the highest number of COVID-19 vaccinations, making the centre a leader in the Pune district. This facility also helps in providing many healthcare services," said Jayshree Mahajan, Medical Officer, Karanj Vihire, Primary Healthcare Centre.
Commenting on the achievement, Rayomand Sabawalla, Head CSR and Director of Finance, Huntsman International India, said, "Furthering community welfare and enriching lives has always been an integral part of Huntsman's vision. As a responsible company, it is our duty to ensure the overall well-being of the communities we operate in. Our contribution will continue to help protect the lives of the citizens and provide basic primary health infrastructure across rural areas near Chakan in Pune."
Huntsman has set up an oxygen generation plant along with 50 beds and other essential items to the COVID-19 Care Centre in Padra, Baroda, which are being used for the isolation of COVID-positive patients. Huntsman's mobile medical vans in Navi Mumbai and Pune provided free healthcare facilities to more than 25,000 people.  In October 2021, Huntsman additionally set up mobile health clinics in Chakan to provide free primary healthcare services in 18 villages, that lack basic medical amenities. More than 50,000 villagers in Chakan have availed these services.​​​​​​
In the last two years, Huntsman has distributed thousands of dry ration kits to help the needy in Baroda, Chakan, Mumbai and Alleppey. Additionally, Huntsman helped farmers, fishermen and rural women by establishing vegetable nurseries, fishing, and poultry units.