New Delhi, Feb 20, 2018:  While Akshay Kumar's film 'Pad Man' has created a buzz in theatres, tribal women of our country are now going to witness a hygiene revolution as Maya Vishwakarma the 'Pad Woman' of India is all set to start a movement by distributing free sanitary pads. Realising that the taboo of menstruation was depriving them of a very basic necessity, Sukarma Foundation, a non-profit organisation run by Maya, has started a movement to distribute free affordable semi-biodegradable sanitary pads to tribal women in India, starting with the tribal area of Narsinghpur, Madhya Pradesh, in association with Crowdera, a global crowdfunding and fundraising platform for nonprofits and social innovators. Crowdera does not charge any commission or set-up fee for any of the necessary fundraising features and tools.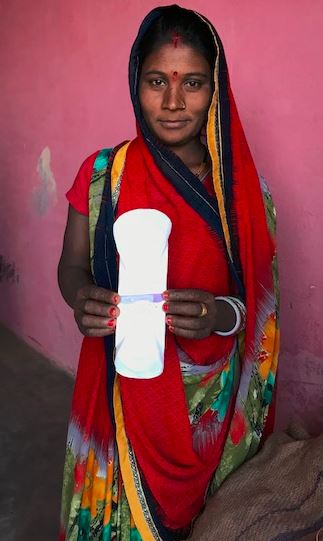 Commenting on this social movement, Maya Vishwakarma said, "Being a woman, I know firsthand the problems and social stigma that a young girl goes through in this country. This also gives me the courage to stand up and do something about it so that future generations in small villages do not face similar challenges." According to a study, 134,000 girls are diagnosed with cervical cancer and 72,000 die of it every year. This is horrendous, especially in the rural tribal areas where women use rags, dried leaves and old clothes in a very unsanitary manner. 80 percent of India's population does not use sanitary pads because they are unaffordable, added Maya.
To fulfill her dream, the Foundation has already set up a manufacturing facility of producing sanitary napkins with the brand name "No TENSION" in Narsinghpur. The mini sanitary napkin-making machine, costing approximately Rs Four Lakhs, is not only affordable and an energy saver, but also manufactures an eco-friendly product compared to products from large manufacturers.
To support the Foundation's cause, global crowdfunding company, Crowdera, provided its free fund-raising platform to launch a campaign to raise funds for this movement. Commenting on this campaign, Chet Jain, Founder, Crowdera said, "I have known Maya for a couple of years now, and every interaction we have had was always about how she can make a difference in the lives of the tribal women in India. All we want to do is help her make this, not just a nationwide movement, but a global one as well.  "I appeal to the Millennials and Generation Z to join this Pad Woman, and give the gift of hygiene to every underprivileged girl, child and woman in the world: gifting one cloth free period at a time."
Maya goes on to say that, "I have been associated with Crowdera since the inception of Sukarma Foundation. Our mission just effortlessly aligns with Crowdera's philanthropic approach of not charging commissions and helping us fundraise from donors around the world. I really wish more volunteers join our fundraising team on Crowdera, so we can take our movement nationwide."
As per its plan, the Sukarma Foundation will provide free sanitary napkins to school students from 6th Grade to 12th Grade as well as college-going girls of tribal residential schools. It aims to reach out 15 to 20 schools of four to five villages in each district to maximise its reach.