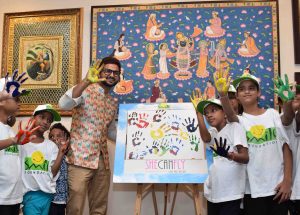 Mumbai, September 30, 2017: Knowledge grows when shared, believes renowned Indian miniature artist who has created a footprint in global art markets with his commissioned art works for the who's who across industries and countries.
Artist Suvigya Sharma, with the intent of spreading the roots of the art form and aligning it with the government's skill development initiatives, conducted a workshop with girls from the Smile Foundation on Friday, September 29, 2017, during his show at Kamalnayan Bajaj Art Gallery in Mumbai. He addressed the youth and students about the 2200 year old perishing art form, its significance, and how he strives to nurture the legacy of traditional miniature art.
The youth and students got a chance to practice the art on canvas, followed by an informative session by the artist about the roots of the art form; how it grew and spread; the scope of growth of the art; its demand in international markets, and how the government aims at encouraging the art form in its upcoming skill development initiatives. Suvigya Sharma recently met the Hon'ble Vice President of India, Mr. Venkaiah Naidu when they discussed about artistic skill development amongst the youth.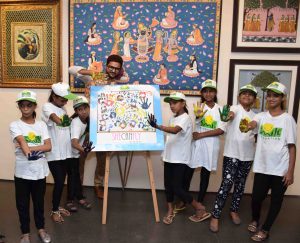 Suvigya Sharma says, "Miniature art is one of the oldest art forms in India and it has been my constant endeavour to grow and spread it across the world. I see a lot of scope for the adoption of this skill among the youth of the weaker sections of society, and with the support from the government, I am hoping to see a plethora of opportunities to be opened. The first brick is laid towards this cause and the event should help me gain momentum towards the success of this endeavour."