Mumbai: South Asia's leading edtech company, Ei convened its conference, "Does Ed-tech Work?" at the Harvard Classroom, Taj Lands' End, Mumbai. The conference saw an array of distinguished participants, including top stakeholders from CSR organisations, government bodies, global foundations, and NGOs. The confluence of education leaders from across the world delved into ed-tech and its ability to drive high-quality learning outcomes and how it can be leveraged to deliver social impact in government schools and low-income segments. Key aspects addressed at the conference included how funders and policymakers can fine-tune ed-tech investments to improve learning, the role of teachers in driving ed-tech, whether smart classes are effective, how hardware alone will not bring about a difference and how strategic philanthropy by corporates can create accountability and make ed-tech initiatives more outcome-based.
Dr. Karthik Muralidharan, who holds the Tata Chancellor's Endowed Professorship in Economics at the University of California, San Diego (UCSD), was the keynote speaker. Celebrated for his expansive work in development economics and education, Dr. Muralidharan's insightful research evaluates various educational policies, utilising empirical methods to assess the efficacy of interventions.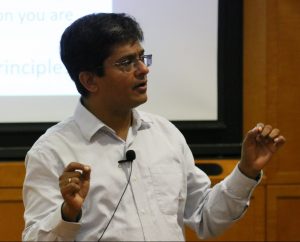 Talking about the need for strategic partnerships to ensure impact in the implementation of EdTech solutions, Dr. Karthik Muralidharan said, "For philanthropists and corporates who are looking to move the needle in the social sector ecosystem, but are outside the government, the biggest leverage will come from thinking about how the government spending can be improved.  They can create the highest impact by working with government and bureaucracy to make aspects like procurement and performance measurement, more evidence-based. In the education space, given the government is spending extensively on hardware, philanthropy capital should strategically focus on initiatives that can maximise the ROI on this spending. Ed-tech, when done right, can be this force multiplier. It offers scalable access to high-quality instruction even in the remotest of corners. It allows students to supplement their learning after school, can help customise the learning path of students, induce greater engagement and shorten the feedback loop."
"That said, one must choose 'what' to fund in ed-tech, wisely. While it is easier to fund initiatives like Smartboards, they have not shown to deliver any significant improvement in learning outcomes for students. On the other hand, ed-tech solutions like Ei's Mindspark have a proven track record of boosting learning outcomes in the remotest towns of Rajasthan and slums of Delhi," added Karthik.
"The conference today underscored a pivotal belief we hold at Ei: ed-tech possesses a transformative potential, not just as an academic tool but as a catalyst for large-scale social impact, especially among our nation's low-income segments. Harnessing this potential goes beyond digitising classrooms; it's about creating meaningful, sustainable change in the way we educate our children. It's about ensuring that even the most marginalised have access to quality learning experiences. To that end, Ei is committed to providing the highest quality of education to all children regardless of their parent's income," said Pranav Kothari, CEO, Ei.