New Delhi: Extending the 'Achhi Aadat Campaign' to food vendors, Japan International Cooperation Agency (JICA) in association with consultation partner IJ Kakehashi Services Pvt. Ltd. and on-ground execution partner Renu Kiran Welfare Foundation distributed two thousand SATO Taps in a span of two months.
The 'Achhi Aadat Campaign' was launched in 2021 with the goal of raising awareness and changing hand-washing practices in India to battle the spread of COVID-19 and other infectious diseases such as diarrhoea. Directed towards street food vendors, the outreach programme began in December 2022 with the motive of promoting handwashing with soap before and after meals.
JICA distributed two thousand SATO taps to food vendors in the bustling streets of Chandni Chowk, Malviya Nagar, North Campus, South Campus etc. and managed to reach out to a substantial audience within a short amount of time.
The award-winning SATO Tap is a portable and easy to use hygiene solution that provides users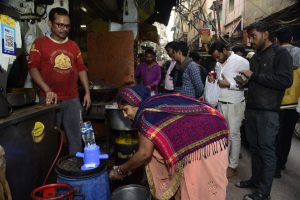 with the benefits of handwashing without access to running water. The SATO Taps allows hand washing with as little as 100ml, being particularly beneficial where the water supply is a challenge.
Commenting on this initiative,  Amit Konlade, Leader – Global CM, SATO, said, "Our three year-long relationship with JICA has presented an opportunity to work together to address sanitation and hygiene issues not just here in India but globally. This activation is just an example of what partnerships can achieve. Our purpose is to empower people everywhere to live a better life, every day, and to enjoy a brighter future through innovative sanitation and hygiene solutions."
"Thanks to the support of LIXIL, we have been able to distribute over 12,000 SATO Taps all over the country in the Achhi Aadat Campaign. SATO Taps have proven to be a useful tool to wash hands while conserving water, especially where tap water is not readily available. In this current campaign we are providing SATO Taps to street vendors in Delhi. We hope to see the message of the campaign delivered through the vendors, and their customers pick up the habit of handwashing before and after meals," said Saito Mitsunori, Chief Representative, JICA India.