Hyderabad: Kakatiya Sandbox (KS) is proud to announce the tremendous support of Kanwal Rekhi, an iconic Silicon Valley entrepreneur, Co-Founder & MD of Inventus Capital, to promote and scale rural entrepreneurship programmes in India. Kanwal was the first Indo-American Founder & CEO to take a venture-backed company public on the NASDAQ. He co-founded and helped build TiE into the largest global network of entrepreneurs. Kanwal has been a great role model in entrepreneurship and philanthropy. He is also known as 'The Entrepreneurship Pandit'.
Kanwal has committed ₹20 Crores to seed KREST – the Kanwal Rekhi Rural Entrepreneurship and Startup Centre. KREST will be a part of K-hub, a social innovation hub run by KS in Nizamabad to improve economic prosperity in North Telangana. The mission of KREST is to build a strong rural entrepreneurship ecosystem for entrepreneurs to test their ideas, build successful ventures, and scale.
Raju Reddy, the Co-founder of Kakatiya Sandbox (KS), considers this a momentous milestone for KS, as this Centre will build on the past nine years of grassroots work done by KS in North Telangana. "KREST will support mission-driven entrepreneurs solving problems in agriculture, healthcare, education, and rural livelihood. Kanwal's considerable contribution has the potential to be transformative, and I believe KREST can become a model for other parts of rural and semi-urban India," said Raju Reddy.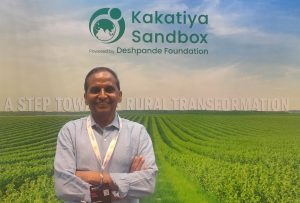 Kanwal's donation will energise KS to scale its programmes across agriculture, skilling, startups, and micro-entrepreneurship by leveraging the large pool of talented youth in rural India. With philanthropic intervention, utilisation of technology, execution excellence, and mentorship, KS hopes to catalyse the North Telangana region as an engine of economic growth and prosperity.
According to Kanwal, "Indians have raised the bar in the US and built great prosperity through Entrepreneurship. We want a similar movement in India to create an ecosystem that supports 10 million entrepreneurs when India turns 100 years in 2047.  Furthermore, I believe that India has the potential to become the bread basket of the world. To achieve that goal, it needs an entrepreneur-driven infusion of technology and techniques in this sector. Hopefully, Kakatiya Sandbox will validate this idea and provide a role model for others."
Kalvakuntla Taraka Rama Rao popularly known by his initials KTR, serving as the Minister for Municipal Administration & Urban Development, Industries & Commerce, and Information Technology of Telangana, is excited about the boost this Centre will give to the economic development of his state. KTR said, "I am confident that KREST will become a bustling centre for innovation and entrepreneurship in Telangana. It is also well poised to become a gateway for entrepreneurs from the rest of India looking to solve the challenges of rural India. I am thrilled that Kanwal Rekhi has chosen Telangana to create KREST."