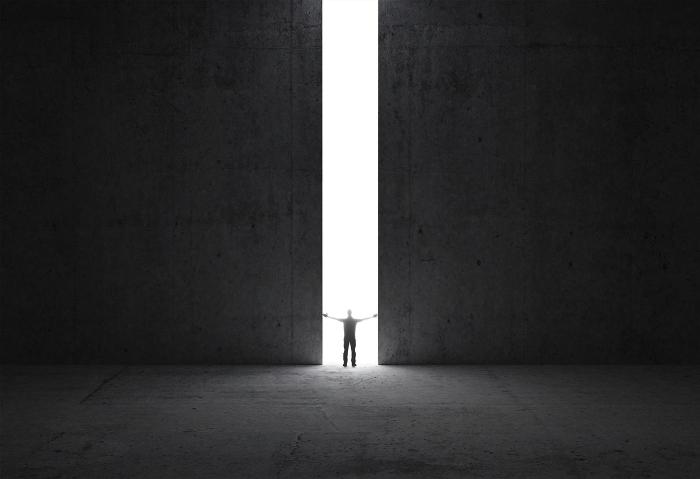 The fight against the novel coronavirus is still not yet over. This is the time when we, as a nation, need to unite together to reach out and help as much as we can in diverse ways to stop this pandemic. We acknowledge the various initiatives the following companies, individuals and groups have been undertaking to tide over this crisis. We shall overcome.
ICICI Lombard Initiates Vaccination Drive, Aims to Inoculate 50,000 Residents in Mumbai's Dharavi and Worli Village Areas
To aid the country's inoculation drive, ICICI Lombard, one of India's leading private general insurance companies, has taken the lead in launching a mega vaccination drive. This would enable 50,000 people from the underprivileged and lower-income groups to get vaccinated, free of cost. It has held vaccination camps in the areas of Dharavi and Worli village in Mumbai to make this possible. This is so far the largest drive that any organisation has held in any location, in India.
Dharavi, amongst Mumbai's largest slum clusters, was previously a hotspot for COVID-19 infections and, as such, a major concern. It is estimated that one million people live in Dharavi, which spans just 535 acres, and has a population density of 869,565 people per square mile. As such, inoculating this dense population becomes highly critical to the nation's fight against the coronavirus.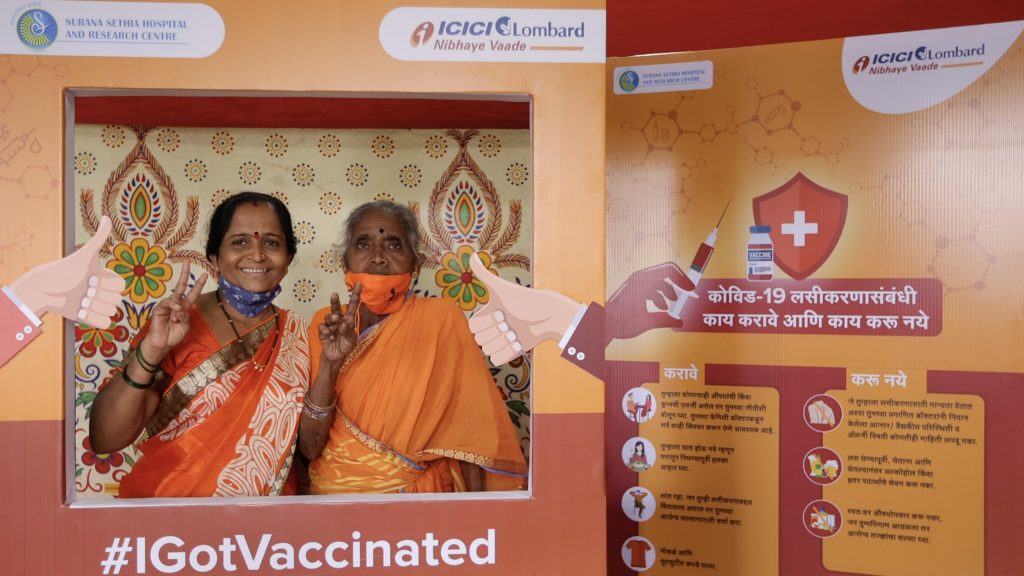 ICICI Lombard, in conjunction with Surana Sethia Hospital & Research Centre, is conducting an end-to-end vaccination drive, right from registering the residents on CoWIN to administering the doses.
The vaccination drive, conducted in Jivan Hall and Prajapati Hall in Dharavi and adopting all social distancing measures, has successfully completed 8,948 vaccinations as of July 22, since its launch on July 10, 2021. The Company expects to complete all 50,000 vaccinations in the next 10-12 days. The drive consists of a team of over 60 people, including verifiers, nurses, doctors and paramedical staff.
On the initiative, Sanjeev Mantri, Executive Director, ICICI Lombard General Insurance Company, said, "As COVID-19 continues to re-emerge in the form of new mutants, the only solution out of the crisis is to vaccinate the population at large. At ICICI Lombard, we have always focused on supporting consumers and society at large at the time of need, through our unique CSR initiatives. We are humbled and encouraged to have initiated this exercise of vaccinating the needy and thereby contributing to the nation's vaccination efforts. We would like to thank the Government authorities, Hon'ble Mayor of Mumbai for supporting us in this endeavour. I would like to thank Dr Surana and his team at Surana Hospitals to help us with the logistics for this activity.
Dr Prince D Surana, CEO, Surana Group of Hospitals, said, "We are happy to partner with ICICI Lombard for this significant cause. The idea of vaccinating over 50,000 people at Dharavi and Worli, especially the slum population, would help ease the load on the government. Secondly, the large scale vaccination drives will help develop immunity in the larger densely populated segment across Mumbai. We have received an overwhelming response from the beneficiaries on this initiative."
As a responsible corporate citizen, ICICI Lombard truly demonstrates its brand ethos of 'Nibhaye Vaade' in diverse areas of influence by supporting national and socially impactful issues. The company has been at the forefront in its efforts to provide support amid the current pandemic. It has supplied 1,000 oxygen concentrators across Nagpur, Delhi and Lucknow, which have seen a high number of COVID positive cases. It also partnered with the Neotia Group to establish a dedicated COVID Care Centre in New Town, West Bengal to treat those affected by COVID. With the demand for vaccination escalating, it is imperative to keep the momentum going and help inoculate a significant part of the population.
Nestlé India Sets Up Oxygen Plant in Rudrapur, Uttarakhand
To help communities in need amidst the pandemic, Nestlé India successfully installed an oxygen plant that caters up to 30 beds at the Community Health Center (CHC) in Kichha, Rudrapur, Uttarakhand. The Chief Minister of Uttarakhand, Hon'ble Pushkar Singh Dhami, inaugurated the oxygen plant.
Recognising the need for oxygen support for COVID-19 patients, this initiative was introduced as part of Nestlé India's support to fight against the COVID-19 pandemic. Nestlé India is in the process of setting up oxygen plants in hospitals close to its factory locations in Punjab, Himachal Pradesh, Karnataka and Goa in the near future.
Nestlé India has also been working on COVID relief initiatives that focus on safeguarding the wellbeing of the society at large and will continue to contribute through other COVID relief initiatives.
ACT Fibernet Pledges 50,000 Vaccines to Fight against COVID-19 in Karnataka
Extending support to combat COVID-19, ACT Fibernet, one of India's largest fibre broadband ISP (Internet Service Provider), pledged 50,000 free vaccines for citizens and has joined hands with the Government of Karnataka to drive this campaign.  Launched by ACT Fibernet on July 11, 2021, these camps are set up across different parts of the city. So far, 12,000 vaccinations have already been administered by the company in areas such as RR Nagar, Chamrajpet, Vijaynagar, Bommanahalli, Shanthinagara, Chickpet, Girinagar, KR Puram, Shivaji Nagar, Rajaji Nagar and Hebbal. Plans are underway to organise camps in other parts of the city in the following weeks.
While citizens are adhering to restrictions of movement, there has been an increase in COVID-19 cases and with a third wave predicted to be around the corner, it is imperative to ensure that citizens of the city are vaccinated. ACT Fibernet has extended its support towards this cause and has been relentlessly working with government officials to procure vaccines and ensuring a seamless vaccination camp.
"Every citizen has the right to be vaccinated and stay protected against Covid19.  It is endearing to see that corporates as ACT Fibernet are coming forward to help us reach as many citizens as possible with this vaccination program. We appreciate the donation of 50,000 doses of vaccines and I express my gratitude to them on behalf of the residents. Such initiatives are extremely useful since there is a steady demand for vaccines. We wish ACT Fibernet all the best and encourage people to benefit from this drive." said Shri. S. Suresh Kumar, Minister for Primary and Secondary Education, Labour and Sakala, Govt of Karnataka.
"We are dedicated to supporting the community and helping fight this life-threatening virus. As we see new variants of COVID-19 emerging, vaccines need to be administered as much as possible to minimise the cases. We thank the Government of Karnataka for giving us this opportunity and supporting our agenda to help people get vaccinated in Bangalore. We hope to see more people coming forward and taking their shots," said Bala Malladi, Chief Executive Officer, Atria Convergence Technologies Ltd.
A commitment to securing and supporting the welfare of the community is at the core of CSR initiatives led by ACT Fibernet. 
Korean Companies and CII Provide Medical Supplies to Help Delhi Government Prepare for Third COVID Wave in India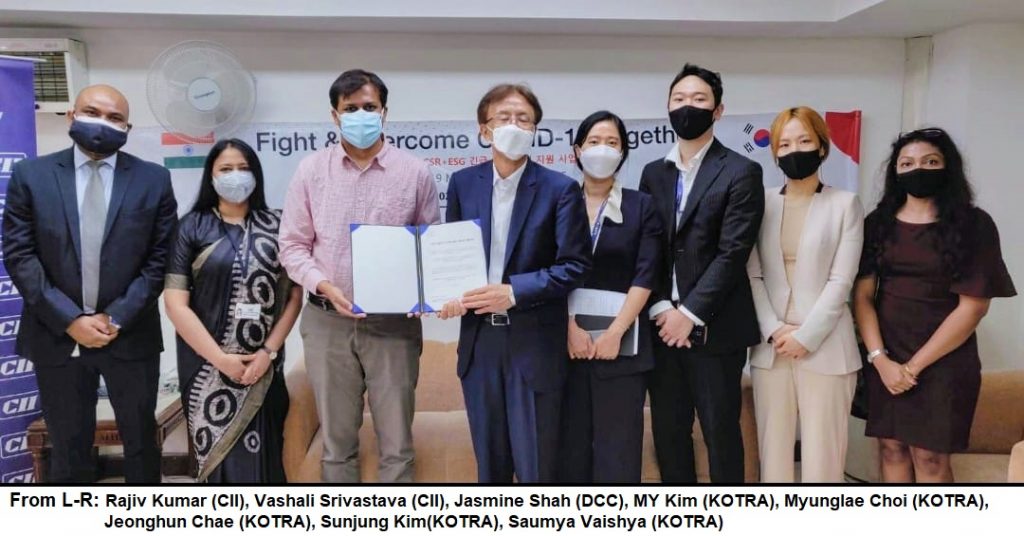 Korea Trade-Investment Promotion Agency (KOTRA) in accordance with the Confederation of Indian Industry (CII) contributed medical equipment and other supplies to the Dialogue and Development Commission (DDC) as part of the Delhi Government's fight against COVID. DDC is a premier think-tank of the Government of NCT of Delhi which advises the government in finding sustainable, people-centric solutions to the critical development challenges facing Delhi. To fulfil its mandate, the DDC follows an 'outside-in' and 'inside-out' strategy.
The medical supplies that are worth more than INR 3.7 million are provided by six Korean companies. It consists of oxygen concentrators with a nasal cannula (LE Corp.), 10,000 Personal Protective Gowns – PPE (Wallan Bio), 200 kg of sanitising material (G-Sol), 60000 high-quality KF94 masks (Siheontech, GAONTech), and 100 pulse oximeters (MTEC Global). These will be distributed to government hospitals and public health facilities in Delhi that are in need of help in the event of the third COVID wave.
Ramping up its efforts against a possible third wave of Coronavirus which seems to knock doors in India, the Korean companies G-Sol Corporation, Wallan Biotech, LE Corporation, Siheontech, GAONTech, MTEC Global with the support of the Korea Trade-Investment Promotion Agency (KOTRA), the Government of the Republic of Korea in India handed over the supplies to the authorities at the DDC. The CII Secretariat was also present on the occasion.
Jasmine Shah, Vice Chairman- DDC, Govt. of NCT of Delhi said, "These medical equipments and supplies will be distributed to medical facilities or institutions in Delhi that are in need of helping hands. We sincerely appreciate KOTRA and Korean companies for their support and look forward to more such participation in our fight against the deadly disease."
Jeoung Yeol Yu, President – KOTRA, has been carrying out 'CSR (Corporate Social Responsibility) and ESG (Environmental Social Governance) Emergency Medical and Health Support Project'  in India to combat the COVID-19 pandemic by facilitating Korean Manufacturers of COVID-19 medical products and PPE kits by bringing their donations to India for the Indian government, institutions and corporate entities.
"As a second step, we decided to support Indian nationals through Dialogue and Development Commission of Delhi and CII Foundation, and finally we will donate 8,000 KF masks more to Indian Red Cross Society (IRCS) for helping Indian nationals," said Moon Young Kim, Managing Director-KOTRA Southwest Asia.
In its bid to motivate more and more Korean companies to come forward and offer their donations to India, KOTRA is also providing incentives to such companies. KOTRA is bearing the shipping cost of the medical supplies which are imported to India and donating them to various agencies.
Last week, two Korean companies Yeil Healthcare and Hwasung Industry donated oxygen concentrators fitted with oximeters (Yeil), and safety suit sets to the United Korean Associations for the Korean community in India. 
Silicon Valley Bank Backs COVID-19 Relief Efforts in India with Elevating Healthcare Infrastructure
In an effort to contribute to the fight against the pandemic, Silicon Valley Bank (SVB), a subsidiary of SVB Financial Group – a U.S. based innovation economy bank – has come forward with support to COVID-19 relief efforts in India. Over the last few months, SVB has donated oxygen plants, ventilators, ambulances, lab equipment, thermometers, oximeters and PPE kits to multiple hospitals summing up to over INR 2 Crore.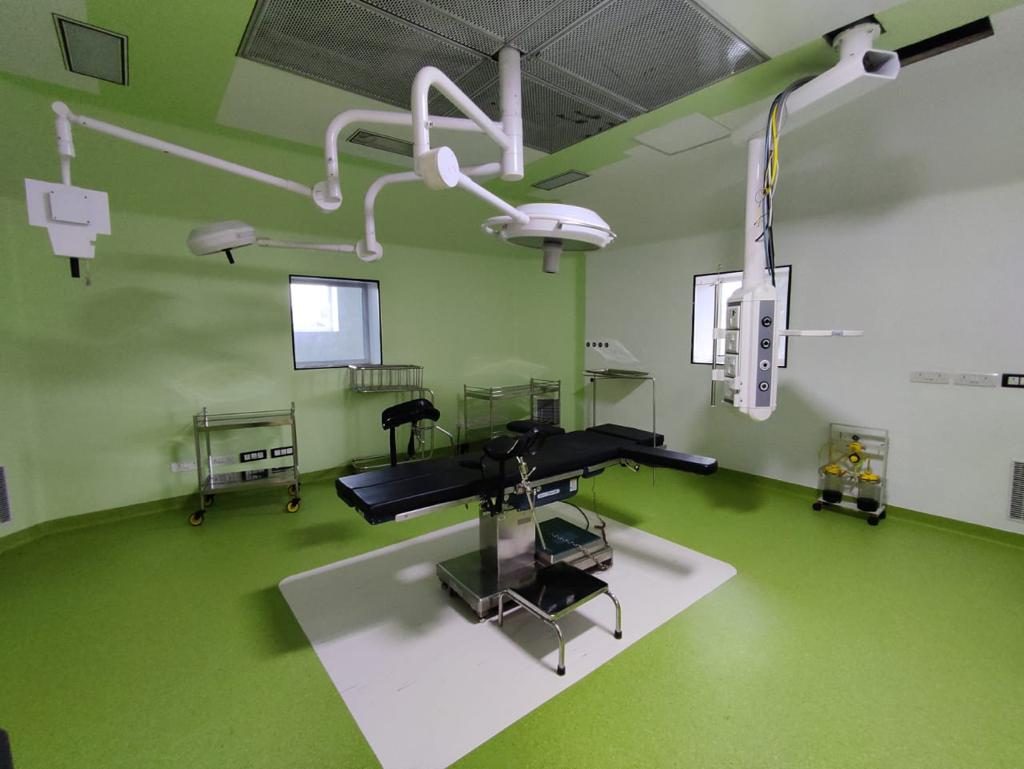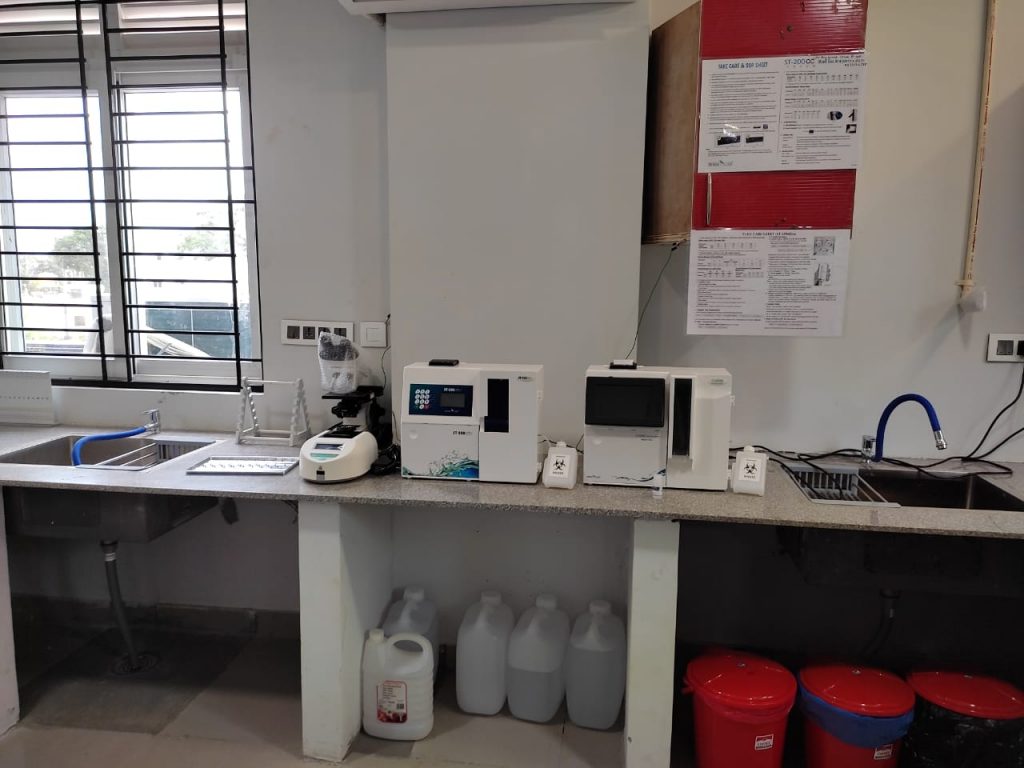 Hospitals that have been covered in this initiative include Jain Mission Trust Hospital, Rakalakshmi Hospital, Nimhans, St. Marthas Hospital, St. Philomena's Hospital and Gudalur Tribal Hospital. The team at SVB ensured that supplies were delivered in a timely manner during the height of the pandemic. As supply chains were disrupted everywhere and a surge in caseloads put a strain on the healthcare ecosystem, these contributions were especially critical to keeping the relief efforts going.
Commenting on this initiative, Dimple Martin, Associate Director – Workplaces Services and CSR Lead, India says, "Several hospitals treating COVID-19 patients in the country had been pushed to the edge due to an acute shortage of medical supplies. We tried to support our frontline workers to continue the fight against the COVID-19 virus by providing essential supplies, as and when they needed them. This not only ensured that patients get treated on time but also reduced potential risk to the healthcare workers. Our focus has always been on the well-being of people, and we will continue to support in the timely provision of healthcare equipment in the best manner possible."
She further adds, "While the hospital initiative is one of the efforts from SVB, the team has also been actively engaged in other relief efforts including mobilizing funds to provide the necessary equipment, medication and sanitisation supplies to underprivileged sections of the society." SVB has invested over Rs 7.5 Crore, since the start of the pandemic to support community relief efforts which include supporting front liners, meal donations, vaccination efforts, education, animal welfare, among numerous others. 
Student of Hill Spring International School Organises Vaccination Drive for Mumbai's Transgender Community
Sia Sehgal, a Class XI student from Hill Spring International School, Mumbai, is organising a vaccination drive for the transgender community at Malad. The compassionate and resilient young girl has raised over INR 2 Lakh through donations and contributions to make this much-needed initiative a success.
Unlike the majority of us, the COVID-19 vaccination drive for the transgender community has been sluggish in the city. For many reasons, they have not been fortunate enough to secure the vaccine against this deadly virus. Considering the level of risk they are exposed to in earning their daily bread, it becomes equally essential for them to get fully vaccinated.
Realising this need, Sia through her platform, 'Something Unsaid,' is working towards the inclusion of this vulnerable group of our society to get their vaccination done at the earliest. After several discussions with the transgender community heads and persuading them on the benefits of being inoculated, Sia has successfully managed to coordinate the camp between the hospital and the community.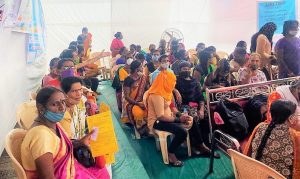 On July 24, 2021, about 100-150 transgender members were administered their first Covishield dose, free of cost, at Triveni Samaj. To further make the entire vaccination process a pleasant experience for the community, Sia distributed ration kits and snack boxes at the venue. The organisations that have supported Sia for this initiative are HCG-ICS Khubchandani Cancer Centre, InHarmony, Triveni Samaj Vikas Kendra, MDACS and I-TECH.
"Inclusion is a Right, Not a Privilege". Vaccine accessibility for every community of our country is of supreme importance in the fight against COVID. It is, therefore, my endeavour to include the vulnerable transgender groups of Mumbai and facilitate their acceptance towards being vaccinated," said Sia.
"Understanding the dire need of having this community vaccinated at the earliest, I initiated this drive through my platform 'Something Unsaid'. Taking one step at a time, I am hoping to encourage many more members of the transgender community to come forward and safeguard themselves. I feel fortunate to be heard and helped in order to make this drive a success," she further added.
KKR Helps India Fight the Pandemic
The COVID-19 pandemic has taken a devastating toll on India, with many of our loved ones and friends directly impacted. However, the response to this humanitarian crisis was overwhelming, with support flowing from within the country and the world. KKR is proud to be one of the companies that provided funding and donated much-needed resources to help the local communities during this challenging period.
In 2020, KKR established the KKR Relief Fund to provide direct donations to relevant aid organisations and worked towards identifying how its portfolio companies could offer assistance to hospitals, relief efforts, and other non-profit organisations.
Over the past 15 months, KKR's India giving campaign, which is part of KKR's global coronavirus relief effort, contributed INR 30.5 Crores (US$4.1 million) to support a range of medical and humanitarian assistance programs across India. These include:
Contributing to the PM Cares Fund, which is part of the Government of India's national effort to fight COVID-19 and help the fellow citizens affected by this health crisis
Providing funding along with others to support the US-India Strategic Partnership Forum that purchased about 38,700 oxygen concentrators for Indian aid groups to distribute to hospitals and patients in need. This donation was made at the height of India's second COVID-19 wave earlier this year when the country was facing a shortage of oxygen to treat infected patients
KKR with its portfolio companies Ramky Enviro Engineers, Lighthouse Learning(formerly known as Eurokids International), Avendus, and JB Chemicals & Pharmaceuticals contributed to ACT Grants India, a non-profit group that provided oxygen supply to those in need
Supporting organisations that provide long-term development assistance, such as the International Justice Mission and Teach for India, to provide food, basic hygiene, and financial aid to vulnerable families
KKR's assistance also enabled vaccination for frontline teaching fellows who were working directly with children
Donating 100,000 Livinguard reusable, virus-deactivating face masks for residents in rural India and other hard-to-reach communities, and working with local non-profits to distribute the masks and educate recipients on their proper use
Working with portfolio company Max Healthcare to provide COVID-19 vaccinations to approximately 1,500 KKR and portfolio company employees and their family members. KKR and our portfolio companies covered all of the vaccination costs
Gaurav Trehan, CEO of KKR India, said, "KKR has been investing in India since 2006, and our ties go well beyond our investments – India is home to our employees and their families. The donations made by KKR and other global corporations have supported India to get through the worst of the pandemic. However, there is much more to do before the country can fully recover. India is an important part of KKR's future, and we – and our portfolio companies – want to be part of the long-term solution. As KKR looks ahead, we will continue to actively support the programs and organisations across India that are providing much-needed healthcare services, supplies, and relief to slow – and eventually stop – the pandemic."
Radico Khaitan Installs Oxygen Generator Plants at Government Hospitals in Six Districts of UP
With the increasing demand for medical oxygen due to the current health scenario, many home-grown companies have stepped up efforts to contribute to the cause in their capacity. In order to extend support, Radico Khaitan – one of the largest manufactures of Indian Made Foreign Liquor (IMFL) in India – has installed oxygen generator plants at various locations in six districts of Uttar Pradesh.
The first oxygen generator plant was inaugurated by Minority Affairs Minister Mukhtar Abbas Naqvi on July 18, 2021, at the Community Health Centre, Bilaspur of Rampur district. The remaining oxygen plants will be installed in government hospital facilities at Prayagraj, Kaushambi, Kanpur, Mahoba and Chitrakoot in the coming days. The oxygen generators have the capacity of 20 M3/Hr at o to 5.5 Bar Pressure (adjustable). The PSA (Pressure Swing Adsorption) Oxygen Generator Plants can continuously generate oxygen with a purity of 90–95 per cent.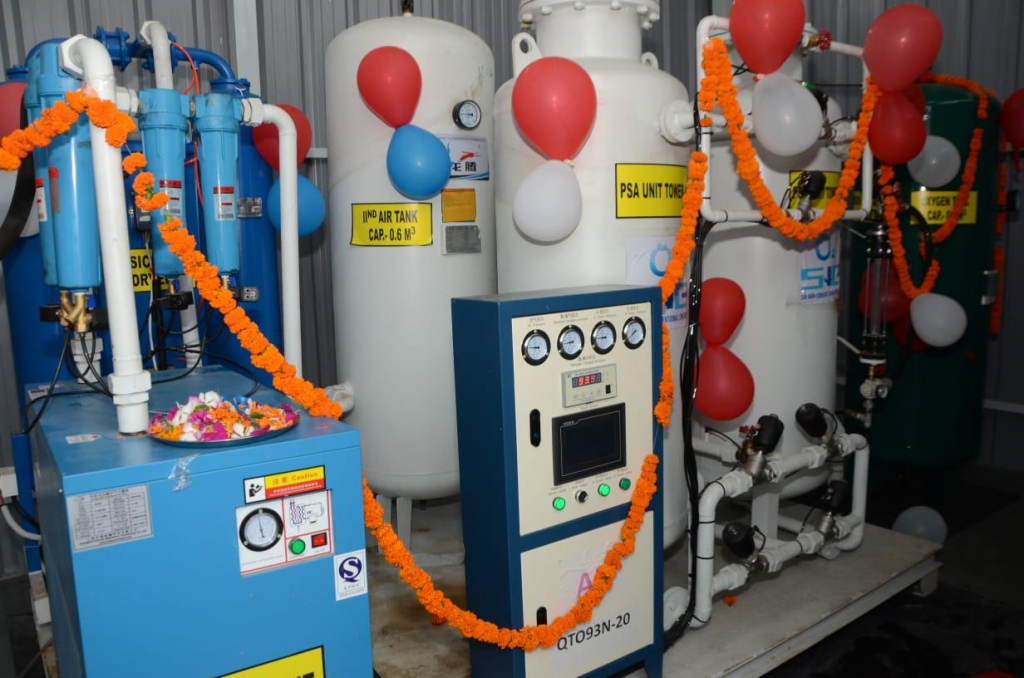 "Being one of the oldest and largest manufacturers of IMFL in India, the company has been at the forefront to help the citizens and the needy since the beginning of the pandemic. Since lack of medical oxygen (which is crucial for effective treatment of COVID-19 patients) has been one of the major concerns, the company initiated the process for installation of 6 oxygen generator plants in UP in May 2021. It is, indeed, an honour to be able to contribute and help in the fight against the coronavirus. We will continue to do everything in our capacity for the well-being of the people and extend our best possible support to the society in times of need," said Amar Sinha, Chief Operating Officer (COO), Radico Khaitan.
Radico Khaitan has been actively lending a helping hand to the nation and the needy in times of crisis. Last year, the company took several initiatives including distribution of Radico's extra strong hand sanitiser to government authorities, hospitals and police stations across the country, supplying food packets and distribution of face masks as part of its relief activities. The company had provided oxygen cylinders to the government authorities in times of crisis as well. In addition to its efforts to help the government by providing liquid hand sanitisers and other necessary products since the beginning of the coronavirus outbreak, Radico Khaitan has also contributed INR 1 Crore to the Uttar Pradesh COVID Care Fund to help the State Government fight COVID-19. It has also donated INR 21 Lakhs to the COVID relief fund through the District Magistrate, Rampur.  
DIVOC Health Empowers 10,000+ Underprivileged against Long COVID
DIVOC Labs, a leading diagnostic company, recently organised a week-long testing camp for the underprivileged in Delhi NCR and conducted more than 10,000+ tests for long COVID.
DIVOC Health has two NABL-approved laboratories in the city and runs quality testing including RT-PCR for COVID and more than 700 types of blood tests and 300 health packages. As part of a drive to enable COVID sufferers in lower socio-economic strata of the society, DIVOC Health has enabled health packages for more than 10,000 patients in Delhi and Western UP. Working with on-field doctors and NGOs they provided blood sample testing including diabetes panel, cardiac panel, complete haemogram, thyroid testing and 25 additional parameters. These help diagnose long COVID and also enable treatment.
Dr Kanav Kahol, Founder and CEO of DIVOC Health said, "Long COVID is the next epidemic. India has had more than 2.5 Crore people who have had COVID and a significant percentage of them will need support for the long term. This is an attempt to enable Long COVID treatment for people who need it the most. Each of these packages can run into thousands of rupees and be out of reach for a large section of society. DIVOC Health is committed to reversing COVID and this is a small effort from our side and we invite other laboratories to also join in this initiative."
DIVOC Labs is a new enterprise bringing innovative healthcare products into the Indian Market established by Dr Kanav Kahol, a former professor from Arizona State University and Mayo Clinic USA and a renowned healthcare innovator. DIVOC Health has two NABL-approved laboratories in New Delhi and Ghaziabad and is also providing vaccinations for COVID-19 at its Ghaziabad facilities.
NSE Foundation – Armoured for the Third Wave
NSE Foundation, a Section 8 subsidiary of National Stock Exchange of India Limited, has launched an innovative programme that will unite the efforts of grass root level partners and the local district administration to facilitate increased vaccination in remote aspirational districts of India which include Nandurbar and Osmanabad in Maharashtra, Karauli in Rajasthan, Ramanathapuram in Tamil Nadu, and Kiphire in Nagaland.
According to a recent survey by the Boston Consulting Group, across India, about 63 per cent of people in villages have reported resistance to the COVID-19 vaccine due to lack of awareness; also, they have a limited understanding of the vaccine registration process. 'Cavach' stands for armour, and the programme aims at building one, in terms of immunity to the disease, through increased vaccination numbers and awareness among the people residing in rural India.
Dr Vinod K. Paul, Member NITI Aayog, Chair of the Empowered Group on Medical Infrastructure and Covid Management Plan, National Task Force on COVID-19 (ICMR), and the National Expert Group on Vaccine Administration for COVID-19 (NEGVAC) launched Project CAVACH in the presence of District Collectors and NSE Officials.
NSEF will drive the vaccination advocacy campaign across the districts by mobilising the community through concerted communication and facilitation of the vaccination process. Its local NGO partners will work on lowering resistance, addressing fears through community connect programmes and improving footfall for vaccination so that herd immunity is achieved in these districts. NSEF will rely on its community network, youth volunteers, Gram Panchayats, Self-Help Group members, as well as enlist support from the district health administration, collectorate, Sahayaka Samitis, and so on. Rema Mohan CEO, NSE Foundation, stated that this is the first of its kind large scale convergent and collaborative initiative by civil society organisations to address issues of vaccination hesitancy in rural areas.
Eventually, NSEF hopes to create a template that can be used by the government administrations and corporate social responsibility divisions of organisations in other geographies so as to align with the efforts of the national COVID vaccination movement and achieve a critical mass.
Ingersoll Rand Helps Set Up Oxygen Plant in Faridabad 
As part of Ingersoll Rand India's, a leader in mission-critical flow creation and industrial technologies, commitment to Haryana the company is helping set up an oxygen generation plant in Faridabad. The plant will generate 200 LPM of oxygen per day to help the city in its fight against COVID-19.
Amar Kaul, Chairman and Managing Director, Ingersoll Rand India Limited said, "Given the critical role of air compressors in the generation of oxygen, we have been working round-the-clock with various government authorities and business partners to deploy our products and solutions. Ingersoll Rand's air compressors will help the new plant generate 200 LPM of oxygen. Over the past few months, we have supplied over 45 Made in India compressors and dryers across India to meet the nation's need for oxygen. We will continue to help our customers and partners with our expertise and best-in-class products."
He added, "Haryana is key to Ingersoll Rand's operations and we are committed to helping the community. We have been actively running various programmes in partnership with several NGOs to promote STEM education, skilling and drive green city initiatives."
Since the beginning of the second wave of COVID-19 in India, Ingersoll Rand's compressors have been increasingly used by private and government hospitals, oxygen manufacturers and other players in the healthcare segment. The company also worked with Indian Air Force earlier to airlift compressors and other necessary equipment for the activation of the much-needed oxygen plants in Nagaland.
Ingersoll Rand and its employees had earlier also extended its support to the government of India in its ongoing fight against COVID-19 with the donation of INR 1Crore 6 Lakhs towards the PM-CARES Fund.
With almost 100 years of presence in India, the company has been strongly leveraging innovation for developing solutions for the world by providing air compressors and compressed air solutions that enhances customers' energy efficiency, productivity, and operations.
COVID Vaccination Drive for Artisans of the Diamond Industry
The Gem & Jewellery Export Promotion Council (GJEPC) along with the Gem & Jewellery National Relief Foundation (GJNRF) and the World Federation of Diamond Bourses (WFDB) organised a free vaccination drive for the artisans of the diamond industry on July 19, 2021.
The programme was inaugurated by Chief Guest Vinod Ghosalkar, Chairman of Mumbai Building Repair and Reconstruction Board; Sanjay Kothari, Chairman, GJNRF; Ashok Gajera, Regional Chairman, (Western Region) GJEPC; Mehul Shah, Vice President, Bharat Diamond Bourse and Rajikant Vallabhai Hirapara, President, Borivali Diamond Cutters & Polishing Association.
GJEPC has roped in Apollo Hospitals, Asia's foremost integrated healthcare services provider, to administer the vaccination drive. The Borivali Diamond Cutters and Polishers Association provided the venue and logistics support to organise the event.
5000 artisans would be vaccinated in the first stage of this drive that is supported by WFDB.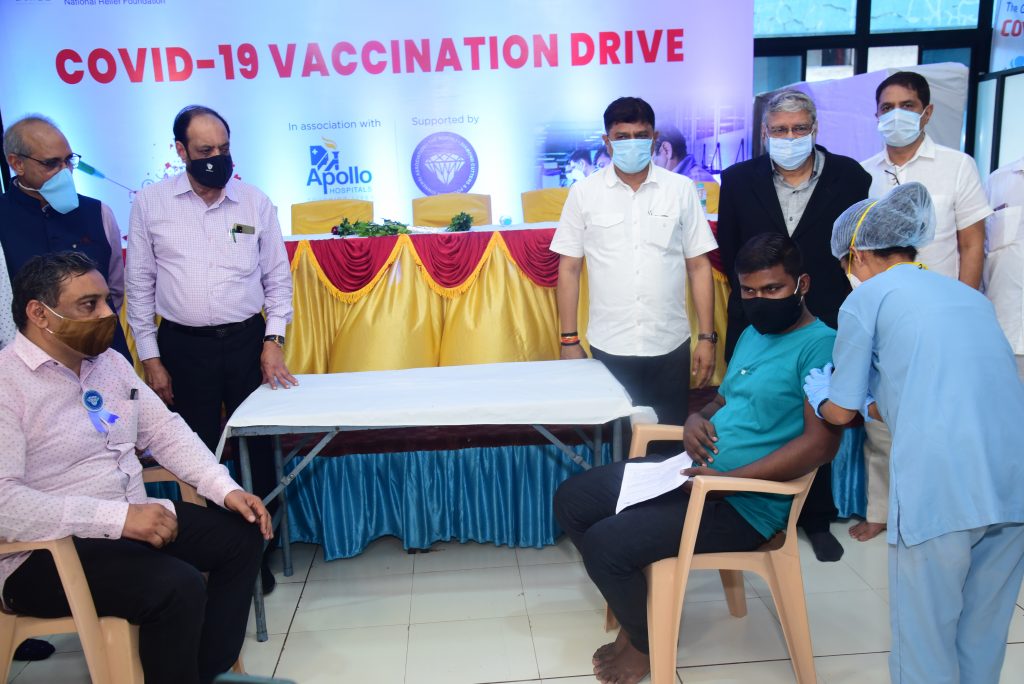 Speaking on the occasion, the Chief Guest, Vinod Ghosalkar, Chairman of Mumbai Building Repair and Reconstruction Board said, "This is an important step taken by the industry associations to vaccinate the artisans of the diamond industry, and in a way, it is helping the Maharashtra Chief Minister's vision to achieve its goal of vaccinating an entire population of the state at the earliest. The diamond sector has the potential to generate more jobs for the people of Mumbai and I would certainly appeal to the State Govt. to facilitate and create a conducive environment for the growth of the diamond sector in Mumbai."
Colin Shah, Chairman, GJEPC said, "Time is of the essence; ensuring our artisans are vaccinated at the earliest is our topmost priority. This would not only help them to live a normal life but will also allow the diamond units to function at full capacity, as we have been witnessing demand for gems and jewellery from all major export markets. I would like to thank the World Federation of Diamond Bourses and Gem & Jewellery National Relief Foundation for all the support in organising this vaccination drive."
Yoram Dvash, President of the World Federation of Diamond Bourses said, "We are extremely gratified that the WFDB's Diamond Aid campaign has enabled the vaccination of thousands of diamond workers in the Mumbai area. We launched the Diamond Aid campaign out of a deep sense of mutual responsibility for the diamond community worldwide. Through our efforts, we were able to mobilise the support of large parts of the diamond and jewellery world and raise tens of thousands of dollars for this cause. We thank all of our donors, as well as the BDB, the GNJRF and the GJEPC for making this vaccination drive a reality."
Sanjay Kothari, Chairman, GJNRF commented, "The support of international diamond organisations has revealed the humane face of our industry and shows that they care for our artisans. In this difficult time, GJNRF has been approached by domestic and well as international partners offering help. This initiative is a combined effort of the whole diamond industry as WFDB is a global organisation that covers all diamantaires of the world. With support from our partners, GJNRF has been doing everything possible in the fight against COVID-19. I would like to thank WFDB for funding this COVID Vaccination drive, and GJEPC for taking the lead in organising this drive."
AAK Kamani Donates Ventilators to Alibag Civil Hospital
AAK Kamani, the country's leading manufacturer of specialty oils and fats, has donated two ventilators to the Alibag Civil Hospital in Maharashtra. The two ventilators will be operational in the hospital's paediatric ward.
The charitable act is part of the 'Making Better Communities Happen' initiative under the AAK Kamani CSR umbrella, Pragati. The country is facing a severe COVID-19 crisis and this donation is an attempt to strengthen health infrastructure in the district in the event of a crisis.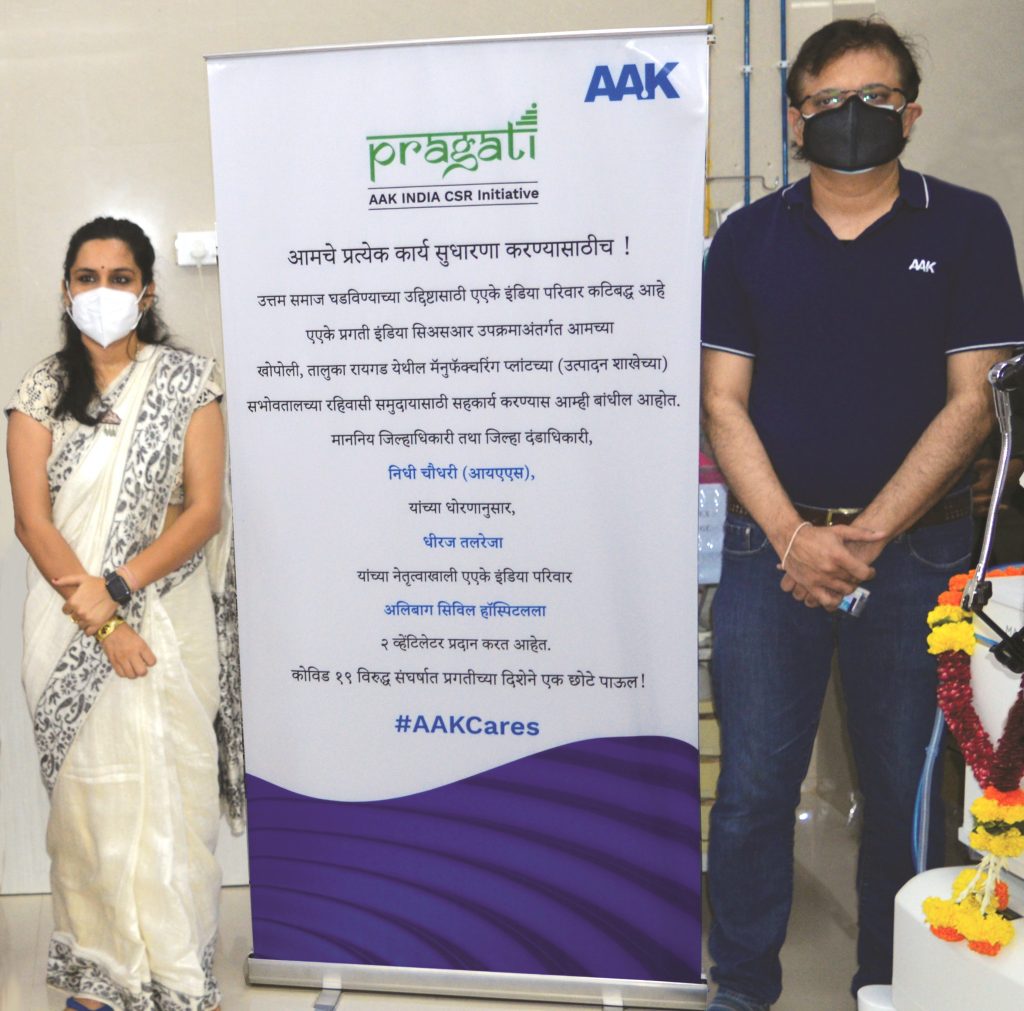 Nidhi Choudhari, Collector of Raigad District and MD, Heeraj Talreja, President – India Region, AAK Group, were present at the event.
Sten Estrup, President – Asia, at AAK said: "Everything we do is about Making Better Happen.  India has fiercely battled the second wave of COVID-19 and the donation of these two ventilators for the paediatric ward is a small effort from our end to support the communities around us.  We are committed towards our goal to continue making better societies."
Nidhi Choudhari, District Collector Raigad District said, "The COVID-19 pandemic has left a grappling effect on our lives, specifically the poor and needy. It is imperative that organisations like AAK continue to show support and help with timely medical aid. We are thankful to AAK for providing us with the ventilators which shall keep the hospital prepared in case we witness the third wave of COVID-19."
Dheeraj Talreja, President – India, at AAK said, "The pandemic has created an urgent need for improved healthcare infrastructure, especially in smaller districts and towns. We at AAK are committed to giving back to society during this testing period. This is why we undertook this initiative to donate ventilators to the Children's ward of the Alibag Civil Hospital."
AAK Pragati is an AAK Kamani CSR initiative that is focused on making a positive impact on the environment and societies. AAK Pragati focuses on programmes related to women and child empowerment, skill training, education and others. It also endeavours to improve quality of life with sanitation projects such as water purification and waste management.
Ambuja Cement Foundation Launches COVID-19 Volunteer Programme
Ambuja Cement Foundation (ACF) launched a COVID-19 Volunteer Program for community members to offer a cadre of volunteers to the local administration and health system in ACF locations. The Community Medicines Department of KEM Hospital, Mumbai also joined in as knowledge partners offering support in curriculum development, assessment and training of master trainers. The need for such a programme was seen during the second wave where health administrators were grappling for support in high-risk identification, manpower, and skilled support in securing oxygen cylinders, concentrators, ventilators and also managing beneficiaries during the vaccination drives.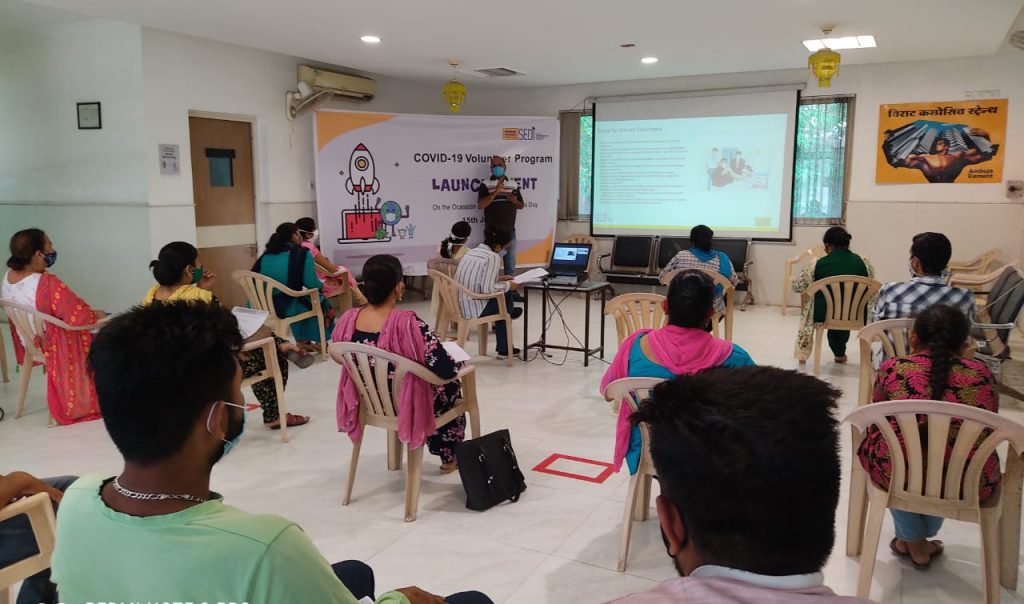 The programme is launched in 13 locations: Chandrapur, Bhatapara, Chhindwara, Farakka, Sankrail, Ambujanagar, Rabriyawas, Bhatinda, Roorkee, Dadri, Ropar, Darlaghat and Nalagarh, with an aim to reach over 10,000 volunteers. There are also more than 100 master trainers who have been trained to run this programme. Delighted with this initiative, Pearl Tiwari, Director and CEO, Ambuja Cement Foundation says, "At this crucial time, the health system appreciates all the support they can get. By creating such volunteers will not only provide them with support to work seamlessly but also help curb the virus in our remote geographies. We hope to involve as many individuals as possible and create a large group of volunteers for our local health departments."
Volunteers eligible for this programme will be individuals of 18 years and above, community health workers, SEDI trainees, COVID-19 warriors, NGO volunteers and security guards. The program is divided into two modules. The first module will cover aspects like the basics of COVID-19, types of testing, differences in isolation and quarantine centres, referrals and vaccination preparedness. The second module will cover guidance on recording vitals, disposing of biomedical waste, support with oxygen therapy and understanding Mucormycosis. The programme is a three-day course with four4 hours of training per day and practical training at a local health facility.
Before launching this programme, ACF created Master Trainers who are qualified General Duty Assistant trainers from SEDI and Health Coordinators. These trainers underwent a three-day rigorous training organised by health professors of KEM Hospital. The Master Trainers will then in turn carry out the training programme for the volunteers in batches of 30 individuals.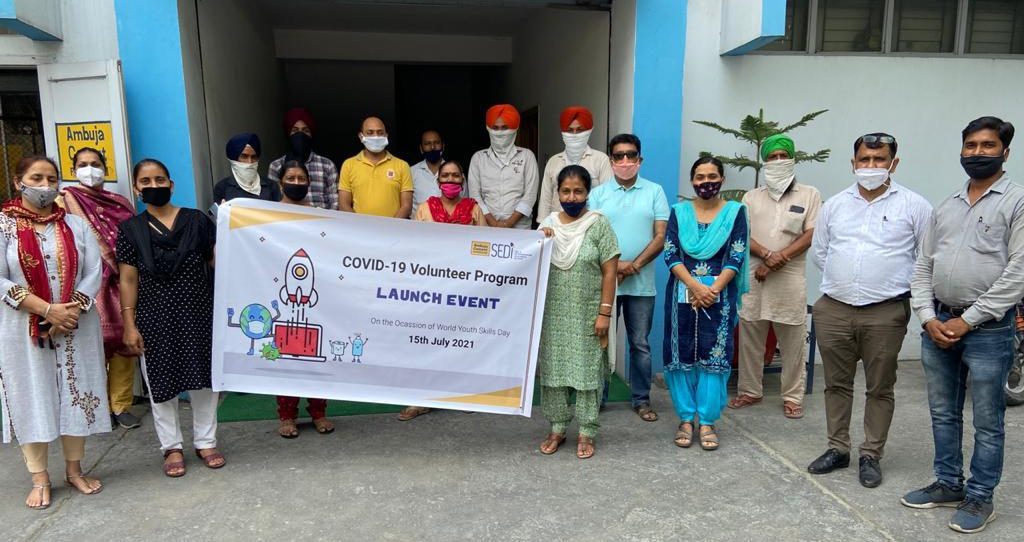 Those volunteers who will complete theory and practical training at a satisfactory level in pre-post testing will be able to volunteer in hospitals and clinical settings supporting nursing staff and will be certified as technical volunteers. Those who will complete only theory and are unable to complete practical at a satisfactory level will be considered non-technical and will be able to volunteer only with village level institutions and frontline workers. Upon completion of training, the local health department will be intimated with the list of volunteers available for any support required.
The technical volunteers will be able to offer support in recording vitals, support with oxygen therapy and assistance at isolation and quarantine centres. The non-technical volunteers will be able to offer support during vaccination drives, conduct village-level surveys for high-risk identification, create awareness campaigns and support PRIs in strategy and liasoning.
ACF has carried out strategic interventions right through the pandemic to keep the community safe through community awareness by involving people institutions like SHGs, FPOs and frontline workers to deliver healthcare at the last mile. It has also provided oxygen support like concentrators, oxygen plants, cylinders, ventilators, antigen testing support and medical supplies. This two-way approach of awareness creation and medical support has indeed proved helpful for the local COVID-19 management team and can be strengthened even more with the trained community volunteers.