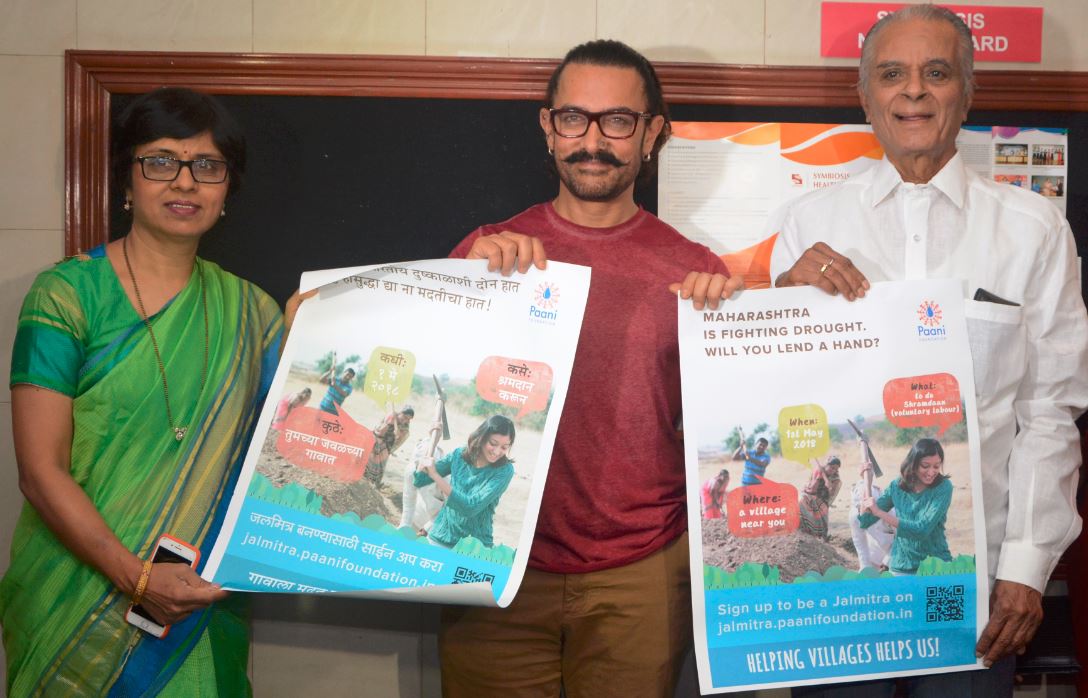 Pune, April 20, 2018: This year on the 1st of May – Maharashtra Day – there is a unique opportunity for city folks to come out in large numbers and work shoulder-to-shoulder with villagers for a few hours. Speaking at a college event in Pune, Founder of Paani Foundation, Aamir Khan appealed to students and all urban citizens to become 'Jalmitras' and join this effort against drought. By signing up on the link jalmitra.paanifoundation.in, people from cities can register to work in villages with villagers on 1st May, which is Maharashtra Day. The last date for registration for this Mahashramdaan is midnight of April 25.
Speaking on the occasion, Aamir Khan, Founder, Paani Foundation said, "I am grateful to Symbiosis University for giving me the platform to connect with students and youth. I would like to appeal all the young of Maharashtra to join us in the noble cause to make Maharashtra drought-free. On the occasion of Maharashtra Day, let's celebrate it with Mahashramdan and bridge the rural-urban divide. Till now, we have one lakh registration on the Jalmitra app and we are expecting more support from all over Maharashtra. I would request each person to do Shramadan and aggressively participate in this people's movement to make the State drought-free."
Dr. Vidya Yerawadekar, Principal Director, Symbiosis University, said, "Symbiosis plans to join this movement and will ensure student participation. Symbiosis will soon start a water university. Students from Symbiosis Institute of Geo Informatics will help in research related to soil. They will get extra four credits after participating in this event."
Around one lakh people have already signed up to be Jalmitras in the past three weeks.
On the 1st of May, there will be a 'Mahashramdaan' across Maharashtra in all 75 talukas of the Satyamev Jayate Water Cup, where tens of thousands of citizens, both urban and rural will meet and work together for water abundance. Aamir Khan said he believes that this partnership between rural and urban will not only help the villagers but the city folk as well, to come closer to understanding our farmer friends, and knowing where our food, water and labour comes from. It will help to bridge the chasm between cities and villages, and go a long way towards creating a more equitable and humane relationship between the two. He urged the students to join the fight against water scarcity, and help work towards a prosperous and happy Maharashtra.
Note: If interested, but time does not permit you to travel to a village on 1st May, you could also contribute by donating money towards machine work for creating watershed management structures, and by volunteering to help the villagers with certain tasks. Visit www.paanifoundation.in and all your questions will be answered.
About Paani Foundation:
In 2016 Paani Foundation, a no-profit company started by Aamir Khan and Kiran Rao, organised the Satyamev Jayate Water Cup, which is a competition held each year between villages to see which village does the best work in watershed management. This is a people's movement for a water-abundant, prosperous Maharashtra. Paani Foundation trains people in the science of watershed management, and villagers then plan and execute various watershed management works in their village with help from the government and NGOs.
In the first two years, around 1,500 villages participated in the Water Cup creating potential storage capacity of nearly 10,000 crore litres of water. In this third year of the competition, over 4,000 villages in 75 talukas and 24 districts of Maharashtra are participating. The top three prizes at the state level given to competing villages are Rs. 75 lakhs, Rs. 50 lakhs and Rs. 40 lakhs respectively. The top village in each  taluka gets a prize of Rs. 10 lakhs. The movement has steadily grown, and over the past two years, thousands of people in cities have expressed the desire to contribute to this effort. To make it possible to volunteer and participate in different ways, Paani Foundation created the 'Jalmitra' or 'Friend of Water' initiative, which it launched on World Water Day – March 22, 2018. Anyone, anywhere in the world, can be a Jalmitra by signing up on the link jalmitra.paanifoundation.in.