New Delhi, September 29, 2017: Max Fashion, India's largest fashion brand celebrated the advent of the festive season by launching their festive CSR campaign – Make A Wish, Make A Difference, in Delhi NCR region. Through this initiative, Max attempts to reach out to its customers and give them a platform to fulfill their wishes and make a difference in other people's lives as well.
Max has associated with Radio Mirchi and CRY Foundation for this campaign. To join this beautiful cause, customers can visit any Max store in the Delhi NCR region and select their wishes from a wish coupon. The winners of this campaign will be announced and gratified between 12th to 15th October, 2017.
"Festive season is a time when the entire family comes together and celebrates the enduring spirit of the festivities. Max understands the value of giving back to society and this initiative aims to make a difference in the lives of the less fortunate. This Diwali, Max pledges to make this festive time a little more special for everyone," said Saurabh Garg, Regional Manager, Max Fashion.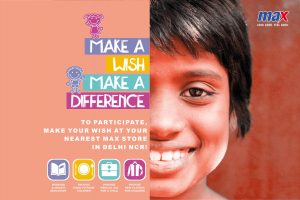 Soha Moitra, Regional Head-North, CRY said, "We are excited to partner with Max Fashion and really appreciate their endeavour to bring joy in the lives of underprivileged children this festive season. The Make A Wish, Make A Difference campaign is a great step towards promoting the importance of education, healthcare and nutrition for the future of our nation and we look forward to collaborating on many more such initiatives in the near future."
Commenting on the association, Radio Mirchi's RJ Sayema said, "We chose to partner with this cause because we believe it can eventually influence a behaviour change. This initiative will encourage people to make a wish for someone else. Even if we can plant a little seed of thought in people's minds, our job is done."