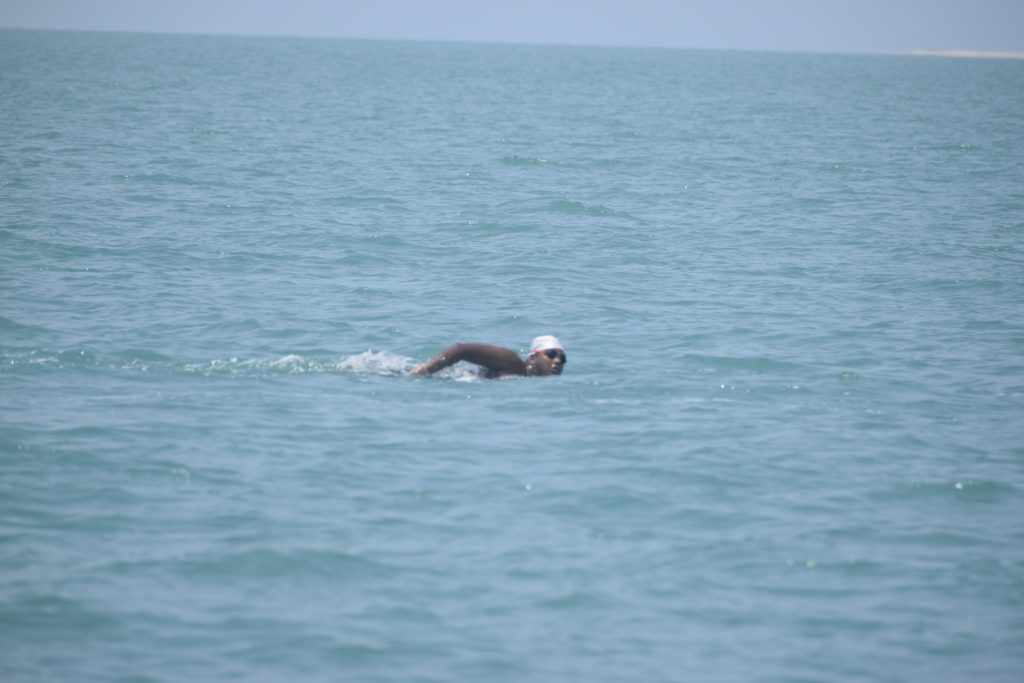 Rameshwaram: Muthoot Finance, India's largest gold loan NBFC Company supports record-breaking swimmer, Anshuman Jhingran to accomplish his mission of crossing the daunting Palk Strait which is 30km of open sea between Sri Lanka and India. This is truly a remarkable feat and a moment of pride for the entire nation as Jhingran completes this open water sea swim.
The swim started at 5:15 am on April 19, 2022, with Anshuman taking the plunge from Thalaimannar in Northern Sri Lanka, and made his way across the sea towards Dhanushkodi in Rameshwaram, India. He was accompanied by his father Sandeep Jhingran, coaches Gokul Kamath and Amit Awale, along with a team of escorts comprising a doctor and lifeguards. The challenging expedition was completed in a total time of nine hours and forty-nine minutes and ended at 03:04 pm on the same day. This achievement was ratified by an observer from the Sports Development Authority of Tamil Nadu.
At only 16 years of age, Anshuman has left everyone spellbound with his swimming achievements. He has previously completed a record-breaking swim of over 200 km in a month in the Arabian Sea off the coast of Mumbai. He has also successfully completed the 42km Veer Savarkar All India Sea Swim from Chorwad to Verawal organised by the Government of Gujarat.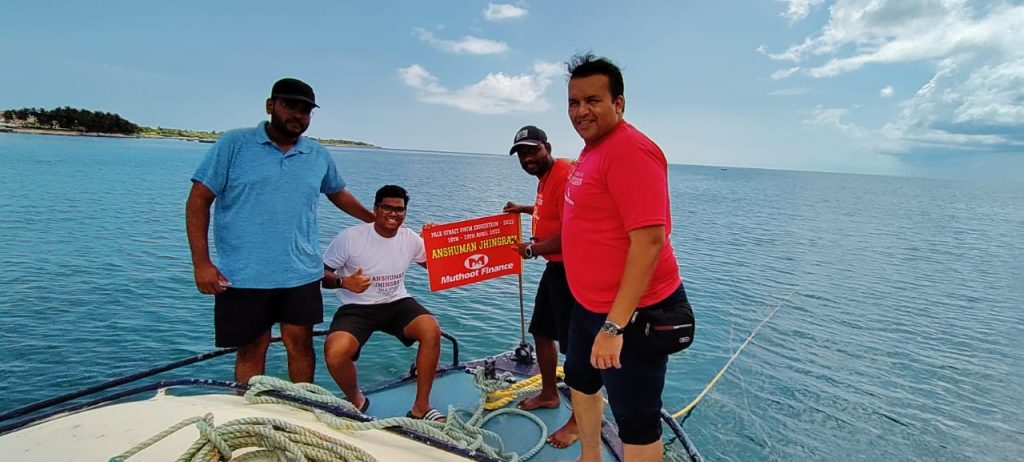 To felicitate swimmer Anshuman Jhingran post this accomplishment, Muthoot Finance organised a ceremony at Hotel Vinayaga, Rameshwaram. The event was attended by Srikanth N S, Zonal Manager, Tamil Nadu South Zone, Muthoot Finance along with P. Ranjith Kumar, Regional Manager, Sivagangai region, Muthoot Finance.
Speaking on his achievement, Master Anshuman Jhingran said, "I am extremely thrilled to have completed my mission of crossing the Palk Strait. It would not have been possible without the support of my parents, brilliant coaches and sponsor Muthoot Finance. Such feats motivate me to reach new heights and make my country proud. My vision for the three years would be completing all the seven ocean swims and setting a world record."
Speaking on Anshuman's achievement, Srikanth N S, Zonal Manager, Tamil Nadu South Zone, Muthoot Finance said, "We are extremely proud and honoured to be able to support Anshuman to fulfil this accomplishment of completing an open water swim between Sri Lanka and India. To be able to achieve such extraordinary feats at such a young age shows his dedication and hard work. At Muthoot Finance, we believe in promoting exceptional talent and empowering the younger generation. We are investing in grass root level projects for sports. We believe that sports create a sense of national pride and unity and the need of the hour is to identify and support the next generation in the field of sports."
Muthoot Finance is committed to uplifting and providing necessary support to noteworthy talent who can represent the country on international platforms. The company is dedicated to giving importance to sports as part of its CSR activities to support talent from marginalized communities and showcase their achievements to the world.