Mumbai, November 14, 2017: In its endeavour to put a smile on children's faces and light up their lives on Children's Day, Naaptol, India's virtual home shopping brand organised an event under its 'Nanhi Muskaan' social initiative for the underprivileged children of rural India. As part of this initiative, Naaptol  celebrated 'Naaptol Baccha Party' on the 13th & 14th of November with 300 slum children of 'Khusiyon Ki Pathshala' run by the Robin Hood Army in Navi Mumbai. The Naaptol team observed that most of these children do not have proper school bags and wear worn-out footwear or walk barefoot. Thus, in order to prevent foot injuries and infections as well as encourage them to go to school, Naaptol, in association with recycled footwear manufacturer GreenSole, donated these essentials to the students.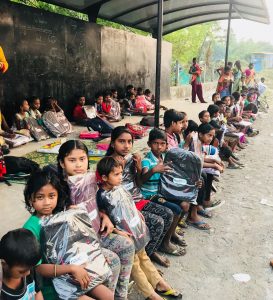 Commenting about the 'Naaptol Bacha Party' programme, Manu Agarwal, CEO of Naaptol, said, "The aim of the initiative is to take some time off our busy schedules and bring smiles on the faces of these underprivileged kids. By offering footwear and school bags to them, we want to encourage them to attend school regularly. Our collaboration with GreenSole is in sync with Naaptol's philosophy of promoting sustainable environmental practices while motivating the children to attend school regularly. It is heartening to see the children so excited about their studies under unimaginable adversities, one of it being walking barefoot. We hope the shoes provided by us will be liked by them, and at the same time, make them aware about environmental issues."
Elaborating on its participation, Shriyans Bhandari, CEO & Co-founder Greensole said, "We are thrilled about our association with Naaptol and the 'Khushiyon Ki Paathshaala' school children to celebrate a memorable Children's Day."
Naaptol has always believed in adding value to the life of everyone through its operations. Under Naaptol's social initiative, 'Nanhi Muskaan', which was launched earlier this year, several philanthropic activities have already been conducted, including donating a part of the company's earnings from the orders generated during the Makar Sankranti sale to provide basic amenities to 550 students residing in the Vikramgad Ashram School in Palghar. It was followed by donating towards building toilets for girl students to encourage school admissions. In 2016, Naaptol sponsored the education of 50 students of Girija Foundation for one year.