"It's not how much we give but how much love we put into giving" – Mother Teresa
Mumbai: Neatly wrapped presents, sparkly decorations, melodious carols and a long list of party invitations – all point to the start of the holiday season. The enthusiasm of the season is around every corner, and the holiday spirit brings a twinkle to everyone's eye.
Every year, the religious zeal and merriment of Christmas brings along fun and hearty family get together. However, for some believers, the festival encourages to spread the joy of caring and sharing. This Christmas, HyperCITY spreads this joy a little further.
HyperCITY introduces the 'Warm-O-Meter' in stores to demonstrate generosity to the society, by requesting customers to donate clothes this festive season. HyperCITY strongly believes that festivals offer a great opportunity to give back to the community. At HyperCITY, the joy of giving not only fosters generosity to the community– but also to the employees by being able to participate.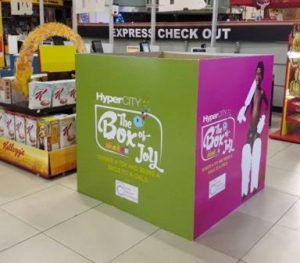 Furthermore, customers can also add to the happiness with the HyperCITY 'Box of Joy', for every child deserves a gift this Christmas. Through 'The Box of Joy', customers can donate toys, books, puzzles, games and other fun stuff that will bring in the Christmas spirit to the destitute.
Through these initiatives, HyperCITY urges customers to think about others and help the deprived by donating toys and clothes, adding a reason to their smiles.
The Process:
HyperCITY will install Warm-O-Meter & The Box of Joy at HyperCITY stores across India
Customers can donate clothes and toys by dropping them inside the installations
HyperCITY will then donate the clothes and toys to the Mother Teresa Roses NGO
One can donate:
Warm-O-Meter: Sweater, mufflers, sweat shirts, gloves, cardigans, monkey caps, t-shirts, pants, denims, jackets or any other clothes. (All garments should be in reusable condition)
The Box of Joy: Cars, Dolls, Barbie's, Games, Soft toys, colouring sets, pencils, crayons, books, puzzles, etc.
Date: 7thDecember, 2016 onwards
Donate your clothes and toys and help a deprived through the biting cold winter and experience the delightful joy of giving!