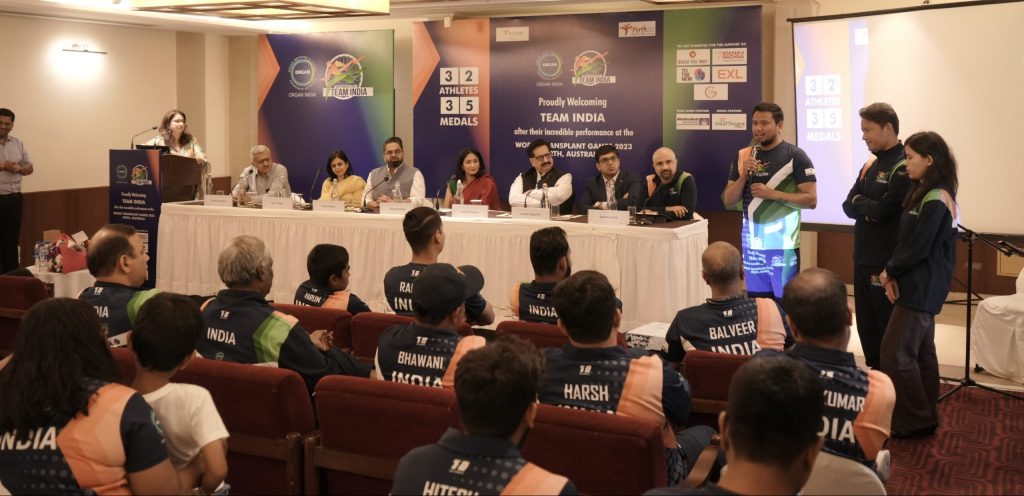 New Delhi: ORGAN India, The Organ Receiving & Giving Awareness Network (ORGAN) India, an initiative of the Parashar Foundation hosted a press conference at Juniper Hall, Habitat Center. The conference welcomes back our transplant athletes from their successful participation at the World Transplant Games in Perth, Australia. World Transplant Games to be held in Perth, Australia in 2023. This was the largest contingent of 32 players ever to go from India to the WTG, and Team India athletes won 35 medals in the World Transplant Games 2023, which concluded in Australia's Perth on April 21, 2023. It is the highest tally ever for India.
The conference hosted players who represented India at the World Transplant Games, including Vijaybahadur Yadav, a kidney donor to his wife, and Outstanding athlete of the World Transplant Games in the donor category; 13-year-old Varun Anand who won 3 gold medals;  Karhun Nanda, Captain, Indian Contingent at the World Transplant Games and winner of 2 silver medals;  Digvijay Singh Gujral, Squash Player & World Transplant Games Medalist; Heera Singh Daspa, Winner of Gold in Javelin Throw amongst others.
The Guest Speakers include Ronjan Sodhi, Arjuna Award and Rajiv Gandhi Khel Ratna awardee and Dr Amit Bhalla, Vice President of Manav Rachna Educational Institutions (MREI) who met the players and congratulated them for their wonderful performance. Speakers also included Ms Anika Parashar, Chairperson, Parashar Foundation; Kunti Jhaveri, Managing Trustee, Dinesh Vyas Public Charitable Trust; Dr. Vipin Koushal, Nodal Officer, ROTTO North (Regional Organ & Tissue Transplant Organization), Priti Agarwal, Director, Geekay Winding; Satyajit Gupta, Head Legal & CSR, EXL, Dr. Ashish Sharma, HOD Renal Transplantation, PGIMER Chandigarh, and Team Manager Shankar Arora. The press conference also witnessed a soulful performance by Raag Suri from Whistling Woods International who sang the Team Song Hissa Bann for the audience.
Dr Amit Bhalla, Vice President of Manav Rachna Educational Institutions (MREI), who helped train the athletes -"I am thrilled with the performance of Indian Athletes at the World Transplant Games 2023. Their participation and winning performances have made India proud. These athletes are a shining example of resilience and the power of the human spirit. We welcome them back with hearts filled with pride and joy."
"We are overwhelmed with the amazing performance of the Indian transplant athletes at the World Transplant Games. Our collective effort has put India firmly on the map at the Games, and this conference is to celebrate this brilliant inning. The athletes' participation in WTG 2023 has created more awareness about organ donation across India and we are confident that their victory will inspire all Indians," shared Sunayana Singh, CEO, ORGAN India & Country Representative from India at the World Transplant Games Federation (WTGF).
Anika Parashar, Founder Chairperson, ORGAN India shared, "It was a privilege to take the Indian delegation for The World Transplant Games in Perth in April 2023. The participation of transplant patients or donors in this international event was not only of patriotism but also a demonstration of the limitlessness of the human spirit in overcoming adversity whilst inspiring others and their stories deserve to be heard."