New Delhi: In a strategy to counter the plausible third wave of COVID-19, PHD Family Welfare Foundation (PHDFWF), the social arm of PHD Chamber of Commerce and Industry (PHDCCI), has inaugurated an oxygen generation plant at RMS Chest Clinic and TB Hospital, New Delhi on October 14, 2021. Shri Shyam Jaju, Former National Vice President of Bharatiya Janata Party; Lt. Col. (Rtd.) B. K.  Oberoi, Honorable Chairman, SDMC; Pradeep Multani, President, PHDCCI; Anuradha Goel, Chairperson, PHD Family Welfare Foundation and Saurabh Sanyal, Secretary-General, PHDCCI, were among the dignitaries present on the occasion.
Shri Randhir Sahay, Additional Commissioner, Health (SDMC) gave the welcome address and thanked PHD Chamber for installing an oxygen generation plant that will provide 350 litres of oxygen per minute and can easily be used for 40 beds. This oxygen plant is dedicated to poor and needy people.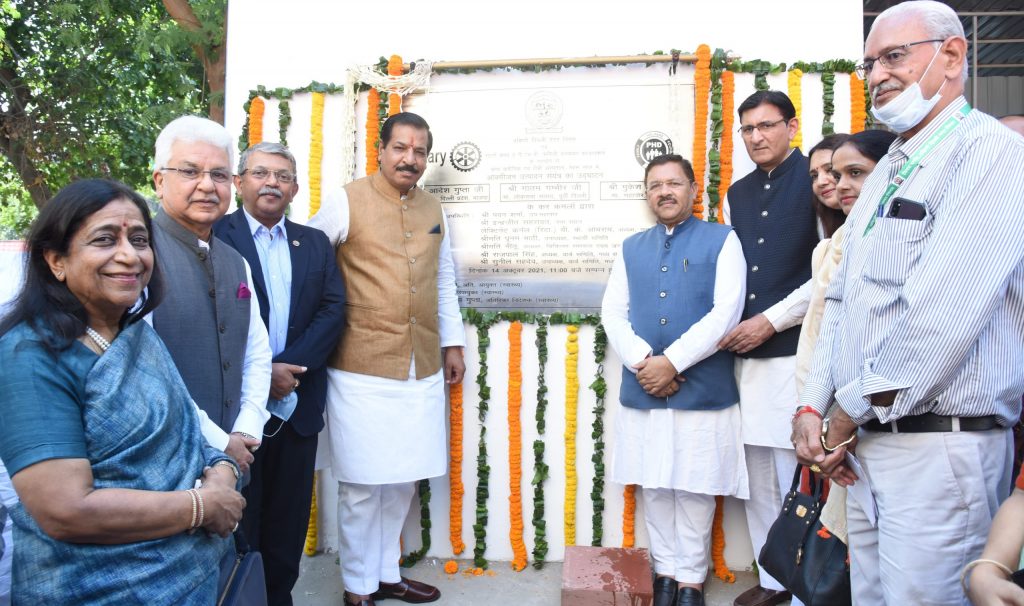 Speaking on the occasion, Shri Shyam Jaju, Former National Vice President of Bharatiya Janata Party said that the corona pandemic shook the ever so strong beliefs of us humans and made us all realise that healthcare is and must always be the topmost priority. The seriousness and dire need for sufficient oxygen was realised when people lost their lives due to a shortage of oxygen, no amount of money could help them get oxygen. Thanks to the PHD Family Welfare Foundation, South Delhi Municipal Corporation and the Rotary Club of South Delhi for supporting the installation of oxygen plants across Delhi.
Shri Rajpal Singh, Chairman, Ward Committee – CNZ mentioned that till now, two oxygen plants have been successfully installed in the central zone of South Delhi. The capacity of the oxygen plant being inaugurated at the RMS Chest Clinic & TB Hospital, Delhi is 350 litre, will be utilised at its maximum potential that will provide ample amount of oxygen to those in need. He also announced that anyone needing oxygen can get free of cost oxygen from this oxygen plant, they only need to show their ID and those who will utilise the oxygen for commercial purposes will get oxygen from the Nehru Nagar Oxygen Plant at 50 per cent of the total cost.
Lt. Col. (Rtd.) B. K. Oberoi shared that during the COVID crisis the whole nation came together and all of the state machinery was put to maximum use to try and save as many lives as possible. In the second wave, a lot of us lost dear and near ones, but now with all the preparations in place, we are positive that no matter if the third wave comes or not, we have ample resources to tackle any such catastrophe.
Shri Pradeep Multani (President PHDCCI)– Welcomed the dignitaries on the dais and appreciated the great work done by SDMC, especially in health care. He also threw light upon how the country suffered during the second wave of COVID due to a shortage of oxygen. He shared about work being done by PHD's social arms, PHD Family Welfare Foundation and Rural Development Foundation. Multani also expressed PHDCCI's willingness to continue working together with SDMC.
Anuradha Goel, Chairperson, PHD Family Welfare Foundation mentioned that during the first and second wave of COVID-19, PHDFWF worked as the frontline workers and served the needy by conducting free medical health check-up camps, distributing dry food packets to the migrant labourers, monthly ration to the families who have lost their only bread earner and have enrolled their family members in skill development units to impart the skills to make them financially independent, distributing nutritional food packets and health care services to abandoned and street children living in Child Care Institutions in Delhi. PHDFWF, with the help of its esteemed donors, will also be donating 12 Oxygen Generation plants in various parts of the country to combat the shortage of oxygen in government and charity hospitals.