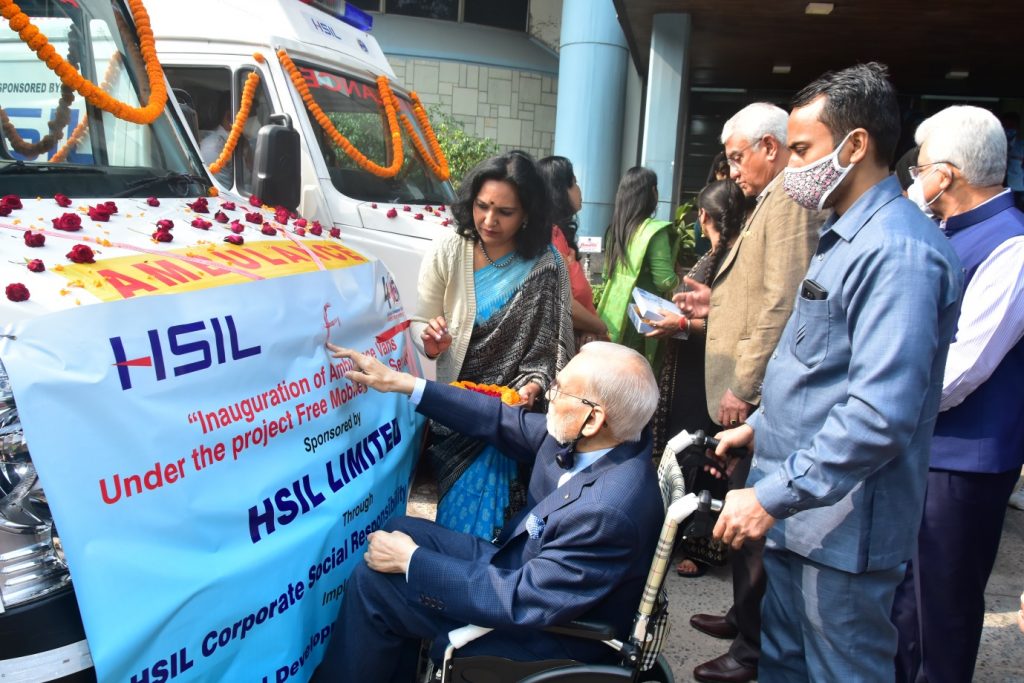 National: PHDRDF recently inaugurated two Force Motors ambulance vans, sponsored by HSIL Ltd., in the presence of Dr RK Somany, CMD, HSIL Limited, Pradeep Multani, President, PHDCCI; Sanjay Bhatia, Chairman, PHDRDF; Shri KS Mehta, Past Chairman, PHDRDF; Saurabh Sanyal, Secretary General; PHDCCI; Dr Kadambari, CEO, PHDRDF, Kushal Jain, CSR Manager, HSIL Ltd. and other team members from PHDRDF.  
In the 40th year of the Foundation, these two vans have been added to the existing fleet of ambulance vans which will cater to the population of remote areas and provide healthcare facilities.
With the focus on health and sanitation, Dr Somany emphasised the dire need for the focus to be shifted to the core areas, and on the importance of health care, especially in the current scenario.  "Healthcare is a subject close to my heart and in times like this, it has become more important that the outreach is extended to remote locations. I hope this project will help benefit the maximum number of the population and provide them access to treatment, which is the right of every human being," he said.
Pradeep Multani, President, PHDCCI emphasised working towards bridging the existing gap and providing access to healthcare to the remotest locations as good health is an indicator of a developed nation. "Health and sanitation go hand in hand, the Swachh Bharat initiative started by the Government of India in 2014 has also been the focus for the foundation and HSIL Ltd has been generous to support the establishment of seven toilet blocks in five government schools in Bahadurgarh, Haryana. This also means the provision of better health to the students, especially the girls and reduction in the dropout rates from school," said Pradeep Multani, President, PHDCCI.
Sanjay Bhatia, Chairman, PHDRDF briefed the audience and informed that two ambulance vans have been duly fabricated and equipped with modern facilities like invertor, centralised AC, wooden storage, water dispensers, LED TV, working platforms, examination bed with a facility of separation of curtains to cater to women patients.
Currently, 40 free health camps will be organised in 10 nearby villages of Bahadurgarh and Kaharani in Haryana and Rajasthan. Services like ECG, blood test facilities like haemoglobin, blood sugar will be provided by a qualified team of medical and paramedical staff.
K S Mehta, Past Chairman, PHDRDF thanked HSIL Ltd., for their Trust invested in PHDRDF and for their continuous support. He mentioned donors like HSIL Limited made it possible for PHDRDF to envisage the vision and work towards achieving their goal to support the community.
PHDCCI's initiative was supported by Annual Sponsors such as Multani Pharmaceuticals Limited; PG Industry; Uflex Ltd; DLF Limited; Continental Carriers Pvt Ltd; Belair Travel & Cargo Pvt Ltd; Radico Khaitan Limited; Crystal Crop Protection Ltd.; Paramount Communications; Superior Industries Limited; JK Tyre & Industries Ltd; Comtech Interio; R E Rogers; AYUSH Herbs Private Limited; Apeejay Stya Group; EaseMyTrip; Blossom Kochhar Beauty Products Pvt Ltd; MV Cotspin Ltd; Synergy Environics Ltd; Ajit Industries Pvt Ltd; P S BEDI & Co.; Indian Farmer & Fertilizers Corporation Ltd; Jindal Steel; Hindware Sanitary; Modern Automobiles; Livit Ltd.