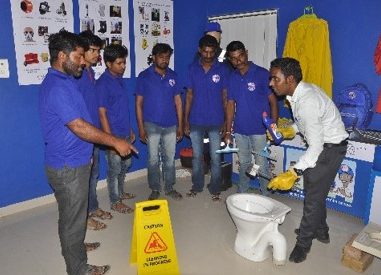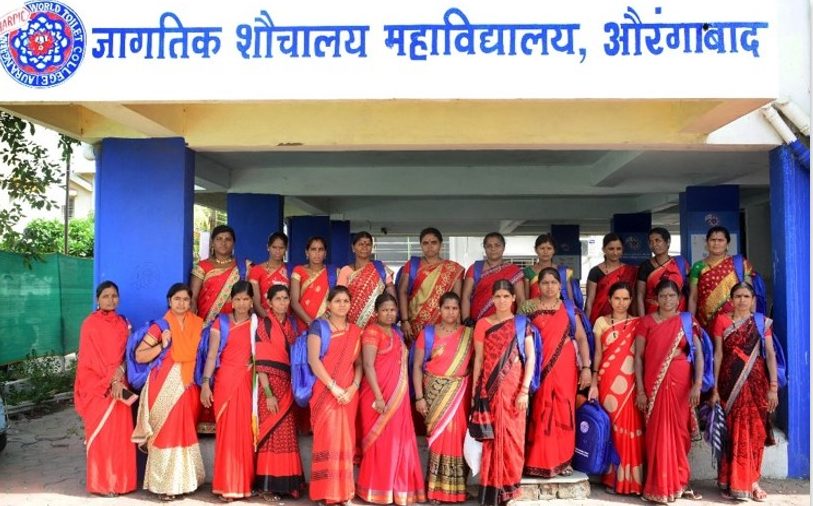 Gurugram, November 19, 2019: As part of World Toilet Day celebrations, Reckitt Benckiser announced that it has trained 4000 sanitation workers, 30 percent of which are women, over the last 15 months, at Harpic World Toilet College. These trainings have helped sanitation workers secure sustainable employment opportunities in 90 organisations across the public and private sector. Some of the top recruiters include Aurangabad Municipal Corporation, Taj Hotels, Marriott, TATA Motors, Hero, PVR and ITC.
The hazardous practice of manual scavenging is still massively prevalent across many parts of the country. Human excreta are still manually handled in pits or drains before decomposing – which accounts to 72 percent of the insanitary latrines in India. As per SECC data, 182,505 rural households in India are still dependent on manual scavenging for income.
Speaking on World Toilet Day, Narasimhan Eswar, Senior Vice President and Managing Director, South Asia, RB Home Hygiene, said, "As an organisation, we have taken the responsibility to improve people's lives and support change in communities. Providing better employment opportunities and improving the lives of nearly 4000 sanitation workers is a testimony to our commitment. We will continue to train these workers and ensure that we bring about a positive change in their socio-economic status."
Since its inception in August 2018, Harpic World Toilet College has focused on eliminating the inhuman practice and improving the status of sanitation workers in the country. It has formed three Self-Help Groups (SHGs) across Mumbai, Pune and Aurangabad called Swachhata Sainik, Swachhata Mitra and Swachhata Ratan, respectively. These SHGs consists of trained sanitation workers who have access to relevant safety gear and 22 machines enabling them to operate independently as entrepreneurs. While the Mumbai SHG consists of 12 sanitation workers, the other two SHGs comprise of 10 sanitation workers each.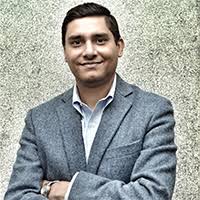 Ravi Bhatnagar, Director, External Affair and partnerships, Reckitt Benckiser – Africa, Middle East, South Asia, said, "At the onset, we had committed to training 5000 sanitation workers over two years; we have  successfully managed to train 4000 sanitation workers in just 15 months, 30 percent of these are women. It gives us immense joy to state that 95 percent of these trained workers today work for leading organisations, and lead a safer life. We shall continue to train sanitation workers with an endeavour to upskill their lives, and we will provide dignified livelihood opportunities to many more".
Pravin Thakre, COO, Dr. Hedgewar Rugnalaya Hospital, said, "In our hospital set up, housekeeping is an essential part of cleaning. During the day, it is not just a one-time job. Every minute we need to take care of cleanliness. To do this job, the right attitude is more important than knowledge and skills. World Toilet College is doing exactly what is required. They are incorporating latest concept of autonomous maintenance in their training programme.The candidates from Harpic World Toilet College are well trained for housekeeping work. They have the right attitude, knowledge and skills. For a hospital set up, this kind of satisfactory cleanliness is required on a day-to-day basis. The Harpic World Toilet College is doing great work in sanitation and in the life of sanitation workers. My best wishes to them for their great work."
Nivrutti Ambildhage, Director of Vikas Executive Services, said, "World Toilet College is driving real change in the life of sanitation workers. Before this, I don't think there was any such college in India who was training sanitation workers. It is a great opportunity for these workers since they are getting training and job opportunities as well. The training programme is very well designed which focuses on the gap and the need. Just like the housekeeping industry is trained, Harpic World Toilet College is training sanitation workers. We have recruited many candidates in malls and offices. All candidates are satisfied and happy with their work. Punctuality and behaviour are the plus points. Before that, drop-out numbers was very high, but these trained candidates from Harpic World Toilet College are well-trained, and our attrition rate has also reduced. We are thankful to associate with HWTC."
Harpic World Toilet College has received the Mahatma Award for Social Good, FICCI for sanitation Excellence, and UNDP Diversity, Equity and Inclusion Award as Best Social Mobility Program. It has also received appreciation from the Aurangabad Municipal Corporation.