Mumbai: Sealed Air Corporation, a Fortune 500 company (NYSE: SEE) engaged in the business of food packaging, food safety, cleaning and hygiene solutions launched their Skill Development initiative 'Garima – Diversey School of Hygiene' India on February 16, 2017. Present at the launch were Himanshu Jain, MD and VP, Sealed Air Indian Subcontinent and South East Asia, and Dr. Ravikant Singh, President & Founder, Doctors For You.
With the vision of creating a better way for life by providing livelihood and bringing dignity to the cleaning profession, Sealed Air has embarked upon Garima – Diversey School of Hygiene India, a CSR program to improve and standardise the skillsets for this important but ignored industry. The name for this initiative has been derived from the Hindi word, 'Garima' meaning 'Dignity'.
The initiative enables employment, brings scientific approach to the cleaning and hygiene profession, and enhances the standards of the cleaning industry. It also helps the industry bring dignity to the job by positioning them as 'Hygiene Technicians' instead of janitors. At its core, the initiative reflects Sealed Air's belief that creating a cleaner and healthier environment is of paramount importance.
Opening the session, Mr. Himanshu Jain, MD and VP Sealed Air Indian-subcontinent and South East Asia said, "There are two pressing challenges for the cleaning industry—lack of scientific approach to cleaning and lack of dignity to the cleaning job. Cleaning is still looked at as a menial job and something which does not need any kind of training. This is what we are changing. Today, no customer would like to visit a mall or eat in a restaurant which is dirty. Despite this high importance to cleaning in our minds, we still look at a cleaning professional, just as a cleaner or janitor, not somebody important in our lives. With this background, we at Sealed Air Diversey, have embarked on a very ambitious project called Garima to improve and standardise the skill sets for this important but ignored industry, thereby bringing dignity to the jobs of cleaning professionals, who we generally choose to ignore. Putting a major focus on the science of cleaning, we aim to move the cleaning professional from being a janitor to a hygiene technician, from being a cleaner to a health assurance specialist.
Garima – Diversey School Hygiene, India,  has three specific  objectives; Science of Cleaning -bringing scientific approach to cleaning, which is the need of the industry; Employment – helping low-skilled unemployed youth get jobs and a better living condition; Dignity – helping the industry bring dignity to cleaning professionals by positioning them as hygiene technicians instead of janitors."
Himanshu further added, "While Garima – Diversey School Hygiene, India is being launched today, we have been piloting this initiative across the length and breadth of the country, having trained 537 Hygiene Technicians. We are aware that this is an ambitious project and we cannot do this alone and we need the support of media and industry players. I welcome each one of you to help us create a movement and take Garima to all towns and villages of the country and make a difference to the lives of people."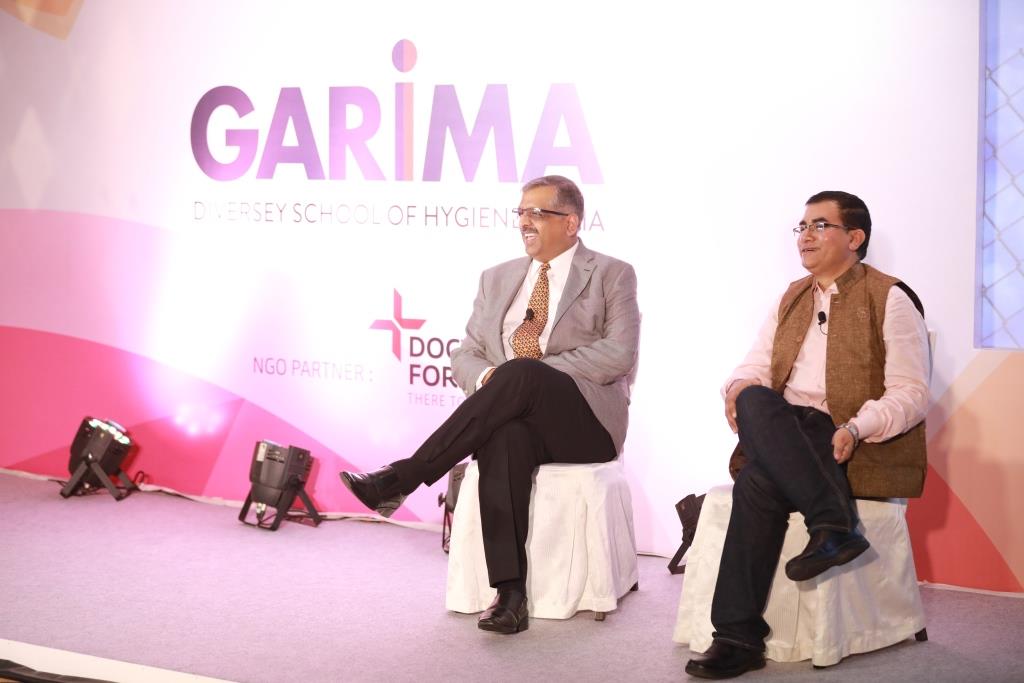 Speaking at the occasion, Dr. Ravikant Singh, Founder, Doctors For You said, "Doctors For You and Diversey have been working together for more than two years on various initiatives, such as Soap for Hope, Linen for Life and now Garima – Diversey School of Hygiene, India. This skill development and employment generation programme is one of the most impactful programmes run by our organisation. We are not only changing the lives of people, but also creating a healthier and cleaner environment. Garima is one of the very few initiatives focusing on employment for all trainees. Under the project, we have trained youth from the urban slums of Delhi, Mumbai and Chennai as well as rural youth from the valleys of Kashmir, Bihar and Kokrajhar in Assam. We are now planning to expand the project further, by training 5000 youth in 2017. Everybody is talking about building toilets under Swachh Bharat Mission. Somebody has to maintain them, isn't it? I have big hopes from Garima project and our hygiene technicians. Together we will be able to bring a big change."