New Delhi: Aiming to create a progressive long-term impact in India, Sewa International a global non-profit organisation, launches Sewa Fellowship to support individuals, societal leaders, and organisations aligned with the philosophy of serving India. The fellowship programme is an opportunity for young and dynamic individuals to bring positive changes at the grassroots level for nation-building.
The fellowship launch hosted at India International Centre, New Delhi, was attended by dignitaries who have pioneered in exploring new methods and exemplified processes for serving communities including Shri Shyam Parande (the General Secretary of Sewa International), Dr R Balasubramaniam (Member at Capacity Building Commission), Phoolbasan Bai (Renowned Social worker and Padma Shri Awardee), Dr Mamidala Jagadesh Kumar (Chairman at University Grants Commission), Gauranga Das (Divisional Director at ISKCON), Venkatesh Murthy (Founder and Chief Mentor at Youth for Seva), Ambassador Virendra Gupta (Former IFS), Dr Ram Kakani (Director at IIM Raipur), and Prof. Ajay Dubey from JNU and other renowned leaders from different walks of life.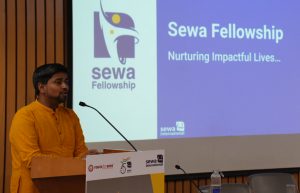 Inviting applications from across India, the fellowship has a three-stage selection process. The first stage includes sharing the application with an essay writing or video-based essay defining the statement of purpose. The second stage will assess the candidate's problem-solving approach, curiosity and humility through field assignments and personal conversation. The final selection is based on the individual's behaviour/psychometric analysis, collaborative working attitude, and rigour for community work.
The 23-month immersive programme encompasses an extensive curriculum with a core emphasis on imparting knowledge, skills, and temperament training. It includes project management, research and development, monitoring and evaluation of live projects, and learning best practices to create an impact on society. The fellows will also be trained in skills such as critical thinking, systems thinking, eco-centred design, storytelling, leadership, sewa bhaav, communication, fundraising, etc.
Shri Shyam Parande Ji, General Secretary, Sewa International, said, "We are delighted to celebrate Sewa International's 25th Anniversary. In the initial 12 years, Sewa International worked with other institutions and later started its initiatives for the upliftment of society. He reiterated Swami Vivekananda's message that a few heart-whole, sincere, and energetic men and women can do more in a year than a mob in a century. The world needs more young leaders to solve future problems. In his words, now is the time that young men and women must come forward and take on the challenges of contemporary India and contribute to making India a global power. We operate on the ethos 'neki kar darya me daal', and work relentlessly to spread this message. Sewa Fellowship is a 100-week journey that will be led by experts in the field of social development. Under this, fellows will work with India's most impactful NGOs and work on their development projects. We are looking for self-motivated individuals who want to devote their lives to building a new and better India."
Chief Guest at the event, Dr Mamidala Jagadesh Kumar, Chairman of the UGC, said, "There is a rampant need for fellowships in India to bring changes at the grassroots level. The Sewa Fellowship will not only identify problems in the social fabric but also help find sustainable solutions. It is a much-needed initiative that will positively accelerate development across the country."