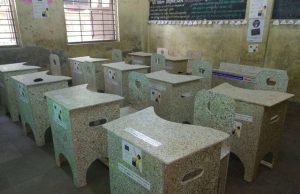 Mumbai, August 15, 2018: Students at Supari Tank Municipal School, Bandra, now have brand new desks and chairs that are beautiful, sturdy and carry an important message – the power of recycling. Tetra Pak India, the food processing and packaging solutions company that has been promoting the recycling of their paper-based cartons in Mumbai for over eight years, donated 10 sets of classroom furniture to the school, as part of their ongoing programme called Cartons Le Aao, Classroom Banao. The programme encourages Mumbaikars to deposit used Tetra Pak cartons at deposit centres across the city, which are then recycled into desks, notebooks, roofing sheets and much more.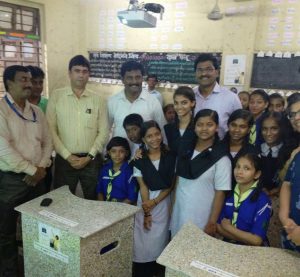 Shri. Sharad Ughade, who is the Assistant Municipal Commissioner, H-West Ward, Brihanmumbai Municipal Corporation, formally handed them over to the Principal of the School, Mrs. Madhuri Dsouza. Appreciating the initiative, Shri. Ughade also expressed his wish to see the initiative strengthened further to cover schools across Mumbai, and promised to extend all possible support.
"For the past eight years, we have been working diligently on setting up a robust collection and recycling ecosystem across Mumbai for our paper-based cartons. We have also encouraged Mumbaikars to deposit their used cartons at any of the 180 drop-off points that we have. So far, we have been able to donate over 260 desks to schools for the lesser privileged, on behalf of the citizens. With continued support from the people of Mumbai, we can make an even bigger difference to schools like STMS, as well as make a positive environmental impact," says Jaideep Gokhale, Communications Director, South and South East Asia, Tetra Pak.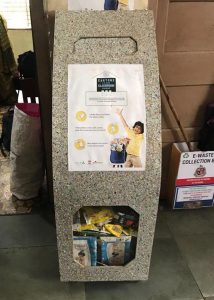 Supari Tank Municipal School is also the only BMC school that acts as a used carton drop-off point, with students and staff regularly collecting their used cartons for recycling. Tetra Pak then sends these cartons to a recycler, who helps convert them into useful items like desks, benches,notebooks, roofing sheets and more.
"Our school has dedicated teachers and hardworking students. Desks donated by Tetra Pak go a long way in not just helping create a better learning environment, but also in teaching them the value of adopting green habits. This is also why we encourage collection of used cartons among students and teachers, so that they can, in turn, help contribute towards the environment as well as towards building desks for other schools like ours," adds Mrs. Madhuri Dsouza, Principal, Supari Tank Municipal School, Bandra.
Cartons Le Aao, Classroom Banao, which started in 2010, is part of Tetra Pak India's flagship programme – Go Green. This initiative is run in partnership with Reliance Retail with their stores acting as used carton drop-off points for consumers. Mumbai-based environment enterprise, RUR Greenlife, is the execution partner for the programme, organising various consumer education events and activities across Mumbai. As part of the Go Green programme, Tetra Pak has collected over 28 lakh cartons over the past eight years and donated over 260 desks, 100 garden benches and other useful items across Mumbai.
Tetra Pak India has set up a strong recycling ecosystem across the country over the past 15 years, as a result of which, one in every three Tetra Pak cartons sold in India today is recycled.