Mumbai: Glenmark Foundation, the CSR arm of Glenmark Pharmaceuticals Ltd., in partnership with the United Nations Global Compact Network India (UNGCNI) and Idobro Impact Solutions, organised The Glenmark Nutrition Awards 2023 for the third consecutive year, recently, at the MET Institute of Management in Mumbai. The awards were conceptualised as a platform to recognise and support non-governmental organisations (NGOs) and institutions that undertook exceptional efforts in addressing the issues of hunger and malnutrition during the COVID-19 pandemic. The goal was to develop an ecosystem to battle the scourge of hunger and support healthy mothers and children in accordance with Glenmark's commitment to combat malnutrition.
This year, more than 500 NGOs and institutions from across the country participated in three categories: urban, rural, and open. Ten of the nominees qualified for the final round following three rounds of selection; with the winner in each category being awarded a grant from Glenmark Foundation to help fund their projects in the area of combatting malnutrition. These are the winners in each of the three categories:
Urban Category:
Cuddles Foundation which has engaged more than 13,000 paediatric cancer patients, and conducted over 246,900 counselling sessions with an aim to bridge the gap between medicine and nutrition.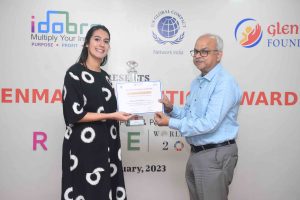 Rural Category:
Healing Fields Foundation for training and supporting women as Community Health Entrepreneurs (CHEs) and strengthening them to work towards prevention and management of anaemia, malnutrition, and non-communicable diseases. It has, to date, trained 6000 women as CHEs and impacted 8.25 million individuals in 50 districts across the country.
Open Category:
Nutrition Rehabilitation Research and Training Centre for developing low-cost, soya-based, ready-to-eat therapeutic food for children, and helping more than 16,400 children in the process.
Speaking at the occasion, Cheryl Pinto, Executive Director – Corporate Services, Glenmark Pharmaceuticals Ltd., said, "Glenmark has always been at the forefront of identifying and developing novel interventions to address malnutrition. Along with our partners, we strive to create awareness around this pressing issue and bring a change in society. Propelled by the power of collaboration, the Glenmark Nutrition Awards are yet another stride towards driving that transformation."
Karon Shaiva – Chief Impact Officer & MD, Idobro Impact Solutions, stated during the event, "Glenmark Foundation has a focused approach towards addressing needs pertaining to mother and child health, and malnutrition, in particular. Even after 75 years of independence, hunger is still prevalent in India. Idobro is working together with Glenmark Foundation to ensure that we can impact the lives of those in dire need."
Meri Poushtik Rasoi, a recipe booklet comprising 54 nutritious and indigenous recipes from across the country, was also unveiled at the event, by the Chief Guest, Ratnesh, Executive Director – UN Global Compact Network India, and Cheryl Pinto, Executive Director – Corporate Services, Glenmark Pharmaceuticals Ltd. The recipe book is a collection of local, traditional, and nutritious winning recipes from the Meri Poushtik Rasoi cooking contest. Conducted yearly from 2018 to 2022, this cooking contest was another flagship event by Glenmark Foundation to address the issue of malnutrition in an innovative manner.
Glenmark Foundation has focused on malnutrition as a key issue, giving special attention to children aged 0 to 6 years, as well as pregnant and lactating mothers, using a 360-degree approach to fighting malnutrition via different programmes and interventions.