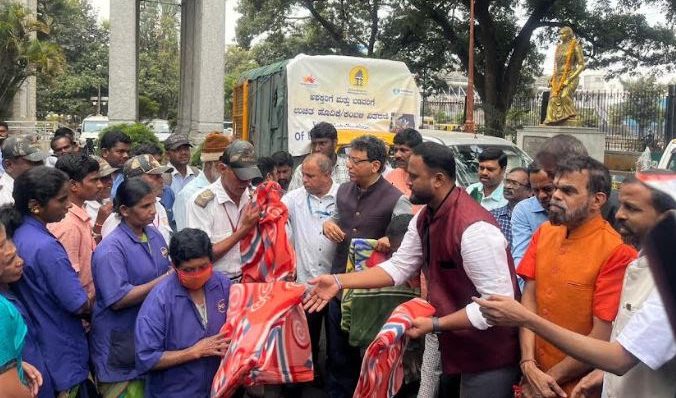 Bengaluru: TrekNomads Foundation and Suriya Foundation distributed over 400 blankets to the needy across Bengaluru. The flag-off event was held at the BBMP Head Office recently. BBMP Chief Commissioner Sri Tushar Giri Nath, IAS, handed over a few blankets to the paurakarmikas as a symbolic start to the donation drive. 
Bruhat Bengaluru Mahanagara Palike has supported this initiative in identifying needy people across Bengaluru. The weather in Bengaluru is still cold enough, and the blankets will offer a lot of respite to the poor. 
As a part of their continued efforts to work on emergency response and social responsibility, these organisations planned to support and provide blankets to the needy in different parts of Bengaluru. They donated around 400 blankets to beggars, rag pickers, street dwellers, and people who take shelter in bus stands and railway stations.
To quote Naveen Mallesh, TrekNomads Foundation Trustee, "The presence of the BBMP chief commissioner has been an honour for the TrekNomads Foundation and Suriya Foundation. The organisation's volunteers have played a significant part in reaching out personally to distribute the blankets to everyone within BBMP limits. TrekNomads Foundation and Suriya Foundation have been actively involved in charitable work for almost three years."
"We are happy to volunteer for this noble cause of helping the needy and the poor with free blankets. We often see many street dwellers on the roadside putting up a small fire to endure the cold temperature during the night. This free distribution of blankets will definitely help many in need. It gives me great pleasure to collaborate with the BBMP on this social work started by the TrekNomads Foundation and the Suriya Foundation," said Puneeth T., a volunteer and NGO mentor. 
"I feel like these free blanket distributions might look small, but it'll make sense for people who are homeless to spend their nights outside in cold weather. Thank you to the BBMP for their support in identifying and guiding us to the people in need. I'm always glad to be associated with like-minded people and NGOs like the TrekNomads Foundation. We will continue to work together to make a bigger impact," Saravana, Suriya Foundation Trustee.
TrekNomads Foundation and Suriya Foundation are non-government organisations currently working on upgrading rural health infrastructure, disaster relief, and emergency response. The team has worked closely with government departments supporting COVID Relief and Emergency Response activities. They have so far distributed around 10,000+ ration kits, fed around 50,000+ people, and sent more than 3,000+ migrant workers back to their natives during the pandemic as a part of their Emergency Response work. They support nine COVID-designated hospitals, 21 PHCs, and ICMR Belgaum with critical medical consumables.
Around 100+ oxygenated beds across rural areas spanning 12 States like Karnataka, Andhra Pradesh, Assam, Tamilnadu, Manipur Nagaland, Kashmir, Ladakh, Lakshadweep, Andaman, Uttarakhand and Kerala have been set up by the team.