Over 134,000 children participated from 7 countries in the competition. Unveils E-school, a multimedia assisted educational platform for 176 Schools Across India.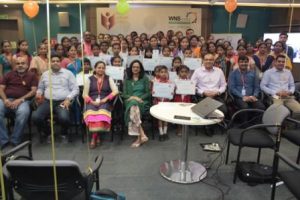 MUMBAI, DEC.14, 2016: WNS Cares Foundation (WCF), CSR arm of WNS Global Services, announced and felicitated the global winners of 'The Golden Pen', a global digital essay writing competition at its annual flagship CSR program called the Global Impact Day (GID).This global event on Dec 14, 2016, combined a physical event in Mumbai with digitally connecting children from six other countries including Costa Rica, The Philippines, South Africa, Sri Lanka, Poland and Romania. In India, the competition was organized in schools across nine states including Maharashtra, Tamil Nadu, Andhra Pradesh, Karnataka, Madhya Pradesh, Rajasthan, Uttar Pradesh, Gujarat and Haryana. Winning schools were given Miko (India's first companion robot made by emotix) as the prize. Miko is an emotionally intelligent robot capable of engaging, educating, and entertaining a child.
WCF also unveiled to the world WCF E-school, a multimedia assisted educational platform that will reach out to over 87,000 lesser privileged children across 176 schools in India including Pune, Nasik, Mumbai, Gurgaon, Bangalore, Chennai and Vizag. WCF E-school will include E-class, E-library and E-tutorials. WCF has set up a digital room in the schools equipped with a television set, set top box, and a computer with internet access managed by a trained Sancharak (coordinator). Trained teachers will undertake lessons thrice a week from one to tenth standard in these schools.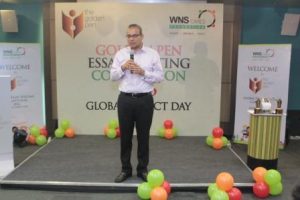 Announcing the global winners from classes 1-9, Keshav R. Murugesh, Group CEO, WNS, and Chairman of the Nasscom BPM Council, said "It is heartening to witness the overwhelming participation and response for The Golden Pen competition, globally. We truly believe that digital education is the way forward and therefore, WCF initiatives are focused on creating avenues for the lesser privileged children to have access to digital education. Computer literacy program, E-mentoring and E-school are some of the initiatives in this direction."
GID is organized each year as a strategic part of WCF efforts to celebrate sustainable impact created by WNS volunteers, or 'Trailblazers', through various activities run by WCF. This year, WCF organized 'The Golden Pen', a global digital essay writing competition that impacted over 134,000 children from 300+ schools across the globe.  With four rounds of powerful and hard-hitting competition; school, regional and country level, nine students emerged as the global winners.
WCF has recently added more mobile libraries in Mumbai and launched one each in Chennai and Nashik as well. Other innovative programs being run by the Foundation include e-Mentoring, Computer Literacy, Dictionary learning, self-defense workshops and so on.
GID Global Winners
Grade
Country/Location
Name of the child
 Topics
Grade 9
Pune
Preeti Shirse
Benefits of Internet
Grade 8
Sri Lanka
V. A. Sachintha Madhushan
Alone on a desert island
Grade 7
South Africa
Mzekelo Tukushe
Promise
Grade 6
Philippines
Andrew F. Salundaguit
My favourite place in Philippines
Grade 5
Nashik +Sri Lanka
Sanskar More/K. P. Senruka Lalindu Maneth
Save water/ A Day in the Rainforest
Grade 4
Poland
Zuzia Kargan
I wants to be an astronaut
Grade 3
Poland
Maura Natkanska
I want to be a fashion designer
Grade 2
Costa Rica
Chaves Cruz
Christmas
Grade 1
Poland
Martyna Sendacka
I would like to become a horse riding Instructor