Bangalore, August 22, 2018: The Akshaya Patra Foundation has set up a temporary kitchen in Alappuzha district of Kerala to serve free meals to people in the flood-affected parts of the State. A team of 25 volunteers was immediately dispatched to the affected area to set up the kitchen and distribute freshly-prepared food to the affected people. Breakfast, lunch, and dinner were served through Akshaya Patra delivery vehicles.
The first kitchen was set up at the Pandangiri Lower Primary School, but unfavourable weather conditions and heavy flooding resulted in it being shifted to St. Aloysius College Stadium. Eventually, the kitchen set-up was moved to Kidangamparambu Sree Bhuvaneswari Temple auditorium in Alappuzha.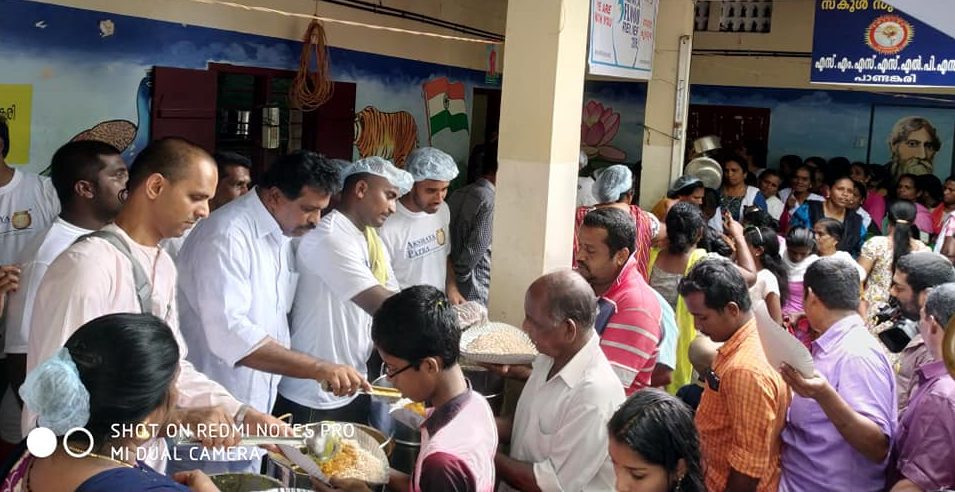 Till date, Akshaya Patra has served 25,000 freshly cooked meals (rice, sambar, special rice, palya, etc.) and around 70,000 chapattis in the region. The organisation's flood relief efforts through feeding meals will continue till the situation improves.
Akshaya Patra expresses gratitude to Shri. G. Sudhakaran – Minister for Public Works and Registration, Shri. S. Suhas – District Collector, Shri. Kodikunnil Suresh –  MP Mavelikara, Shri. A. Murali – Deputy Collector and Shri. S. Subhash – Edathua Village Officer, for giving the NGO an opportunity to serve the people of Kerala during this crisis.
Shri. Chanchalapathi Dasa, Vice-Chairman, The Akshaya Patra Foundation expressed that, "we have ensured our best to serve fresh hot meals to the people of Kerala. We thank the officials and volunteers for the support extended during this difficult time in Kerala. We will continue our services by feeding till the situation stabilises."
Over the years, Akshaya Patra has actively undertaken disaster relief feeding in different parts of the country as it is our firm belief that food offers comfort to people during such crisis. We are glad that we have been able to support and comfort the people of Kerala in the aftermath of the devastating floods that have hit the State.