Hosur, Tamil Nadu, September 16, 2018: Ashok Leyland, flagship of the Hinduja Group, today announced the extension of its CSR programme –  Road to School, to another 102 schools in Hosur district. After Shoolagiri, Thally, Minjur, Puzhal and Namakkal, Ashok Leyland will help improve the primary and middle school education in government schools in Hosur area by covering more schools in Thally and Shoolagiri Blocks, and new schools in Kelamangalam Block.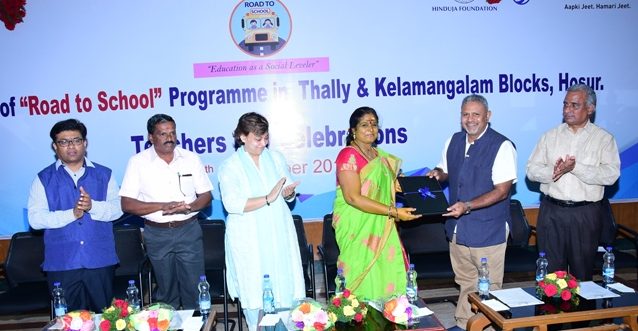 The purpose of the programme is to bring about social equality in remote villages where Ashok Leyland works in. With this addition, over 25,000 students and 255 schools will be positively impacted. The expansion of this CSR initiative was effected by the Chief Educational Officer of Krishnagiri, Mrs. K. P. Maheswari.  It was followed by a special address by Mr. K Subramani, District Educational Officer, Hosur, and Mr. C. Sekar, District Educational Officer, Denkanikottah.
Mr. N.V. Balachandar, President – HR, Communication and CSR, Ashok Leyland, has been nurturing this initiative and has seen it grow from strength to strength. He said, "Road to School is not just a CSR programme; it is something that is dear to all of us. Ashok Leyland employees are very attached to it and devote a lot of personal time engaging with the children. We truly believe in the power of education and the lasting impact it can have on one's life. The journey till now has been very satisfying and humbling for us. With Hosur schools becoming part of this family, we are excited to make a larger impact in building our country's future."
Road to School helps nurture both scholastic and co-scholastic development of children from government schools in remote locations covering health, hygiene, physical and emotional development including sports. It was started in 2015 at 36 schools in Shoolagiri and Thally. In 2016, it was extended to another 72 schools covering Thally, Puzhal and Minjur near the Ashok Leyland Mother Plant and Technical Research Center in Chennai.
In 2017, the success of the programme encouraged the Company to extend it to 45 more schools in Namakkal district, where most of the drivers' children reside. Now, with this addition of 102 schools in 2018, Ashok Leyland has extended the programme to a total of 255 schools.
Key outcomes of the Programme:
Over 20 percent improvement in learning levels of students from Class II to Class VII, as measured by Baseline and Endline tests
Approximately 20 percent reduction in dropout rates and increase in attendance and punctuality
Remarkable improvement (over 35 percent) in reading skills as measured by standard reading tests
Remarkable improvement in health and hygiene practices in 70 percent of the schools
Increased community, SMC and parents participation in students' academics
To achieve this success, there is a very scientific, process-oriented approach for maximum impact.
Well qualified (B.Ed with teaching experience) full time resource persons appointed in all schools for a period of three years
Health personnel are well-qualified and well-trained
Cluster and project managers are appointed for smooth implementation of the programme
Customised Learning Enhancement and Practice (LEAP) content and worksheets for children are made available to plug grade level/age level learning gaps. The LEAP content is in the spirit of current syllabus prescribed in Tamil Nadu
Comprehensive assessment practices with rapid tests, skills tests, baseline, midline and end line tests in all schools to monitor the progress
Multiple training programmes for project staff, school teachers and Head Masters
Provision of Math kit, Science kits, Laptops, internet for technology integration
Provision of Mobile Library and Fun Bus for students for extra-curricular experiences
Holistic wellness programme with a focus on health, hygiene, physical and emotional development
Comprehensive health check-ups for all students in partnership with well-known hospital chains
Community-based events, national and international day celebrations in schools with the support of Ashok Leyland volunteers
Provision for sports kits, tube lights and fans for school development