With a goal to create and deliver value dependable delivery, Cybage Software, a leader in the technology and product engineering space, having its presence in eight countries, is very much aware of its moral responsibility to repay its social debt by setting objectives that are congruent with the noble aim of social development. It undertakes and executes meaningful educational and socio-economic drives through its two CSR wings – CybageAsha and CybageKhushboo. CSR Mandate spoke to Ritu Nathani, Head – Cybage CSR and Director – Cybage, to find out more about what they do to bring about a positive change to the lives of the underprivileged.
Tell us about the vision behind the Cybage Asha and Cybage Khushboo initiatives.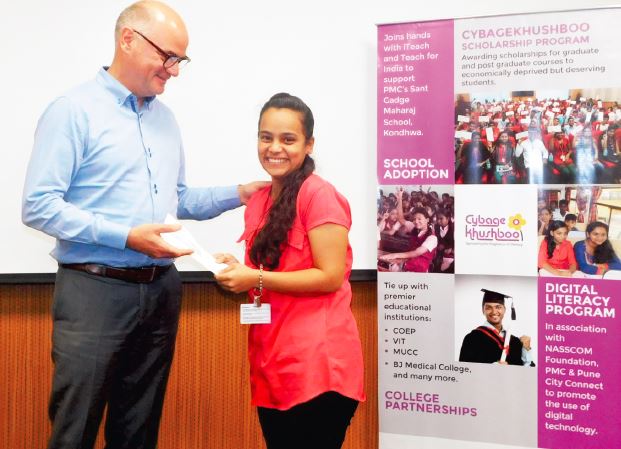 There is a huge urban-rural divide that plagues our country, affecting those in rural areas so extensively that a major portion of this population does not have access to even basic needs like health and sanitation. The severe lack of basic socio-economic facilities shackles the potential of a large section of these people, especially in rural areas, where talents go unnoticed, and highly capable individuals lose out on the chance to realise their dreams while struggling for necessities. At Cybage, we believe that by providing education and the right opportunities, we can help facilitate and empower people from underserved sections of society for the long run, both in terms of their basic needs and future livelihoods. Our two dedicated CSR divisions, Cybage Asha and Cybage Khushboo, founded in 2003 and 2009 respectively, are primarily focussed on rural upliftment, community development, social welfare, higher education for deserving and underprivileged students through scholarship programmes, academic counselling, soft skill trainings, and support to educational institutes and schools.
A number of carefully planned initiatives led by expert members from our CSR team are undertaken frequently to empower underserved areas. We also partner with a number of NGOs and social service organisations in order to broaden the reach and scope of these drives to make large-scale meaningful impact.
What has CybageAsha been engaged with in terms of their rural development efforts?
In order to lead a healthy life, proper sanitation facilities are a fundamental requirement. Under the rural development programme, most recently, CybageAsha identified the need and initiated sanitation activities in a number of villages across Maharashtra. The project involved the construction of toilets and drainage systems in 18 villages spanning the districts of Pune, Satara and Ahmednagar.
Through the project, we have been able to help over 412 families across these villages to get access to toilets and have a proper drainage system in place. Though the Government is also engaged in equipping villages with such facilities, we are using our initiatives to supplement these efforts and do our bit to help those in need. In addition to sanitary requirements, we also have programmes focussing on de-addiction, social welfare and our Go-Green programme. These are the first steps towards setting up a foundation for the development of Indian villages to help them thrive in the near future.
CybageKhushboo focuses on educating deserving students from underserved backgrounds. Which activities are part of this initiative, and what has the programme achieved so far?
CybageKhushboo (Khushboo Charitable Trust) was set up with the aim to provide financial aid to promising students who lack the means to fulfil their educational goals. Under CybageKhushboo, we engage in large scale educational projects to prepare these students for, and steer them towards a professional career for a stable future.
Cybage's senior management is actively involved in CybageKhushboo and is working towards broadening the scope of the programme. The key focus of the Trust is to grant scholarships to students who wish to enrol in professional courses such as Engineering (B.E. and Diploma), Medicine, and medicine-related courses such as Pharmacy, Dentistry, Homeopathy, and Physiotherapy. The first round of scholarship was given out in 2010-2011 to 55 students. In 2018-19, this total number of beneficiaries touched close to 1200.
The Trust collaborates with a number of educational institutes including Manghanmal Udharam College of Commerce (MUCC), Vishwakarma Institute of Technology (VIT) and Vishwakarma Institute of Information Technology (VIIT), Smt. Bakul Tambat Institute of Nursing Education, Karve Institute of Social Service, College of Engineering Pune, Meera Nursing School, Saswad, and BJ Medical College. Every year, 15 students are given scholarships by the Trust to study at these institutes. Additionally, CybageKhushboo has partnered with schools in and around Pune by providing them financial support.
CybageKhushboo also has a Digital Literacy Programme that is geared towards educating students with digital literacy skills such as registering their Aadhar cards, ration cards, PAN cards, as well as emails, social media and cashless transactions via apps. 1350 people have benefitted from this initiative so far. The Trust also has regular soft skills training sessions in communication, interview skills, aptitude and professional behaviour to contribute to the holistic development of the students.
Testimonials
Pritam Deodikar
Sr Engineer – LG Electronics Pvt. Ltd.
I completed my Mechanical Engineering in 2017 from Pune University. CybageKhushboo has helped me a lot during my engineering course. The scholarship was heaven-sent and it motivated me to complete my course with first class distinction. The sessions related to skill enhancements, especially on how to face interviews, were very useful. I am very thankful to the CybageKhushboo team for providing scholarship to students, and for their dedication and support in helping students achieve their goals.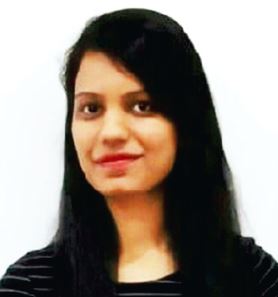 Supriya Pawar
Software Engineer – Sumasoft Pvt. Ltd.
I have been a CybageKhushboo Scholarship beneficiary since 2012, i.e. from my first year of engineering. I received financial support as well as various useful sessions during my four years of engineering. These have enabled and benefited me to get a good percentage as well as secure a good job. The scholarship and guidance played a very important role in my life to achieve my career goal. I am very thankful to CybageKhushboo for the help I received to build my career and achieve my dreams.
Can you tell us more about CybageAsha initiatives for Sustainable Livelihood Programmes for Rural and Semi-Urban People?
CybageAsha has adopted 11 villages in Maharashtra under the jurisdiction of two talukas in Pune – Bhor (six villages) and Velhe (five villages) cluster. For the development of these villages, we have joined hands with BAIF Development Research Foundation as an execution partner. Together, we aim to inculcate modern agriculture practices and income generation activities, providing opportunities to farmers to earn a sustainable income.
Through this initiative, CybageAsha is helping with market linkages for the communities as well. This concentrates on local taluka-level markets along with Pune markets and is targeting companies to ensure better rates for the farm produce. These steps are aimed at reducing and eventually putting an end to rural-to-urban migration.
What are the key focus areas of these initiatives and how have they impacted the livelihoods of farmers in these areas?
The project is under a three-year MOU signed between CybageAsha and BAIF Institute for sustainable livelihoods and development.
We have taken up some initiatives under the Sustainable Livelihood Programme.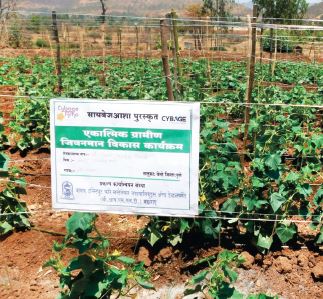 Paddy Cultivation: Farmers in these villages were engaged in traditional farming practices. In order to help them reap and produce crops that are more at par with their farming efforts, our team of agricultural experts taught these farmers how to implement a number of modern agricultural techniques. Initially, these farmers were growing only the Indrayani variety of rice, but since 2018, we introduced them to Phule-Samrudhhi and Black Rice varieties which ensures better production and income during the paddy season from June to December.
Vegetable Cultivation: There are very few farmers who are open to the idea of growing a second crop after the paddy season is over. There has been a long standing trend of seasonal migration towards cities after the paddy season, where these people migrate and work as daily labourers on construction sites, driving auto-rickshaws etc. To arrest migration and bring better income sources to their native areas, we introduced vegetable cultivation in an area of 5-10 Guntha(R) (One R is equivalent to around 1000 sq.ft.), which ensures a sustainable livelihood for that season of three to four months from January to April.
Farming Techniques: Considering that the Bhor and Velhe clusters are drought-prone areas and have severe water scarcity in the summer, we have given farmers in this area drip irrigation kits. We have also introduced them to methods such as mulching. We are working towards providing solar lift irrigation to help them implement modern, sustainable practices.
Wadi (Horticulture Plantation) Development: Wadi development focuses on using barren land to generate sustainable livelihood. In one acre of land, farmers can grow fruits like mangoes, jamun, bamboo and sag-like trees which are helpful for fencing and commercial purposes. Wadi activity ensures income for the farmers at the end of the summer season and saves them from the hassle of borrowing money with high interest rates to purchase seeds and fertilisers.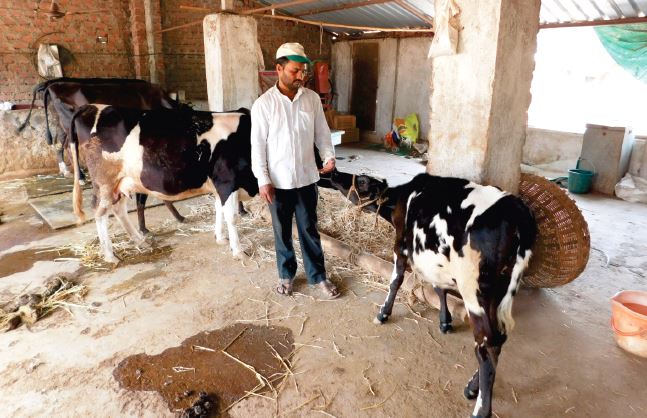 Livestock Development: We have appointed a full-time veterinary technician to provide door-to-door service for artificial insemination of cows and buffaloes. The aim is to increase the milk-giving capacity of cows and buffaloes, which, over time, will lead to a potential dairy business.
What has been the outcome of this programme so far?
We have already seen a number of improvements across these areas. Under the Agricultural Development programmes in particular, 306 plots have been developed for paddy cultivation with average production increasing by 25 percent. For vegetable cultivation such as cucumber, lady's finger, chillies and gourd, we have helped them develop 179 plots with an average income of Rs 15,000 per plot. Wadi development has, so far, seen the conversion of 118 plots covering 99 acres of land growing mango and jamun. Under the livestock development programme, 256 artificial insemination processes have been carried out. Results will be seen in two years' time.
Testimonials
Nitin Kinhale – A Sweet End to Urban Migration
Nitin Kinhale, a farmer from Sonde Mathna village of Velhe Taluka shifted to Pune in search of a job to supplement his income, as the income from paddy cultivation (between the months of October to December) was not enough to support his family. He began working as an autorickshaw driver in Pune.
With CybageAsha's help, he shifted back to his village last year. He began cultivating cucumber in an area of 10 Guntha (10,000 square feet), and within 3.5 months, he generated Rs 50,000 as revenue (excluding input cost and others). Under the CybageAsha –BAIF project, we provided him the technique, resources and tools such as seeds, fertilisers and a drip irrigation kit for water management.
Additionally, Nitin has now started collecting milk from nearby villages to sell in Pune city. As a result of his initiative, villagers are now getting a better price for their milk produce. A visibly happy Nitin Kinhale remarked, "The programme has helped me decide to return to my village. I am thankful to CybageAsha and BAIF for the technique, push, motivation and inspiration, because of which, I can now have a livelihood and take care of my family by staying back in my own village."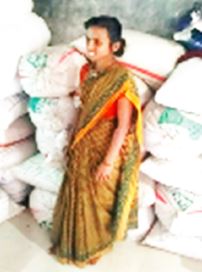 Harshada Zanje – Increased Income
Harshada Zanje, a resident of Vadgaon Zanje Village of Velhe Taluka, was growing only one variety of paddy (rice) in a plot area of 15 Guntha (15,000 square feet). The plot yielded a limited produce of 280 kgs of rice per season.
Through the Agricultural Development programme, we introduced her to another variety of rice i.e. Phule Samrudhi, and helped her to cultivate it with modern agricultural techniques for better produce. The yield of paddy from the plot increased from 280 kgs in 2017 to 600 kgs in 2018. This has also helped her income rise from Rs 9,800 to Rs 27,000 in a year. Harshada has this to say, "This initiative has helped me sustain my family expenses and improved my overall livelihood. I truly appreciate the efforts taken by CybageAsha in increasing my income manyfold."
We have seen many farmer suicides increasing to alarming numbers over the years, especially in the Vidarbha, North Maharashtra and Marathwada divisions. Not disputing the work carried on by CybageAsha in the Pune Division (which has more than sufficient amount of water), but the regions mentioned do need a lot of help to improve agriculturally and to bring down the suicide rate. Is CybageAsha planning to take up agricultural projects in some areas in these regions, replicating the success they have had in Pune region?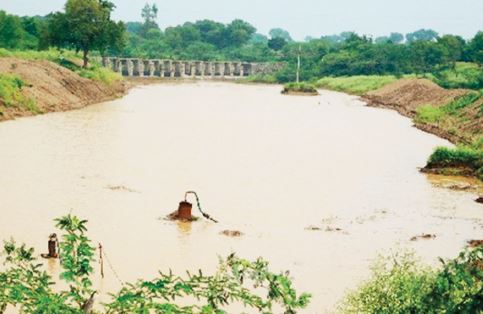 Around four years ago, we started working in the Marathwada region, keeping in mind the drought-prone situation and the suicide rate amongst farmers. We had to evaluate the nub of the problem. We found out that silt had accumulated in water bodies, and over time, water could not percolate underground, leading to water shortage. We helped villagers with desilting streams and rivers so that rainwater can percolate underground, and nearby wells and borewells get recharged. Due to this initiative, villagers are now having water for drinking, daily needs, and agriculture purposes. We executed this project with the contribution of villagers either monetarily (30-50 percent cost of project) or through Shramadhan activity where Cybagians actively volunteered.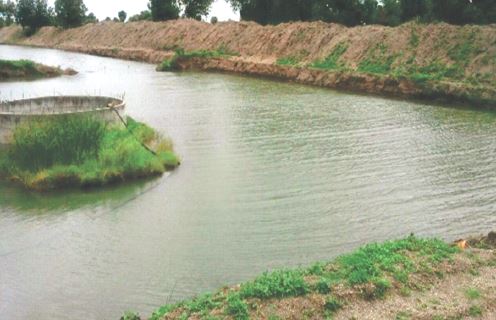 We have also constructed low cost Cement Nala Bandhara (CNB) at Pimparkhed Village in Ghansawangi Taluka of Jalna District. This has a storage capacity of two crore litres of water. The villagers are reaping the benefits by growing cash crops. The geographical spread of our water conservation project covers five districts of Marathwada Region – Latur, Aurangabad, Beed, Nanded, Jalna, and Buldhana – a district in the Vidarbha Region. This water conservation project has benefitted 42,693 people of 8228 households in 14 villages of six districts.
After seeing the real benefits from our desilting and watershed development projects, we plan to completely overcome the water shortage problem, post which we will take up agricultural projects in this area for sustainable livelihood of villagers.
Desilting Project by CybageAsha in Marathwada and Vidarbha Region
What is the way forward for these projects? Are there expansion plans for other Regions/States?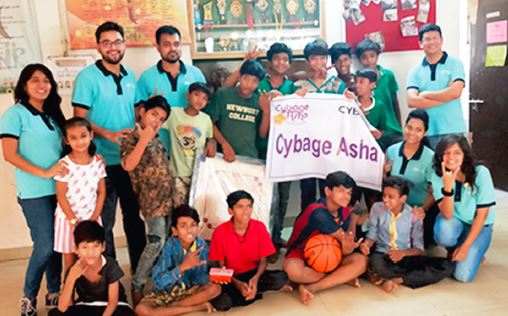 Our aim is to uplift rural communities using sustainable interventions and effective methodologies. Based on the results of our pilot project in Bhor and Velhe, we have seen real benefits in agriculture, livestock and watershed development. We are motivated to replicate the same projects in other regions of Maharashtra targeting other clusters of different talukas with our implementation partner, BAIF.