New Delhi/Gurgaon, October 30, 2017: CBRE South Asia Pvt. Ltd. has embarked upon its CSR journey in India by organising a 'Walk for a Wish' in Delhi-NCR on October 30, 2017. The Walkathon was aimed at raising awareness about special individuals in our society with intellectual disabilities such as Autism and Down Syndrome. It was flagged off by the Chief Guest, Vinay Pratap Singh, Deputy Commissioner (DC) of Gurugram, in the presence of Mr. Anshuman Magazine, Chairman, India and South East Asia, CBRE. Hundreds of citizens of Delhi-NCR gathered in an enormous show of support for the cause and walkathon.
As part of the initiative, CBRE invited employees, clients and partners from across Delhi NCR to walk to help raise funds and awareness for the cause.
Walk for a Wish is CBRE's flagship philanthropic event that supports the Company's commitment towards social responsibility by bringing teams and communities together for a walk that raises awareness on several humanitarian issues. As part of its corporate social responsibility initiative, CBRE will focus on providing support to the children/adults with intellectual disabilities, underprivileged children, and children at construction sites. This year's walkathon was organised in association with Muskaan, an adult training centre for people with autism and Down Syndrome to support the cause.
Speaking on the occasion, Mr. Vinay Pratap Singh, DC, Gurugram, said, "We are pleased to be a part of this noble cause. As citizens, it is critical to play an active role in addressing these social issues impacting our communities. This initiative will help spread awareness about the cause to enable change in the mindset of the people. I would like to congratulate CBRE for this initiative and their work towards creating enabling environment and bring about a change in the society."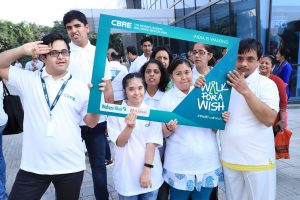 Commenting on the initiative, Anshuman Magazine, Chairman, India and South-East Asia, CBRE said, "CBRE is committed to fulfilling its role as a responsible corporate citizen by supporting and adding value to the communities in which our employees live and work around the world. Giving back has always been incredibly important to the CBRE family, and we are fortunate to be able to support a cause that is so close to our hearts. Walk for a Wish is our attempt to inspire and empower individuals and help them fight against this complex issue. The enormous enthusiasm and support that we have witnessed for the walkathon is very humbling. It is great to see people coming together and committing to create an inclusive society."
Supporting CBRE in its initiative, Dr. Shanti Auluck, Founder & President Muskaan NGO, said, "At Muskaan, our endeavour is to provide challenging work training and opportunities to people with intellectual disability; support their families about their condition, and raise awareness in society. We are pleased to associate with CBRE who shares our vision to build a society that recognises human diversity and respects the rights of all people irrespective of their abilities."
The Company also conducted a sensitisation workshop for its employees to be supportive of their new colleagues and highlighted the importance of positive behaviour and enabling environment to boost the confidence of the new employees.