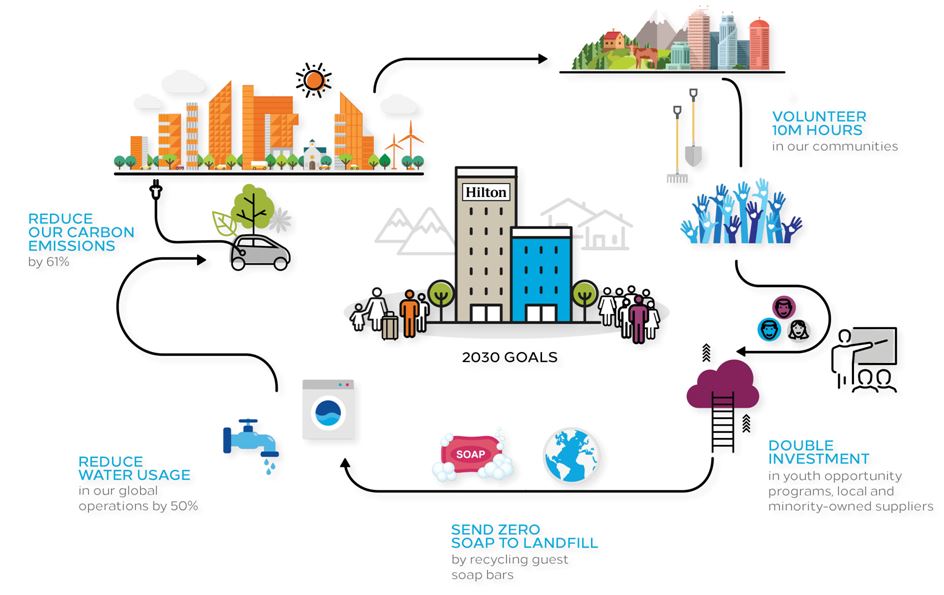 New Delhi and Singapore, May 25, 2018: Hilton today announced it will eliminate plastic straws across its managed hotels in Asia Pacific by end 2018, and transition away from plastic bottles from its conference and event spaces. This follows the company's global commitment to cut its environmental footprint in half and double its social impact investment by 2030.
The Company will also double the amount it spends with local and minority-owned suppliers, and double its investment in programmes to help women and youth around the world. These goals are part of Hilton's Travel with Purpose corporate responsibility strategy to further the United Nation's 2030 Sustainable Development Agenda.
"As a global hospitality company operating more than 5,300 hotels in over 100 countries and territories, we are committed to have a positive impact on the communities we operate our hotels in," said Alan Watts, Executive President and President, Asia Pacific, Hilton. "We believe waste is a solvable problem. By focusing first on plastic straws and plastic bottled water, we take another step forward in our journey to ensure that the destinations where travelers work, relax, learn and explore are vibrant and resilient for future generations to come."
Hilton's new 2030 goals include the following social and environmental targets:
Cut Environmental Impact in Half to Help Protect the Planet
Reduce carbon intensity emissions by 61percent, in line with the Paris Climate Agreement and approved by the Science Based Targets Initiative (SBTi)

Presently, more than 50 hotels in Asia Pacific offer the Clean Air Program, which offsets carbon emissions generated from meetings and events, at no extra cost to the customer. Since 2015, its hotels have offset 14,118 tonnes of carbon in support of nine climate-friendly projects across the region.

Reduce water consumption and produced waste by 50 percent

Since 2008, Hilton's managed hotels in Asia Pacific have recorded reductions of 15.1 percent in water use intensity and 6 percent reduction in waste output. The Company continues to seek ways to operate more efficiently, guided by its award-winning performance measurement system, LightStay.
The Company's hotels have begun to intensify efforts to reduce single-use plastics in its operations. Across Greater China and Mongolia, its managed hotels removed plastic water bottles from meetings and events, health clubs and spas since September 2017 – a move that eliminates the use of 13 million plastic bottles annually. In Australia, New Zealand and Fiji, its managed hotels transitioned away from plastic straws and now offer bio-degradable paper straws on demand –eliminating the use of 2.5 million plastic straws annually.

Sustainably-sourced meat, poultry produce, seafood and cotton

In support of its industry-leading sustainable seafood goals, the Company completed a global roll-out of responsible sourcing and sustainable seafood eLearning modules, and partnered with Marine Stewardship Council to deliver sustainable seafood workshops for local suppliers and Hilton team members in China and Thailand.

Expand existing soap recycling programme to all hotels and send zero soap to landfill

Its managed hotels in China, Japan, Australia, New Zealand, Fiji, Vietnam and Singapore collaborate with soap recycling partners such as Soap Cycling, Soap Aid, Diversey, Sundara and Clean the World to recover, recycle and distribute soap to communities in need.
Hilton is already an environmental leader in the industry. Since 2008, the Company has reduced carbon emissions and waste by 30 percent, energy and water consumption by 20 percent saving more than $1 billion in operating efficiencies. LightStay, an award-winning performance measurement system calculates, analyses and reports the environmental impact at each of Hilton's more than 5,300 hotels. Hilton will use LightStay to track its goal of reducing carbon emissions by 61 percent across its portfolio by 2030.
"The World Tourism Organization commends Hilton's focus on sustainability, which is in line with our overall commitment as the UN's agency that is dedicated to promoting sustainable tourism for development worldwide. Hilton has been our partner in this endeavour, raising awareness among customers with examples of best practices for the hospitality industry," said Zurab Pololikashvili, Secretary-General of the World Tourism Organization (UNWTO).
"Companies play an integral role in solving our climate crisis," said Sheila Bonini, Senior Vice President, Private Sector Engagement, World Wildlife Fund. "By committing to significant intensity emissions reductions based on science, Hilton is setting in motion a plan that will have ripple effects across the hospitality industry while providing more sustainable options for travellers."