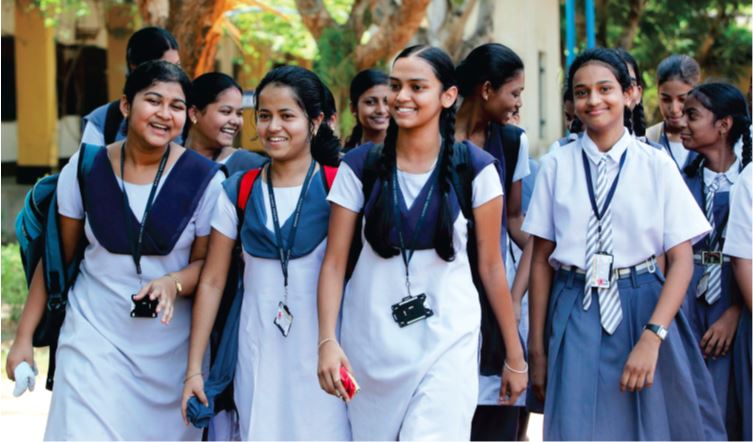 Widening the Circle of Prosperity Through Empowerment
Dr. Bansidhar Panda, a renowned research scientist from USA returned to India in 1961 and chose Therubali, a remote outpost in the erstwhile undivided Koraput district of Orissa to embark upon his dream and established Indian Metals & Ferro Alloys Ltd (IMFA). The same dream which turned into reality stands now before the world, as a leading, fully integrated producer of ferro alloys and a world of enterprise and innovation inspired by its founders, Dr Bansidhar Panda and (Late) Mrs Ila Panda. Bansidhar & Ila Panda Foundation (BIPF) was established in 2011 as the social development arm of IMFA. The Foundation's core belief rests on empowering people by equipping them with knowledge and skills that will empower them to take responsibility for their own benefit.
The culture of the organisation is ingrained with the Founder's desire to have a positive impact on the society which is reflected by the different initiatives taken by BIPF such as Education, Vocational Training, Basic Healthcare, Water & Sanitation and Infrastructure Development.
We believe it is imperative to invest in the creation of trained human resources- not just giving opportunities, but more importantly, a sustainable future to the marginalised. This vision led to a new beginning. 2015-17 saw us expand our livelihood segment addressing Make in India, Skilled in Odisha and Poverty Alleviation. Partnering with MoRD, we opened two placement-linked skill centres under the DDU- GKY programme in 2015 and also set up a new industrial training institute in Sukinda in partnership with the Govt. of Odisha in 2016 while simultaneously expanding SHG trainings. Over the years, we have learnt and adapted to improve our methodologies in various projects, positively impacting 270,000 beneficiaries.
Our Main Projects
Project Adhyayan (Education)
IMFA has its operations in the predominantly tribal dominated district of Odisha where quality education was like a dream for rural tribal children in the eighties. Realising the essence of education together as a means and an end to inclusive growth of community, we setup schools and adopted government schools in tribal areas to effect positive change in rural education.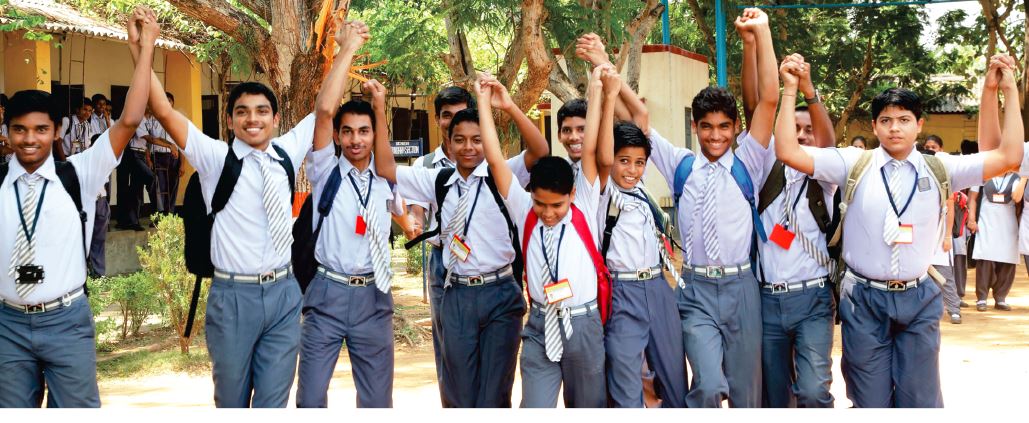 We developed strategic initiatives under our rural education programme 'Project Adhyayan'. We ensured quality education by establishing in 1980, a CBSE English Medium School – Chinmay Vidyalaya at Therubali, Rayagada. The school has been developed in collaboration with Chinmay Mission with classes from LKG to STD XII using smart class teaching methods and well-equipped science and math labs.
Infrastructure support in the form of basic facilities like drinking water, toilets with water facilities, classrooms with desk and benches, computers, lab equipment, study material support like uniforms, bags, writing material, first-aid supplies, financial aid to students belonging to economically disadvantaged families, etc. are provided to create a congenial learning environment for reduction in dropout rate and promotion of girl child education in remote areas. 39,507 students from 118 schools are being supported in the districts of Rayagada, Cuttack and Jaipur.
"We believe it is imperative to invest in the creation of trained human resources – not just giving opportunities, but more importantly, a sustainable future to the marginalised."
The Professor Ghanashyam Dash Scholarship for Higher Education is an annual scholarship for meritorious but economically disadvantaged students pursuing professional courses in the areas of medicine, engineering and liberal arts. The scholarship covers 90 percent of the student's academic fees and educational expenses for the course duration (up to a maximum of Rs. 100,000).
Impact of the Project
Remarkable improvement in percentage of enrollment of girl student of backward areas.
Improvement of infrastructure and related facilities in schools helped reduce the school dropout rates, especially of girls.
Students from tribal areas are able to pursue higher professional studies and continue education through scholarship and financial support.
Greater access to tools of knowledge has enabled the children from tribal areas to participate in different competitions of national repute.
Marked improvement in school enrollment as parents are aware of the benefits of education for boys and girls.
Enhancing the capabilities of the school management committee to make education creative and attractive.
Future Plans
Realising the increasing need for quality education and years of experience behind us, plans are underway for opening a Higher Secondary CBSE pattern School at Choudwar, Cuttack, covering classes from KG to Higher Secondary. This will meet the long felt need in the area.
The Trustee & CEO of Bansidhar and Ila Panda Foundation (BIPF) and Chief of CSR (Special Initiative), Indian Metals & Ferro Alloys (IMFA), Shaifalika Panda, was involved in setting the guiding principles for bringing special academic and extra-curricular activity into the discipline and governance. Besides this, she also provided strategic decisions at the policy forming level. It is noteworthy to read what she has to say about the reason why BIPF started their journey with this project and her experience so far.
"Education not only empowers a person to earn livelihood but also enables him to adopt ideal social behaviour and address a range of social issues from healthcare to ensuring entitlement rights by way of awareness. In keeping with its philosophy, 'Touching Lives Beyond Business', BIPF support the underserved through its interventions, reaching the unreached in remotest tribal areas, keeping education as a means to fight underdevelopment. We believe that there should be equality of learning followed by quality education. Some of the brightest minds come from the rural areas, but lack of an empowering environment of education lag them behind before they join the mainstream of development. A small support in the form of infrastructural development of schools, scholarship and financial aid to meritorious students can shape and develop the potentials of rural children and give them an opportunity to express their talents."
Project Arogyadhara (Health)
We believe that India's future can be secured through proactive investments in the health of its people, particularly women and children. Access to preventive and curative healthcare improves human productivity. Our approach to health is both supportive and interactive. The idea is to bring about health-seeking attitude for greater impact. We have well-equipped dispensaries and medical clinics which are adequately staffed with experienced doctors, nurses and paramedics at our project sites – Therubali, Sukinda and Nuasahi. The community health services provided by these dispensaries include free medical consultation, medicines and referral services to a population of seven lakhs of 200 villages.
Apart from the dispensaries, we organise periodic health camps in remote locations to educate the villagers on preventive healthcare through multi – pronged communication activities. Since its inception in 2011, more than 13,237 villagers from remote villages of Jajpur, Cuttack, Keonjhar and Rayagada districts have benefited from BIPF health camps. These camps also ensure diagnosis, treatment, referrals for general ailments and gynaecological conditions by a team of specialised physicians. Since 2011, 18,665 villagers have benefitted from these camps.
Awareness programmes were conducted for improving maternal and child health, adolescent issues and preventive healthcare practices for dreaded diseases like dengue, malaria, diarrhoea and HIV/AIDs in 24 villages, engaging 1515 women, adolescent girls, SHG members and other community members to stimulate health-seeking behaviours. The idea is to emphasise on preventive healthcare practices as a smart investment compared to high-life risk and financial expenses incurred when inflicted by a disease.
"Through Sakshyam, we invested in the promotion of skill and job creation by focusing on plugging the gap between rural capabilities and skillsets required to engage in remunerative practices."
We partner with the Department of Health & Family Welfare, Govt. of Odisha to facilitate mobilisation and organisation of government immunisation programmes at our sites and create awareness among community members about the importance of vaccination to reduce under-five child mortality and morbidity. We undertake special immunisation drive for polio, japanese encephalitis (JE) and other infantile diseases. Pregnant women and lactating mothers are provided with Ante-natal Check-up (ANC) and Postnatal Check-up (PNC) at Sukinda, Nuasahi and Therubali dispensaries and at Ila Panda Gynaecology Ward at Dist. Hospital in Angul.
Sakshyam (Livelihood)
Through Sakshyam, we invested in the promotion of skill and job creation by focusing on plugging the gap between rural capabilities and skill sets required to engage in remunerative practices. The Foundation's two pronged approach towards livelihood development comprised women empowerment through Project Unnati and youth empowerment through Project Yuva Sakshyam.
(a) Project Unnati (Women Empowerment)
An integrated capacity building initiative aimed at social and economic empowerment of women in rural Odisha through a self-help approach. The project follows two models of empowerment i.e. Economic Empowerment Model & Social Empowerment Model. The former teaches savings and credit and livelihood skills to adopt and practice new technology in agriculture/vegetable cultivation and livestock farming for income generation. Tilldate, 93 SHGs are formed in Angul, Keonjhar, Jajpur and Rayagada districts mobilising 1635 women by building capacity with skill and knowledge for socio-economic empowerment. Since 2011, total savings generated by the SHG members is Rs. 48,25,456/-. 80 WSHGs are linked with banks and avail financial assistance. 908 out of 1635 members are engaged in income generating activities; earning sustainable income of an average of Rs.30,000/- each per annum. Today, members have become aware of various available government services under social security net.
The Social Empowerment Model include life skills trainings such as maternal and child health, nutrition and hygiene. SHG members are trained for voluntary participation in community activities like planting trees, environment conservation, counselling pregnant women and lactating mothers on basic health and nutrition care, maintaining sanitation and hygiene, campaigning against social evils and availing of social security services, etc.
The Economic Empowerment Model aims to instil confidence in the villagers. The same is reflected in Satyabhama Naik who is from a village in Hatadihi block of Keonjhar. Agriculture is the primary source of income in the village. Despite dependence on erratic monsoons and absence of irrigation facilities, people were reluctant to venture into livelihood options other than paddy cultivation. Satyabhama and her husband who depended on agriculture could barely support their household needs with three children. When we adopted the Biswaguru SHG under Project Unnati, Satyabhama learnt not just savings and credit but also goat farming, which was done in consultation with a government veterinary department. The training gave her confidence and a voice to inform her family that she was taking a loan of Rs. 15,000 from the Group to purchase ten goats. With our support and her hard work, her goats increased from 10 to 40 in one year from which she sold 16 goats and repaid Rs. 7000/- against the loan. Today, her family is better provided for, and her children, including two daughters, go to school. The earning has brought about a miraculous change in her life only because she had the knowledge to dare and bring change into her life!
(b) Yuva Sakshyam (Youth Empowerment)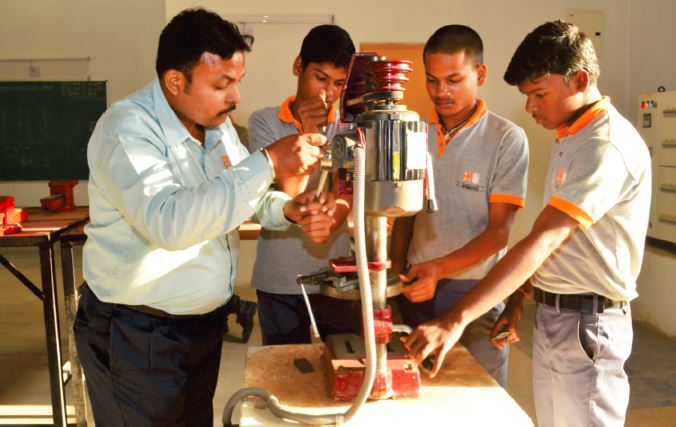 We enable lives for a sustainable future by empowering youth from rural areas, especially from BPL families, and equipping them with essential technical knowledge and skills so they can earn a livelihood for their all-round socio-economic development. We have our own industrial training institutes, one each at Therubali in Rayagada district and Sukinda in Jajpur district instituted by IMFA in 1992 and 2016 respectively for competency building of rural youth which also provides campus placement. The courses offered here are Welder, Fitter & Electrician, approved by National Council for Vocational Training (NCVT).
"We enable lives for a sustainable future by empowering youth from rural areas, especially from BPL families, and equipping them with essential technical knowledge and skills so they can earn a livelihood for their all-round socio-economic development."
Under DDUGKY, we also run two Skill Centres partnering with the Ministry of Rural Development Govt. of India as Project Implementing Agency – the Choudwar Skill Centre for girls and JKpur Skill Centre in Rayagada for boys. At Choudwar, girls are provided training in Industrial Sewing Machine Operator (ISMO) where they are given modern methods of training in the single needle lockstitch machines to equip them for employment in modern industries. At Rayagada, young boys are trained as electricians, turners (fitter) and welders where the training is focused on modern methods of handling improved production processes. Post course completion, placement in reputed companies is arranged for the trainees.
Project Su-Swasthya (Water & Sanitation)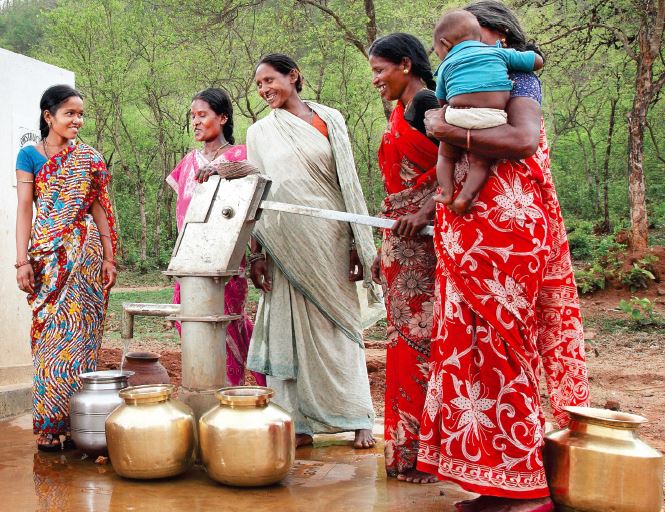 Access to clean water and sanitation is fundamental to a community's health. Not only does it improve health and ensure economic benefit, it also ensures dignity, particularly for women. The majority, residing in Odisha's rural and tribal areas, still depend on open water bodies (rivers, streams, ponds and chuas or shallow wells) for their potable water needs. They still follow poor sanitation practices, thereby enhancing their vulnerability to diseases. We invest in water and sanitation facilities and interventions so that villagers can have a better quality of life.
"To achieve the national goal of Swachh Bharat, our holistic approach is not just building toilets or water facilities but also carrying out Behaviour Change Communication (BCC) through community-based interventions."
Project Su-Swasthya addresses water and sanitation through potable drinking water through community based participatory model on the one hand while developing sanitation facilities and encouraging hygienic practices on the other. To achieve the national goal of Swachh Bharat, our holistic approach is not just building toilets or water facilities but also carrying out Behaviour Change Communication (BCC) through community-based interventions. Through Project Su-Swasthya, we have initiated both hardware and software solutions to ensure sanitation and hygiene practices in our peripheral villages. While hardware programme involves installation of overhead tank and piped water supply repair, renovation and maintenance of water sources, construction of toilets and bathrooms etc., software programme undertakes institution strengthening, capacity building of community, awareness through Behaviour Change Communication (BCC) etc. This has resulted in ideal behaviour practices among community through Community Led Total Sanitation (CLTS), coordination and convergence of community with government programmes, hygienic community and a clean environment.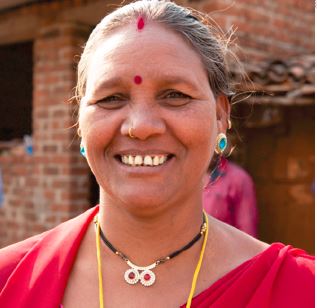 This initiative changed the life of Majhimani Kadraka of Adivasi Sahiunder Therubali GP who used to carry buckets of 5-10 litre water back and forth, every day, from a water stream about 2.5 kilometres away. Long hours were wasted on this daily chore and sometimes her 12 year old daughter accompanied her at the cost of missing school. During summer, she raised her concern on the non-availability of water at the village Women SHG meeting and approached us at the SHG review meeting. BIPF installed a borewell with an overhead tank connected to several water points in the village which provides water 24x7to 120 other households as well as changing the lives of the young children who missed school to fetch water each day.
These initiatives which have had so much of impact on the people would not be possible without our beneficiaries. Their ownership of change through community participation and complete faith in us during the transformational process is what inspires and motivates us to carry forward our initiatives in districts beyond our periphery.
T.C. Hota is Executive Vice President, Bansidhar & Ila Panda Foundation (BIPF).