Pune: Mukul Madhav Foundation (MMF) has extended its support towards flood-affected areas of Konkan and Western Maharashtra. Since July 20, 2021, heavy rains lashed across several parts of Konkan and Western Maharashtra. MMF with the support of Finolex Industries teams has been able to support damaged areas of Mahad, Mandangad, Poladpur, Dist. Raigad, Chiplun in Ratnagiri, Palus In Sangali, Shirol Dist. Kolhapur, Wai and Patan in Dist. Satara, Bhambarde and Vegere in Mulashi Dist. Pune and has provided relief to over 35 villages and close to 11,600 families.
In the wake of the raging floods, more than three lakh people across 1000+ villages were displaced from their homes, most recently in low-lying areas of Kolhapur District, along the Panchganga River which overflowed after heavy rain and water released from the Koyna dam. On the successful survey, need assessment by local on-ground teams the Foundation began to support the flood afflicted victims with ration and essential kits along with tarpaulin to rebuild and revive their homes. The items of support included dry ration, blankets, raincoats, water bottles, phenyl, towels, clothes, bedsheets, educational kits for students and skin ointments.  These materials were directly transported to the affected areas by our ground volunteers. These have been handed over directly to the beneficiaries.  In addition to the on-ground relief drive, MMF is also raising funds for this activity on Ketto (https://bit.ly/FightTheFloods).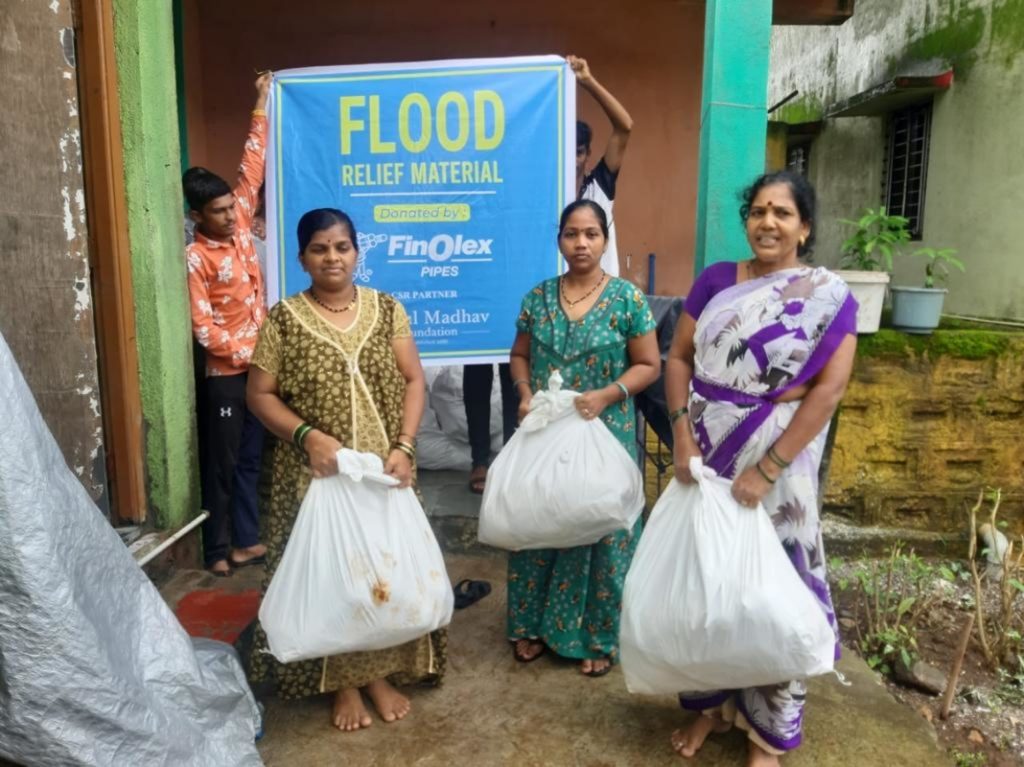 Ritu Prakash Chhabria, Managing Trustee, Mukul Madhav Foundation, and Board Member Finolex Industries said, "Mukul Madhav Foundation (MMF) is always at the forefront for helping the society. During these times of calamities requests and appeals pour in from various places asking NGOs, trusts, companies, and authorities to support the inflicted. We brought Finolex Industries and Mukul Madhav Foundation together to support society at large. We have raised resources by channelising the support of our partners to ensure that the whole process of planning and help can be executed smoothly and the neediest people can receive timely relief."
Mukul Madhav Foundation expresses its gratitude to like-minded individuals and donors who came forward to contribute, funds and physical presence for this noble cause.
Finolex Industries Limited, Pune
Aditi Tatkare, State Minister of Maharashtra for Mahad region
Shekhar Nikam, MLA from Chiplun Ratnagiri
Shambhuraje Desai, Hon. Minister for PatanSatara
Parikshit Thorat and Mr. Sandeep Khardekar of BJP
Shekhar Dhumal and Mr. Manoj Pochat of RSS, Pune
Sutar from Sai Mitra Mandal
Kaustubh Bhutala and Mr. Amit Bagul of INC
Jayen Modi of Baerlocher India
Sanjiv Arora of Global Group, Pune
Navya Nanda of Project Naveli
Custom Agents Association of Pune
Rinku Avtaniof Looking Glass
Rajesh Rathi of Sudarshan Chemicals
Aparna Chudasama
Raj Deshmukh of Jagruti Group
Umesh Wagh from Shiv Sena
MMF takes pride in setting up internal processes in a manner that recognises the need for immediate relief and action during any disaster. Its processes are set in a way that all aspects including getting appeals, verification, and disbursement of support is expedited. This helps the foundation work without any long-drawn process and delay, sometimes within 24 hours of receiving the appeal.