Mumbai, October 14, 2019: Investing in education, health, and livelihood opportunities for young women creates powerful ripple effects that benefit future generations and positively impact the economy and society. Conceptualised with the objective to bring about an attitudinal shift towards girls in the Indian patriarchal society and to communicate that daughters are in every way as precious as sons, Proud Fathers For Daughters, celebrates the father-daughter bond. It provides an opportunity for the duo to be clicked by some of India's most celebrated photographers.
The role of a mother and father are no longer mutually exclusive. While stay-at-home dads are often appreciated, a mother who plays a similar role, or that of both parents, is not as appreciated. This year, the event will celebrate the role of such mothers by providing exclusive slots for mother-daughter duos. The annual fundraiser event by Project Nanhi Kali, has also committed to educating 5,000 girls this year, a 10X increase compared to 2018. (Book your slot here).
Sharing insights about the event and its new elements, top photographer and national award winning film producer, Atul Kasbekar, said, "When Anand Mahindra and I created this platform, our idea was to help educate the girl child. We are truly thrilled to see it grow over the years, while staying true to the original purpose. Accompanied by some of the industry's best people behind the lens who are donating their time and talent makes Proud Fathers For Daughters a once-in-a-lifetime opportunity for many. #Mission5000 to #MakeEveryDaughterSmile is an ambitious target, but we are certain that we will achieve it with your endless support."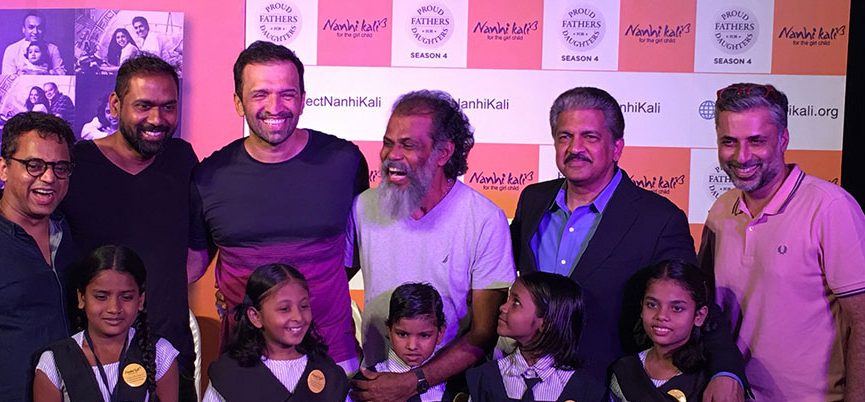 In India, 70 percent of teenage girls wish to pursue higher studies, as per the Teenage Girls Report compiled by the Naandi Foundation, with grant support from Mahindra & Mahindra Ltd. Initiatives like these provide the desired impetus to individuals and organisations to contribute toward driving positive change in society.
Sheetal Mehta, Senior Vice President – CSR, Mahindra Group, and Executive Director, K.C. Mahindra Education Trust, said, "Through Proud Fathers For Daughters this year, our focus is to drive positive and exponential change and enable larger number of girls to secure their right to an education. The converging role of mothers and fathers is a unique aspect that will be celebrated in this edition, as mothers will get an exclusive opportunity to commemorate their bonds with their daughters. This will help us widen our engagement to reinforce pride in having a daughter, as much as sons, in our society."
The sixth edition of Proud Fathers For Daughters is scheduled on October 19 and 20, 2019 at the NSCI, Worli.  While individuals will be able to block a slot for a value of INR 6,000, they can donate over and above the registration fee to meet the target of educating 5,000 girls.
This year, Atul Kasbekar will be joined by other ace photographers, Colston Julian, Prasad Naik, Tarun Khiwal, Tarun Vishwa and Tejal Patni. Each of the photographers provide their time for the cause without charging any fee, the proceeds from the event goes towards education of underprivileged girls through Project Nanhi Kali.
Proud Fathers For Daughters was born out of a deep desire by Anand Mahindra, Chairman, Mahindra Group, to contribute to the larger national cause of bringing about a change in mindsets and attitudes towards girls in India, in the aftermath of the Nirbhaya rape incident. The concept was a result of a collaborative effort between Mr. Anand Mahindra and Atul Kasbekar.