Jaipur: Narayan Seva Sansthan in collaboration with ART Housing Finance Ltd., initiated a CSR activity in Jaipur. The initiative was to distribute tricycles, wheelchairs and crutches through a camp that was organised to celebrate International Disability Day. The camp was organised with a message on equity, accessibility and making the differently-abled society even more capable. About 45 differently-abled individuals received tricycles, wheelchairs and crutches to involve them in mainstream society.
NSS has distributed around 2,74,603 wheelchairs, 2,64,422 tricycles, 2,97,789 crutches, 3,61,997 and 1,72,000 blankets among the needy and underprivileged individuals. To give a sustainable livelihood to the differently-abled individuals the NGO has been rigorously working to conduct camps in Rajasthan, Delhi, UP, Maharashtra, Punjab and Gujarat.
Amid the new variant of COVID-19 and the concern of it becoming another pandemic, NSS is also spreading awareness through 'No Mask, No Entry' campaigns which are both digital and through filed initiatives.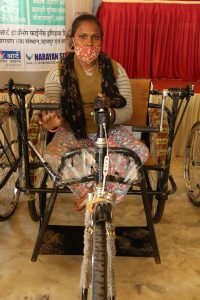 Speaking on this campaign, Prashant Agarwal, President, Narayan Seva Sansthan said, "In rural and urban India, around 2.68 crores differently-abled are suffering from common issues like lack of access to good employable opportunities in government and private organisations. The differently-abled also face tremendous challenges with lack of accessibility in good schools, colleges, hospitals, parking lots and sometimes even in toilet rooms. To give the differently-abled ease of access and support them to become a part of the mainstream society, Narayan Seva Sansthan has been working towards the cause by distributing artificial limbs, tricycles, wheelchairs and crutches. The government has been offering various schemes, but these differently-abled individuals need more access and assistance. The camps in different cities conducted by NSS are trying to help them by offering good quality limbs, free of cost."
Vipin Jain, MD & CEO, ART Housing Finance Ltd. said, "We are elated to serve the nation in a small but a large way through this noble cause. We support NSS for the cause they serve through their efforts by bringing the differently-abled to the mainstream society. We at ART Housing Finance Ltd., are humbled by this collaboration."
In December, NGO will organise camps in Jaipur, Udaipur, Parbhani, Ludhiana, Ahmedabad, Aligarh, and Agra. Also, the NSS Team is visiting multiple government offices to meet the head of the department to send positive messages on International Disability Day.