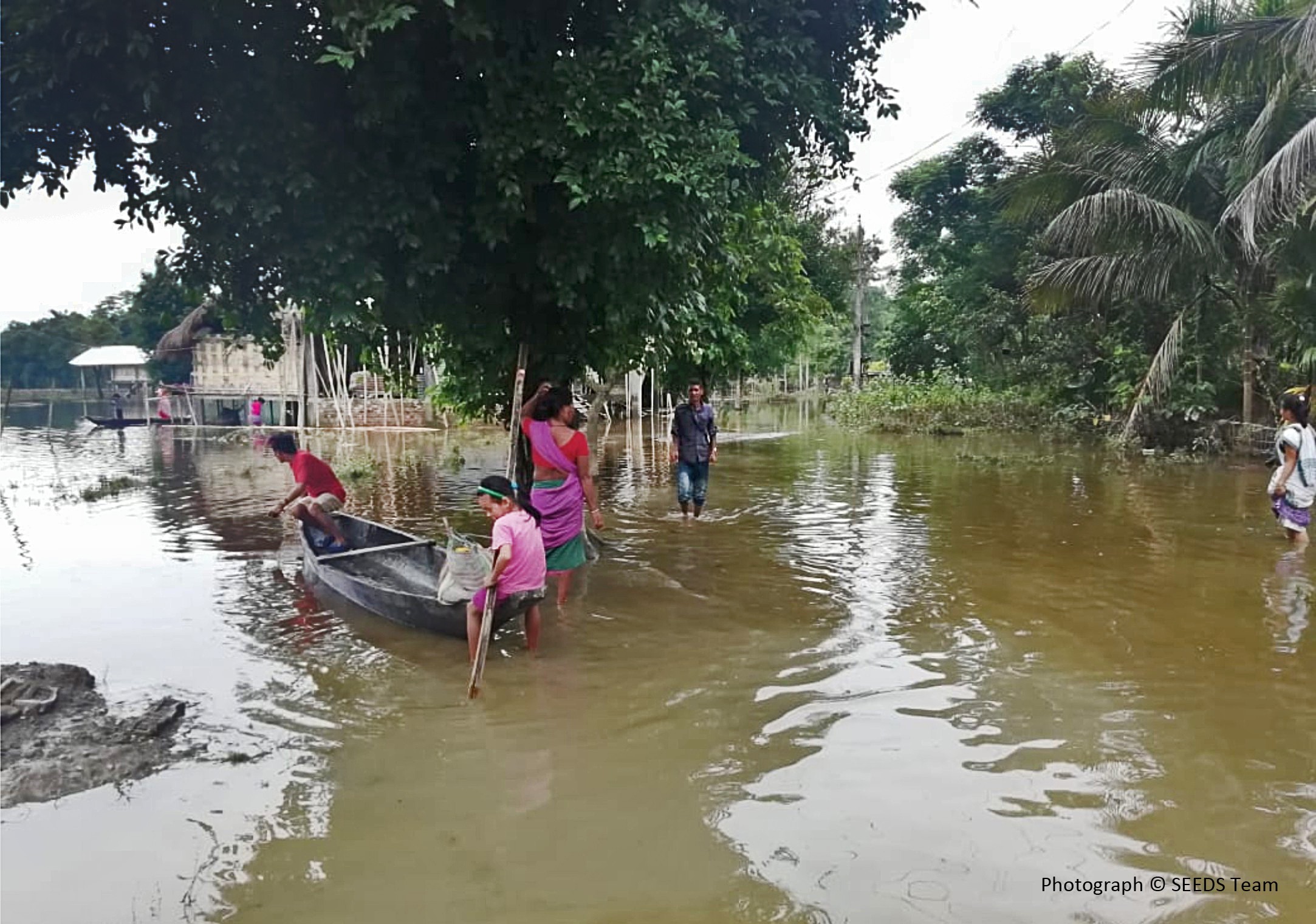 New Delhi, July 29, 2019: Unprecedented floods have brought havoc to Assam. Out of 33 districts, 18 are severely affected by these floods resulting in the displacement of those living in these districts. According to reports at the local level, this situation has resulted in the death of 60 people and many more are critical with illnesses. The floods have not only affected these people; but have also damaged the flora and fauna of the region. The pride of the nation, Kaziranga National Park, has been affected the most; it is being estimated that in addition to the flora being destroyed, endangered species of at least 10 rhinoceros, along with other animals, could not survive this situation leading to fear of extinction of some more species. A red alert has been announced in most of these districts as a precaution.
Bihar is facing a similar situation, where extensive rains coupled with release of water from northern regions have led to several districts of the State under deep water. This has further destroyed houses, schools, community buildings, agricultural land and other village resources; pushing community members into further poverty and distress. There is acute shortage of drinking water as the floods have contaminated drinking water outlets. In the coming months, flood-displaced residents would require a helping hand to return to normalcy. Since Bihar is India's most flood-prone state, 76 percent of the population in North Bihar is living under the recurring threat of flood devastation. This year, the floods have affected 6.9 million people and claimed nearly 100 lives till date. The damage to people's livelihood, housing, agricultural land, village resources and health too has been severe, pushing them into further poverty and distress. Moreover, severe water inundation in villages has caused contamination of drinking water sources such hand pumps and wells and structural damages to homes, community buildings and schools, rendering them inhabitable.
SEEDS has already initiated relief work in these areas, from evacuating the worst affected zones, supporting them with transitional homes to the displaced, providing health and family kits to support them to get back on their feet and training them with safe sanitation practices. SEEDS appeals to the citizens of the country to come forward and help their fellow citizens at this hour.
Your support can make a difference for any of the following items:
Safe drinking water | Rs.1,000/- to support one family with safe water for a month.
Hygiene Kit (toothbrushes, toothpaste, towel, sanitary pads, nail cutter, mosquito repellent, washing soap, bathing soap, washing powder, buckets, mug and match box) | Rs. 1,500/- to support one family
Family Utility Kits (plates, glasses, katoris, rice bowl, kadai, pressure cooker (5 ltrs.), spoons, serving spoons; and bedding items like double size floor mat, bedsheet and mosquito net)| Rs. 6,000/-
Toilet repair/rebuilding | Rs. 25,000/- to support one family with transitional toilet to meet sanitation needs.
Housing support | Rs. 75,000/- to support one family with transitional house providing a dignified and safe family life till permanent houses are constructed.
Multi-speciality Health Camps | Rs. 5,00,000/- or part thereof, to support a 5-day health camp with multiple specialist doctors providing urgent medical and public health attention.
Details for direct bank transfer / UPI
UPI: givetomlpseeds@yesbankltd (Copy to clipboard)
Or
Virtual account name: SEEDS – Milaap
Account number: 8080811092662
IFSC code: YESB0CMSNOC