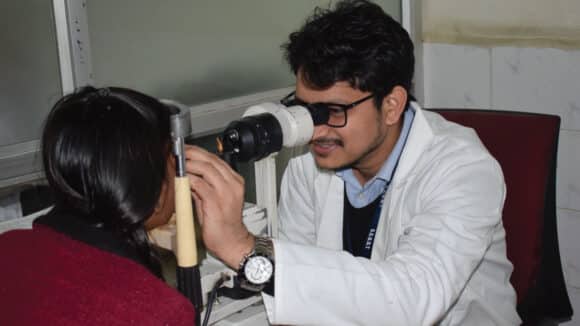 National: Sightsavers India is on the lookout for eligible ophthalmologists for the Fellowship Program 2022-2024. Every year, the programme identifies promising ophthalmologists and grooms them through one-on-one mentoring and surgical exposure. Young ophthalmologists are encouraged to expand their perspectives on rural eye health and provide eye health services to communities that cannot afford them.
When asked about his overall experience with Sightsavers India Fellowship Program, Dr Anoop Kumar Singh said that the programme does not just hone clinical and surgical skills, but also teaches hospital management and develops a personality. It provides hands-on training to the fellows, and they can perform large volumes of surgeries during their fellowship. The nurturing attitude of Sightsavers as a parental institution is incomparable and rare to find. Sightsavers take a keen interest in the fellow's growth using extending training, personal coaching, and logistical support. Sightsavers India gives a unique platform to the fellows to learn by doing and grow comprehensively as independent practitioners.

The programme is well-designed wherein the fellows undergo structured surgical skill enhancement and are oriented on comprehensive eye health with a special focus on cataracts keeping in mind the needs of the rural areas.
When asked if the fellowship helped her towards being an independent consultant, Dr Vanlalmuanpuii Ralte said that the Sightsavers fellowship has helped her in finding her true potential. "The programme has a holistic development approach. I was allowed to see and treat patients independently and perform cataract surgeries. Other than surgical exposure, I learned to interact with different people. Handling situations during a crisis helped me grow personally and made me stronger and more carefree as an individual". She further added that even though the rural setting was initially challenging for her, the people she worked with were very loving and helpful and some of them made living here much easier for which she will be forever grateful to them. It was worth the struggle in the end. "To the future aspirants for the Sightsavers India Fellowship Programme I would like to say that it will take a few months to settle in the rural setting, but just remain focused and patient during the learning curve. One step at a time and everything will come to you."
The next batch of the Sightsavers India Fellowship Program will begin in August 2022.