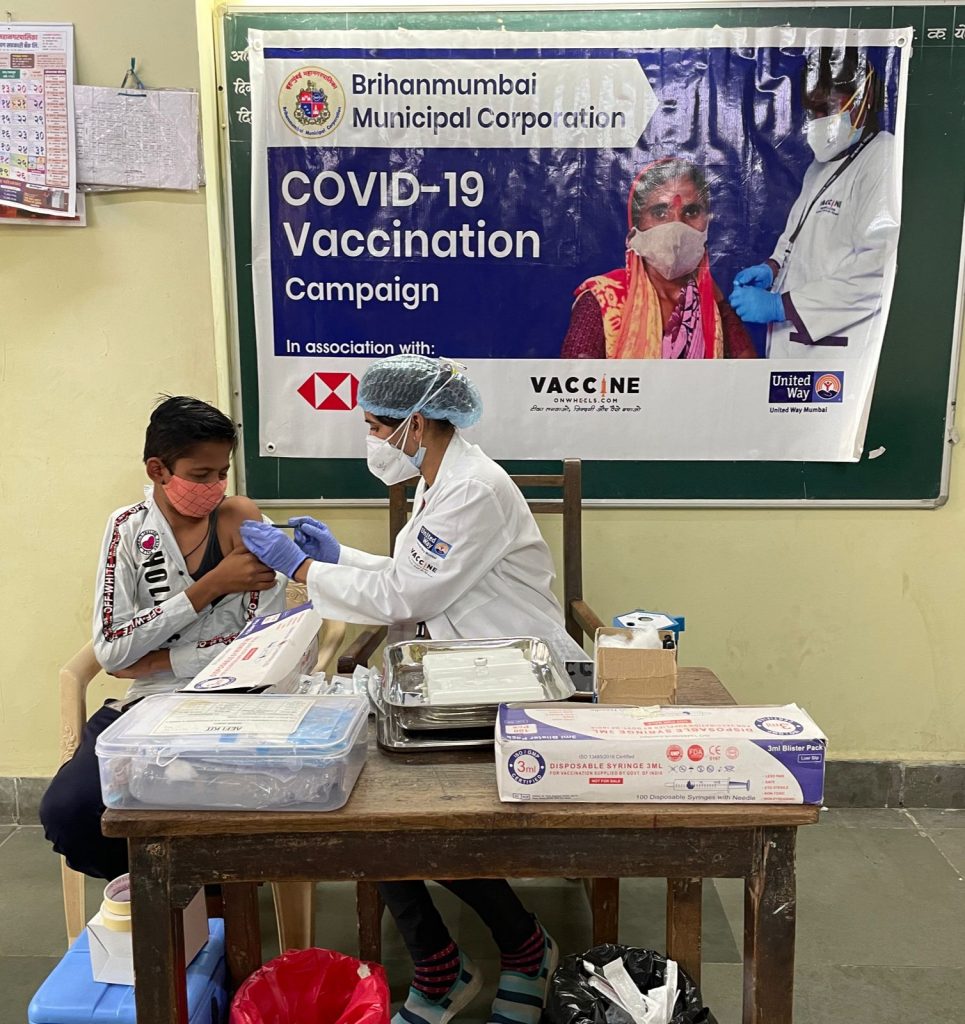 Mumbai: In the fight against COVID-19, the Indian government continues its efforts to increase vaccination in urban and rural parts of the country. United Way Mumbai has mobilised efforts to augment last-mile outreach among people from lower-income and vulnerable communities, including doorstep vaccinations or vaccinations within small communities. In Mumbai, in partnership with BMC and Jivika Healthcare Private, and sponsored by HSBC, the Vaccine On Wheels programme has supported mobile vaccination facilities, allowing the healthcare staff to reach far-flung and underserved communities.
'Vaccine-On-Wheels' (VoW) provides Mobile Vaccination Clinics and back end cold-chain facilities to safely store the vaccine. A hired vehicle is equipped with an Adverse Event Following Immunization kit to handle any adverse cases.
The beneficiary communities were identified in mutual consultation with the respective State Governments and municipal corporations who have assessed and identified pockets where such an intervention was most required. These beneficiary groups came from socio-economically disadvantaged populations. They belonged to vulnerable groups like the elderly, infirm and bedridden, disabled with issues of access, socially marginalised communities like commercial sex workers, and other special needs groups.
Commenting about the initiative, George Aikara, Chief Executive Officer, United Way Mumbai, said, "United Way Mumbai has been actively responding to the pandemic at every step of its evolution in India, strengthening civic hospitals' infrastructure, training frontline workers, ration and food distribution, helping migrant population get home etc. The end of the pandemic can only be achieved by vaccines so the bulk of our work has been towards projects across the country on combating vaccine hesitancy and vaccine administration for the underserved and overlooked communities."
Speaking about the efforts of the team in Mumbai, Suresh Kakani, Additional Commissioner, BMC, said, "The landmark programme in the history of Immunization was launched on January 16, 2021. BMC has to date administered more than 2 crore doses and 99 per cent of the eligible population above 18 years of age is fully vaccinated. This mammoth task was achievable due to the support and coordinated efforts of the Public and Private sector as well as various Government and NGOs like United Way Mumbai. BMC is grateful and appreciates the efforts of Vaccine On Wheels and United Way Mumbai for joining hands on this vaccination drive."
HSBC India's Head of Corporate Sustainability, Aloka Majumdar, shares, "As part of our ongoing commitment towards community development initiatives, we at HSBC India have supported multiple community-level interventions to support relief operations against COVID-19. Our partnership with United Way Mumbai is aimed at addressing the long-term challenges of providing healthcare and rehabilitation for the vulnerable and marginalised communities impacted by the pandemic. Through its partnership with United Way Mumbai, HSBC India has been able to support vaccinations for 2,30,000 people across vulnerable communities.
United Way Mumbai with the CSR support from HSBC India, Deloitte and others has already enabled vaccination for over 2,60,000 individuals in Maharashtra, Telangana, Karnataka, and Tamil Nadu. The organisation currently has 31 mobile vaccination vans running in rural and urban areas with an overall target of administering at least 2,90,000 doses by April 30, 2022.