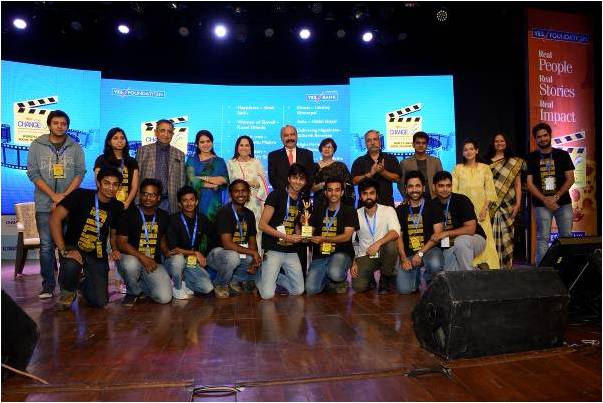 Mumbai: Stalwarts of India's film, government, corporate and development sectors celebrated the best social films by 13 lakh youth across 2,500 cities and towns pan-India at YES FOUNDATION's YES! i am the CHANGE (YIAC) Awards event on February 9, 2017 at Nehru Centre, Mumbai. YES! i am the CHANGE, a mindset transformation programme, leverages the impactful medium of films to trigger sensitivity and youth engagement with social causes.
Chief Guests, Shaina NC, National Spokesperson, BJP; Piyush Pandey, Executive Chairman and Creative Director, Ogilvy & Mather India and G.M. Rao, Founder Chairman, GMR Group felicitated top films across four categories – Student, NGO, Corporate and Open.
The awards ceremony was followed by a two-day YES! i am the CHANGE Social Film Festival on February 11 and 12, 2017 at Indian School of Design and Innovation, Mumbai showcasing the top YIAC films. The Festival was inaugurated by the doyen of Indian innovation, Dr. R. A. Mashelkar and included interactive sessions with eminent individuals such as celebrated film director Shyam Benegal, Magsaysay Award winner Anshu Gupta amongst others.
Rana Kapoor, Co-Chairman and Chief Mentor, YES FOUNDATION said, "I strongly believe that India's youth are the innovators, builders and leaders to actualise an empowered and equitable India. It is a matter of great pride that YES! i am the CHANGE, the world's largest Social Film Movement, has inspired 15 lakh youth to emerge as changemakers, resonating responsible citizenship across the length and breadth of India. In the next five years, this highly significant social initiative will create a strong force of one crore youth changemakers to trigger positive social action for India's social transformation."
Three filmmakers who harnessed their film to create a significant social difference were felicitated with the YES FOUNDATION Changemaker Award. A new category, the Everyday Hero Award, to recognise exceptional community service was awarded to three unsung heroes from Mumbai, Delhi and Chennai.
Chief Guest Shaina NC, said, "YES! i am the CHANGE has shown that the youth is not the future, but the present who are socially motivated and are giving back to the society. It is a perfect demonstration of national integration and will make India proud even on international platforms."
The top YES! i am the CHANGE films were selected by a 19-member eminent jury, including Shabana Azmi, Actor, Alan Gemmell, Director, British Council India, Zahabiya Khorakiwala, Managing Director, Wockhardt Hospitals, Onir, Filmmaker, Piyush Pandey, Ad-guru, Ashu Suyash, MD & CEO, CRISIL, Rebecca Tavares, UN Women's Representative for India, Bhutan, Maldives and Sri Lanka amongst others.
G.M. Rao applauded the innovative nature of the program saying, "To strengthen nation building, it is important to galvanise the youth to take up participatory, holistic development initiatives. I would like to congratulate Mr. Rana Kapoor and his exceptional vision in creating YES! i am the CHANGE, a pioneering social initiative which has set a worldwide benchmark in taking innovation and social impact to scale."
"The immersive process of participation in YES! i am the CHANGE leads to experiential learning and engagement with social causes, creating youth changemakers for India's inclusive development. The insightful and heartfelt films produced by the youth are already inspiring ripples of social change. We are delighted to honour the contributions of these young filmmakers to the social development of the nation," shared Prerana Langa, CEO, YES FOUNDATION.