Bajaj Finserv Limited, the holding company for Bajaj Finance Ltd, Bajaj Allianz General Insurance Company and Bajaj Allianz Life Insurance Company, celebrated the successful completion of 15,000 free cleft lip and palate reconstructive surgeries for underprivileged children, across the country, in partnership with Smile Train India – the world's largest cleft charity.
As part of their CSR initiatives, Bajaj Finserv and subsidiary companies have partnered with Smile Train India since 2014 with an aim to ensure children born with cleft lips and/or palates grow up to be confident individuals and not face social stigma due to a defect which can otherwise be successfully treated. The 15,000 surgery milestone was celebrated by senior officials of Bajaj Finserv and subsidiary companies and Smile Train, at Poona Hospital and Research Centre on December 1, 2016. Poona Hospital and Research Centre is one of the hospitals supported by Bajaj Finserv and subsidiary companies, among 22 others across the country, under the partnership.
Talking about the partnership during the event, Sanjiv Bajaj, MD, Bajaj Finserv Limited said, "As an organisation we strongly believe in giving back to the society and we stand committed towards this cause. Over the years we have strengthened our efforts in the direction of social empowerment which has led to more initiatives and associations to ensure the lesser privileged children are able to overcome hurdles and are able to build a better positive future. Our partnership with Smile Train and other NGOs is helping us to facilitate that change and create a difference in the lives of the children. We will continue to do this and seek pride in creating bigger, better smiles and a future."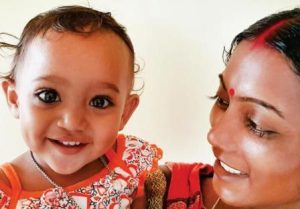 Present at the event was Susannah Schaefer, Executive Vice Chair and CEO, Smile Train said, "More than 170,000 children in developing countries, are born with clefts every year. They do not get the opportunity to lead a normal life or enjoy their childhood, because of the myths and taboos associated with the deformity or simply because their families cannot afford the cost of the surgery. Cleft repair surgery is simple and the transformation is immediate. Providing corrective surgeries to children at the right age gives them the opportunity to go to school, get a job and become productive members of the society."
Speaking about the surgery milestones, Susannah Schaefer said, "Support from corporates like the Bajaj Group is critical to our work as it not only helps us sustain our work but enables us to extend it and add greater value to it. We look forward to a long and mutually fulfilling partnership with the Bajaj Group. I also take this opportunity to congratulate Poona Hospital on the completion of 5000 surgeries and the excellent care they provide to cleft patients."
In India, over 35,000 children are born with clefts every year and over 10 lakh children with untreated clefts live in isolation, but more importantly, have difficulty eating, breathing and speaking. Since 2000, Smile Train's sustainable model provides training, funding and resources to empower local doctors and hospitals across India to provide 100 percent free cleft repair surgery and comprehensive cleft care in their own communities. This 'teach a man to fish' strategy has enabled Smile Train India to provide over 4,75,000 free surgeries through a network of 170 partner hospitals.