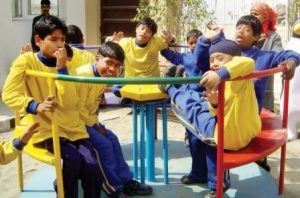 Mata Bhagwanti Chadha Niketan, a charitable school for 'children with special needs', Noida, under the aegis of The Ponty Chadha Foundation organised an awareness campaign on account of 'International Day Persons with Disabilities' on December 3, 2016. The event was organised to sensitise the community towards the needs of differently-abled children and create a positive attitude towards them. The focus is also to break the myths, stereotypes and prejudices associated with disability.
Observed throughout the world, this UN-sanctioned day acted as a platform for these 'children with special needs' to propagate the message that it is their right to lead a life with dignity. Like other children, these 'special children' too, dream for a better world where they can touch the lives of others through spreading smiles and love.
With an endeavour to spread the message of empathy and care, these children reached out to people at various locations like leading Corporates, Schools, Universities, Malls and Markets -DLF Mall of India, TGIP Mall, Express Trade Tower, ITS University, NTPC, D. S. Group, Wave Mall, Noida to apprise people about the issues and concerns differently-abled persons face in the society.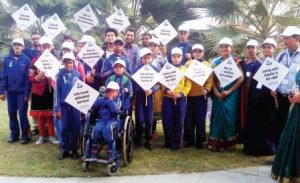 The children distributed an array of balloons with smileys and clicked selfies with people they met. They requested people to share these selfies on their social network pages with the hashtag #BeyondDisability to spread this thought further. These 'special children' were received with great warmth and love as they presented a sapling to the Head of these respective institutions and offices, asking them to "Support our Right to Breathe". The sapling played the role of an allegory spreading the message of 'Plant a tree and save the environment for us'. As an exclusive enterprise, the 'special children' (staff members) of MBCN also performed a Nukkad Natak titled 'Viklang Kaun', at Wave Mall, Noida, narrating the daily struggles of disabled people in various fields of life, including employment, education, etc.
Speaking on the occasion, Dr. Vandana Sharma, Director, Mata Bhagwanti Chadha Niketan School said, "We wish to change people's perception about these children and the notion that circles around disability. With this awareness campaign, we are trying to reach out to people and make them understand that with the right attitude and support, these special children can also live their lives with pride and dignity and feel like an accepted part of the community. We aim at breaking the attitudinal barriers with this campaign."